Stranger Things Day has once again swept fans into a frenzy of nostalgia and excitement. This year, Funko and Loungefly have amplified the celebration with a new line of Stranger Things collectibles and accessories, available now on their respective websites. The collection, which draws inspiration from the Hellfire Club and the beloved Hawkins crew, is rendered in Funko's iconic Pop! style, offering fans a fresh way to showcase their love for the series. Check out the offerings and catch up on all of the Strange Things Day 2023 news.
New Funko and Loungefly Stranger Things Collections
RELATED: BLACKPINK Joins Forces with Loungefly and Funko for a Glorious New BLɅϽKPIИK Collection
Stranger Things Day commemorates the fateful fictional date when Will Byers disappeared, catapulting viewers into the eerie and captivating world of Hawkins, Indiana. The 2023 celebration gave fans a treasure trove of experiences, from a sneak peek at upcoming stage show to gaming integrations and exclusive social media content, culminating in a global merchandise frenzy.
Stranger Things: The First Shadow – A Glimpse Behind the Scenes
RELATED: Funko Pop! Yourself – The Ultimate Personalized Gift is Now Available Online
The highlight for many was the featurette for Stranger Things: The First Shadow, which promises to take audiences back to where it all began. The production, set to open at the Phoenix Theatre in London, teases a narrative that could be pivotal to the series' ultimate conclusion. With previews starting in November, the stage is set for a theatrical experience that will deepen the Stranger Things mythology.
Gaming News: A Digital Dive into Hawkins
Gaming enthusiasts were treated to thrilling news as well. Fortnite introduced Eleven, complete with three iconic looks and a custom waffle emote, while Chief Hopper and the Demogorgon made their return to the game.
RELATED: Loungefly UnLEASHES Adorable Pet Accessories in Pawsome Collection for Your Furry Friends
Dead by Daylight resurrected its Stranger Things Chapter, allowing players to navigate the Underground Complex Map as fan-favorite characters. And for those seeking a more immersive experience, Stranger Things VR announced its launch date, featuring the voices of Jamie Campbell Bower and Matthew Modine.
Win a Journey to the Upside-Down
RELATED: Loungefly x Star Wars Pride Collection: Celebrating Diversity with BB-8
In a grand finale to the festivities, fans were given the chance to win one of 11 boxes filled with season-themed goodies. The hero box, a coveted prize, includes tickets and a trip to London to be among the first to witness the stage show.
A Yearly Tradition of Thrills
As Stranger Things Day 2023 comes to a close, fans are left with a sense of anticipation and a host of new memorabilia to add to their collections. Funko and Loungefly have ensured that the spirit of the series remains alive and well, even as viewers await the next chapter of this beloved saga.
Be sure to check back often this week as we'll have the latest from Netflix Geeked Week '23.
ABOUT STRANGER THINGS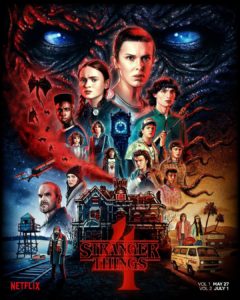 Release Date: Seasons 1-4 Now Streaming Exclusively on Netflix
Created by: The Duffer Brothers
Produced by: Monkey Massacre Productions & 21 Laps Entertainment
Executive Producers: The Duffer Brothers, Shawn Levy, Dan Cohen of 21 Laps Entertainment, Iain Paterson, and Curtis Gwinn
Directors: The Duffer Brothers (401, 402, 407, 408, 409), Shawn Levy (403, 404), Nimród Antal (405, 406)
Writers: The Duffer Brothers (401, 402, 407, 408, 409), Caitlin Schneiderhan (403), Paul Dichter (404), Kate Trefry (405), Curtis Gwinn (406)

Starring: Winona Ryder, David Harbour, Millie Bobby Brown, Finn Wolfhard, Gaten Matarazzo, Caleb McLaughlin, Noah Schnapp, Sadie Sink, Natalia Dyer, Charlie Heaton, Joe Keery, Maya Hawke, Priah Ferguson, Brett Gelman, Cara Buono, Matthew Modine. Paul Reiser

Logline
It's been six months since the Battle of Starcourt, which brought terror and destruction to Hawkins. Struggling with the aftermath, our group of friends are separated for the first time – and navigating the complexities of high school hasn't made things any easier. In this most vulnerable time, a new and horrifying supernatural threat surfaces, presenting a gruesome mystery that, if solved, might finally put an end to the horrors of the Upside Down.
How will the new Funko and Loungefly collections enhance your fan experience? What secrets do you think the stage show will reveal about the series' lore? And if you could win any of the 11 boxes, which season would you choose and why? Let us know what you're planning to cop on social media!
KEEP READING: Netflix's Geeked Week '23 Awesome Event Guide