The Mandalorian's fifth episode, titled "Gunslinger," was chock full of the Easter Eggs that Star Wars fans have come to love so much. It also introduced viewers to two new female characters, Peli Motto (Amy Sedaris) and Fennec Shand (Ming Na Wen). While the former had everyone cooing over her interactions with Baby Yoda, the latter left the audience in a tizzy with a million questions.
After building anticipation for Ming Na Wen's appearance as Fennec Shand for months, fans were disappointed that she not only had very few lines, but was also seemingly killed off near the end of the episode. For her not to get much of any backstory and serve as little more than a motive for Mando (Pedro Pascal) to unknowingly quote Boba Fett would be the highest disrespect to an actress of Wen's caliber. But the last few frames, among other things, suggest some subterfuge is at play. Shall we break it down?
Fennec Shand: Too Big to Fail?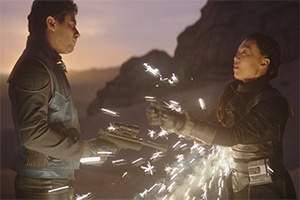 When we first hear about Fennec Shand, it's thanks to Mando's reluctance to pursue her. After all, according to him, she's a ruthless mercenary who worked for the five crime syndicates in the pre-New Republic days. Surely a woman with as much experience as that wouldn't be easily shot down by a guild newbie?
Given how relatively little information we learned about her character, it stands to reason that we should trust the rumors. Yet not only was she caught and handcuffed by Mando with ease, she then failed to convince Toro Calican (Jake Cannavale) to work with her and got killed for her trouble. In fact, her words inspired him to try his own luck against his partner and try to kill Mando himself – which did not work out for him in the least.
Ming Na Wen may only have had time for a couple of scenes in one episode of The Mandalorian, but it feels like Fennec Shand would have a better plan than the one we saw.
Boba Fett: An Unlikely Survivor?
The biggest hint that Fennec Shand has not breathed her last is, in fact, the final scene of The Mandalorian's fifth episode. After unnecessarily displaying her dead(?) body once more, the camera reveals a mysterious stranger encountering her limp form.
As she was lying dead or unconscious in the middle of a deserted desert, it seems unlikely that someone stumbled upon her by accident. Not only that, their movements were rather purposeful throughout. Of course, the credits rolled before audiences could learn more, but it was clearly meant as a water cooler moment.
Aside from the question of whether Fennec Shand is still alive, the scene also makes us wonder who exactly approached her. The obvious withholding of an identity is the first clue that said identity is important. Not only that, but the episode primes viewers to think of Boba Fett by having Mando paraphrase some of his famous (read: only) lines. "She's no good to us dead," and "She's got the high ground," sound familiar for a reason.
Add to that the sound of spurs, which immediately call "Clint Eastwood of outer space" to mind, and the location of Tatooine, where Boba Fett was thought to have died. It all comes together to paint a vivid picture that Star Wars' most famous bounty hunter is still alive and wants something with Fennec Shand, alive or dead. But The Mandalorian best hope it's alive, because you don't waste Ming Na Wen on 5 lines in a single episode – and you don't take her out with a single gunshot from a coward.
The Mandalorian will drop a new episode on Friday, December 13th via Disney+.