Oliver Queen started the Arrowverse, and "Crisis on Infinite Earths" is the crossover that marks his ending. That should be reason enough to give him his due in the biggest crossover The CW has seen yet, right? And yet the extreme focus on the Emerald Archer drags the pace of the multiversal event down more than anything else.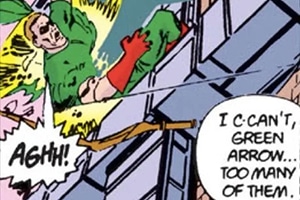 Those familiar with the comic know that "Crisis" killed off several heroes in epic and heart-wrenching ways, and Oliver Queen was in fact one of the deaths. However, his demise in Crisis on Infinite Earths #12 was much more forgettable than the one onscreen. That in and of itself isn't a bad thing, as Stephen Amell's protagonist kicked off Arrow and is thus far more important than his 2D counterpart could be.
Beating A Dead Oliver Queen
Forever a hero, Oliver Queen went out defying the Monitor to save a billion more lives of Earth-38. Not to mention his own secret desire to keep Barry (Grant Gustin) and Kara (Melissa Benoist) alive against all odds. In this regard, his send-off was perfectly in keeping with both his character and his arc throughout Season 8.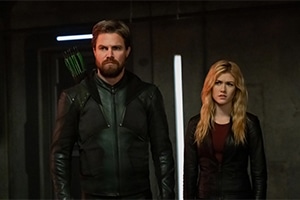 The problem lies in the "Crisis on Infinite Earths" crossover not only mourning the Green Arrow, but having its heroes repeatedly make attempts to resurrect him. Considering that the entire final season of Arrow has revolved around Oliver making peace with his death, it feels like little more than deja vu to have everyone else make peace with it all over again.
The biggest culprit in this quest is his daughter Mia (Katherine McNamara), who remains in the past in preparation for her upcoming spinoff. She spent Part 2 looking for a Lazarus Pit on one of the remaining Earths to reanimate her father, and now Part 3 wandering Purgatory in the hopes of convincing his soul to return to his body. Of course, she wasn't successful, and the third hour ends where the first did for Oliver Queen.
Crisis Coming in Second
Granted, her excursions allowed for some great cameos from Lucifer and the Spectre – the latter of whom is sure to play a role in January. But the bigger issue is that the mission to restore Oliver Queen became a bigger issue than the "Crisis on Infinite Earths" itself.
It's understandable that Barry, Kara and Sara (Caity Lotz) weren't ready to lose their friend quite yet. But considering that they're each Paragons meant to stop the end of all existence, their focus should have been on that much more than one dead hero. And it certainly makes sense that Mia wouldn't want to let go of her father yet, but the fact that she was given so much real estate for her wild goose chase proves the Arrowverse relies too heavily on… Well, Arrow.
This isn't the first time that Oliver Queen has taken over a crossover that ostensibly wasn't his own. "Invasion!" purported to be the biggest possible consequence for Barry enacting Flashpoint, but a full hour of it was dedicated to Oliver's dream sequence thanks to Arrow's 100th episode. "Crisis on Earth-X" was billed as Westallen's wedding, but Oliver ended up proposing to Felicity during the rehearsal dinner and then hopping onto the end of Iris' vows for his own impromptu wedding. Even "Elseworlds" ironically became about Oliver's heroism when he traded his own life for Kara and Barry's.
Obviously, The Flash and Supergirl can't die while their respective shows are still going strong, so Oliver Queen dying in their stead makes sense. But if the producers wanted him in every episode, why not wait until nearer to the end to kill him? And as much as we all defer to seniority in this shared universe, at what point will Barry (whose show has the highest ratings) or Kara (who's the strongest being in the Arrowverse) get to lead a crossover?It'll be hard to imagine a DCTV crossover without Oliver Queen, but at least we know it'll be different for once.
"Crisis on Infinite Earths" picks back up on January 14th with Arrow.