While promoting Dolittle, a film in which he plays a squirrel bent on revenge after a terrifying brush with death, Craig Robinson opened up about his time on the NBC comedy, The Office.
The actor has done his fair share of fun voiceover work up to now – between playing Cookie in Shrek, Grits in Sausage Party, and now Kevin in Dolittle, he's built up a triumvirate of iconic animated characters. But he remains most widely beloved for his 9 seasons on the The Office, where he played Darryl Philburn, the warehouse foreman whose tough exterior belied his sensitive heart of gold.
Craig Robinson Would Head Back 'In A Heartbeat'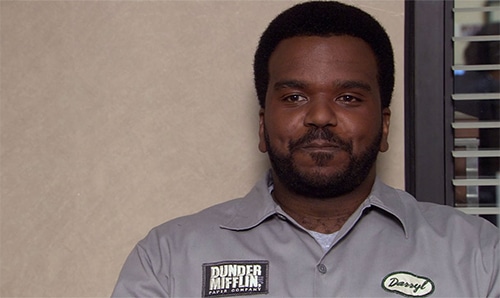 After regaling Screen Rant with tales of Kevin the Squirrel's vlog of vengeance during Dolittle promotions, Craig Robinson took a moment to engage in fond recollections of his days with the crew of The Office. He even joked that he'd happily thought about "popping up at one of those trivia nights. Maybe even incognito and get everything wrong."
He was no less enthusiastic when asked directly about the possibility of a reboot, explaining:
I would be part of it in a heartbeat. If Greg Daniels is doing it, because he would see how these characters have grown. With that squad of writers? Yeah, absolutely.
Considering the ongoing streaming war and how much Netflix was willing to shell out for the likes of NBC shows like Friends and The Office, a revival of the latter would be quite the feature in the upcoming Peacock streaming platform's cap. And if Greg Daniels was actually willing to return, there's no doubt many of Craig Robinson's costars would jump on board as well.
But in the meantime, you can still catch the gifted performer on Dolittle, which arrives in theaters on January 17th. Don't forget to read our review when it drops, as well as check out the younger cast members gushing over Robert Downey Jr.