Winston Duke has been on everyone's minds since he nearly stole the show on Black Panther. Since then, his career has rightfully skyrocketed, allowing him to appear in a wide range of projects from Jordan Peele's thriller Us to the upcoming Mark Wahlberg buddy-cop comedy Spenser Confidential.
Duke made the press rounds for Spenser Confidential recently, as it will be released via Netflix on March 6. During our interview with him, he took the time to discuss another of his new projects: Nine Days. After receiving a warm response at Sundance, the film has been picked up by Sony Pictures Classics for distribution. The science-fiction (or perhaps fantasy) drama tells the story of a recluse, played by Winston Duke, who interviews souls hoping for a chance at life.
RELATED: MOVIES YOU DON'T WANT TO MISS IN MARCH 2020
Nine Days Hits Close To Home For Winston Duke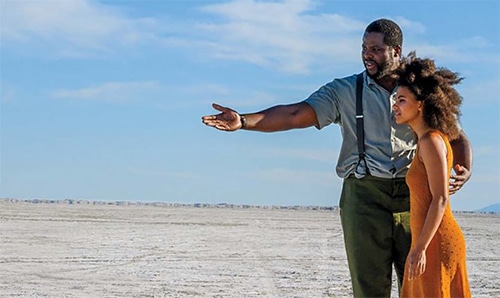 The actor was only too eager to delve into the movie, as he believes it is not only deeply personal for the director but also a necessary work to witness. As he explained:
I'm proud of it. I'm proud of where it comes from and where it's going. It comes out of the director, Edson Oda's, own family dynamic. His uncle committed suicide at the age of 50, when Edson was 14. And the family kind of labeled him a pariah."We don't talk about him, your uncle was weak. Don't be like your uncle." And that's all they told them.

And as Edson got older and had some of his own mental health issues and depression, he researched his uncle and realized that he was a really beautiful soul. So, he took this opportunity to essentially reclaim the narrative of his uncle's life by reimagining him in the afterlife with a job; and his job is to interview spirits for the opportunity of being born.

So, you get to change this man's narrative; change the narrative of a person who had a very long, beautiful life, who was now boiled down to one act. That's the act that defined him after living 50 years. 50 years of love, experience, and family was kind of negated with one act. It was one way of reclaiming his uncle's life and the love that he had for life, and putting him in this context where he is interviewing these spirits and has a life-affirming experience over the course of nine days.
Beyond Edson Oda's own like, Winston Duke sees the potential in Nine Days to speak to all manner of people who need to be reminded of the beautiful of life. He continued:
It's a really special film. It's really poetic. It's one of those films that I don't think people realize they need until they see it and they get it. Everyone who's seen has been touched by it.I've had a guy who looked like me – bigger than me – who was 6'7" and weighed 300 pounds, came out of the theater crying.

He was like, "I'm an Iraqi vet, and people don't see the pain that I'm going through. Sometimes I'm smiling, sometimes I'm going through a whole lot of stuff. But I'm hurting inside, and I can't get out of bed sometimes. And I'm your character. I'm Will. That's me. I don't always show it, but there's a lot of pain there and people don't realize that it's in the eyes."

So, you have a lot of people seeing themselves, and who are now given the language to discuss their depression; given the language to discuss their mental health and then leave feeling really joyful and appreciative of all the small moments in life. So, again, it's one of those movies that I think we don't know that we need until we see it.

Like we didn't know we needed Moonlight until we saw it. We didn't know we needed to see two black men hold each other and just cry until we saw it and experienced it. We didn't realize that we needed to see If Beale Street Could Talk, we did realize we needed Us or Get Out. And then you're like, "Wow, the sunken place. That's a thing."
Are you ready to see Winston Duke in Nine Days? Let us know in the comments below, and don't forget to check him out in Spenser Confidential on Netflix this weekend.