Blathering blatherskite, Ducktales is finally coming back on April 4th with its third season!
Ever since Season 2 concluded back in September, fans had been waiting anxiously for the promised third season. Season 3 was initially supposed to be released in late 2019, however the calendar year quietly passed by without a word as to when we would get to see our favorite feathery family once again. 
The first two seasons showcased fan favorites like Gizmoduck (voiced by Lin Manuel Miranda), as well as plenty of Easter Eggs from other shows like Darkwing Duck. (There was also a fun little cameo by Phooey Duck, the joke "fourth nephew" that artists accidentally would include in the comics).
This has further pushed fans' anticipation for the new offering of episodes. We can expect to see some familiar faces from the old Ducktales vault, as well as from other animated shows. From what was revealed at San Diego Comic-Con in 2019, we can look forward to seeing Daisy Duck, Goofy, plus some other friends from The Wuzzles, Tale Spin, Darkwing Duck, and Chip N' Dale Rescue Rangers franchises.
RELATED: ARTEMIS FOWL TRAILER GIVES 1ST LOOK AT VILLAIN TURNED HERO
Story-wise, we'll be seeing Scrooge McDuck and his family go up against the Fiendish Organization for World Larceny (F.O.W.L). 
Impressive Guest Stars for Season 3 of Ducktales
Now that we have a premiere date, it seems there are other interesting tidbits of information being released. For one, we know that Season 3 will premiere with two new episodes. And like the first two seasons, there are plenty of guest stars lined up to lend their voices.
So far the extensive list of guests include: Giancarlo Esposito (Breaking Bad), Selma Blair (Legally Blonde), Kristofer Hivju (Game of Thrones), Bebe Neuwirth (How to Lose a Guy in 10 Days), Retta (Parks and Recreation), Stephanie Beatriz (Brooklyn Nine-Nine), Jaleel White (Family Matters), Doug Jones (The Shape of Water), Clancy Brown (Spongebob Squarepants), James Marsters (Runaways), Hugh Bonneville (Paddington), Abby Ryder-Fortson (Ant-Man and the Wasp), Tress MacNeille (The Simpsons), Bill Farmer, (A Goofy Movie), James Monroe Iglehart (Unbreakable Kimmy Schmidt), and Adam Pally (The Mindy Project). Whew!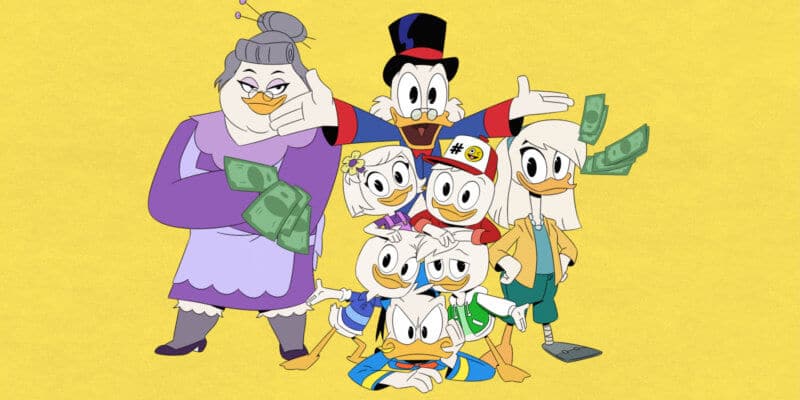 So far there aren't any roles that were announced to be voiced by specific actors. However, Bill Farmer and Tress MacNeille, will likely voice Goofy and Daisy as they're widely known to be the official voices for those characters at Disney.
RELATED: TROLLS WORLD TOUR TRAILER TAKES YOU ON A MAGICAL JOURNEY THROUGH MUSIC
While the upcoming guests are exciting, fans will be just as happy for the returning cast. David Tennant, Danny Pudi, Ben Schwartz, and Bobby Moynihan, are all returning to voice Scrooge McDuck and his grandnephews Huey, Dewey, and Louie. After a long wait, the return to Duckburg will be a most anticipated one.
Be sure to watch Ducktales season 3 premiering on April 4th on Disney XD and DisneyNOW. Are you excited for the new season? Who do you think will make a surprise cameo? Let us know in the comment section and on our social media!