Director Rian Johnson has a special treat for fans of his hit movie, Knives Out.
In times like this, we have a lot of options to get entertained during the quarantine. You can watch TV continuously, revisit classic films, catch up on new features released straight to VOD, read novels and comics, play video games, and so on. And the fun isn't over yet.
Johnson is here to help you with a new option, if you are tired of watching the screen all day. He recently released the shooting script for his murder mystery movie, Knives Out, online for fans to enjoy freely.
RELATED: THE US BOX OFFICE RECORDS ZERO REVENUE FOR THE 1ST TIME EVER
The writer and director has a habit of releasing his scripts publicly and continued his trend with his most recent release. He made the shooting script of Knives Out available for all on March 24th through his personal website. All of his scripts to his movies, with the except of The Last Jedi, are available for download as well. Check out his tweet below:
Knives Out Is A Movie That's Worth A Read
The director is probably best known for his divisive, yet billion-dollar grossing, film Star Wars: The Last Jedi, the eighth episode in the Skywalker saga. Before that he made his name as auteur with releases such as Brick, The Brothers Bloom, and Looper, which are all critically acclaimed movies.
Knives Out is regarded as one of the best movies of last year. The film is an Agatha Christie-style whodunnit murder mystery and was a gigantic hit that earned more than $300 million worldwide. It also garnered Johnson an Oscar nomination for best original screenplay.
RELATED: SXSW SHORT FILMS ARE STREAMABLE FOR FREE DUE TO PANDEMIC
With the release of the screenplay, fans can study the story in great detail. Gaining insight into how the director crafted the whodunnit mystery and possibly gain new perspectives. Johnson has previously released a commentary track for the movie, so fans can enjoy an audio break down of the film.
Knives Out is a wonderful film and both audiences and critics loved it alike. It got a 97% critics' rating and 92% verified audience score on Rotten Tomatoes. Lionsgate already announced a sequel to the movie is in development, that will follow Daniel Craig's Detective Benoit Blanc taking on another murder mystery. This will be turned into a whole new franchise of murder-mystery thrillers, with the director already at work on the script.
RELATED: DRAMATIC TRAILER FOR DEFENDING JACOB SHOWCASES THE AVENGERS' CHRIS EVANS
It's a fun and rewarding experience to read a movie like this in a script form. There are tiny differences between the script and finished film. For example, when Detective Blanc is first introduced in the film as sitting in the background when Lieutenant Elliot (Lakeith Stanfield) is questioning the Thrombey family. He taps a piano key beside him every time he wants the line of questioning to shift. But in the script, it was written as Blanc simply taps the back of a chair with his foot. However, the piano key moment in the final film is infinitely more memorable and way cooler. Reading a script for this kind of movie will definitely be entertaining.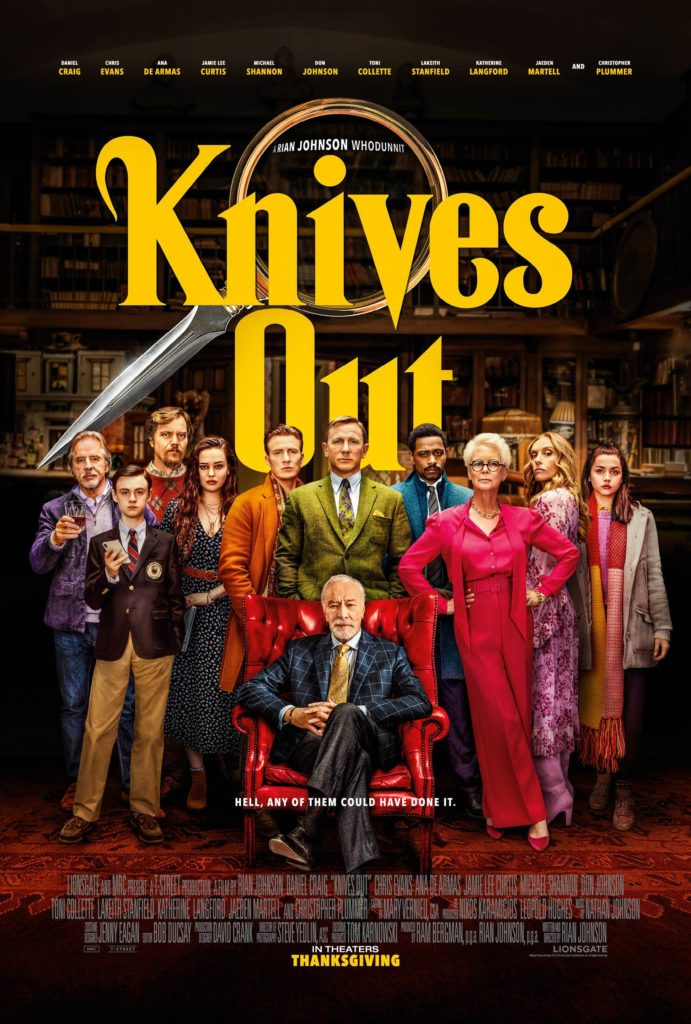 Knives Out movie take-off when renowned crime novelist Harlan Thrombey is found dead at his estate just after his 85th birthday, the inquisitive and debonair Detective Benoit Blanc is mysteriously enlisted to investigate. From Harlan's dysfunctional family to his devoted staff, Blanc sifts through a web of red herrings and self-serving lies to uncover the truth behind Harlan's untimely death. This movie has a star-studded cast featuring Daniel Craig, Chris Evans, Ana de Armas, Jamie Lee Curtis, Michael Shannon, Don Johnson, Toni Collette, Lakeith Stanfield, Katherine Langford, Jaeden Martell, Riki Lindhome and Christopher Plummer.
Did you like Knives Out movie? Are you interested in reading this in a script format? Let us know in the comments below.