Sony movies officially have new release dates!
The COVID-19 global pandemic has caused shut downs of major productions all over as well as movie theater shut downs. It is unknown at this time when that will change, but one of the effects has been some major reshuffling of release dates for films. Many films set to hit theaters from April to July have been delayed which has had a ripple effect for studios. 
Marvel announced a new schedule for their phase four films moving them all back a number of months. Now Sony has announced the changes in their schedule as well with many movies being pushed back and a few actually being moved up on the schedule. 
Sony Movies Start Soon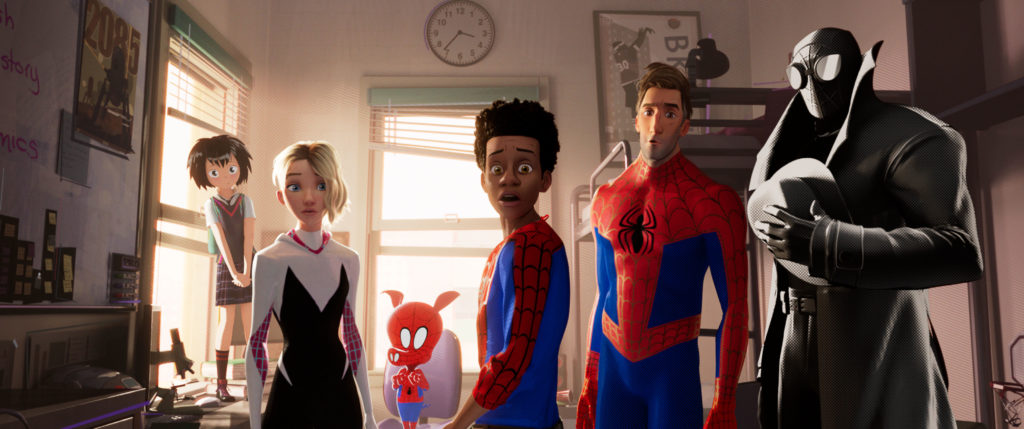 The much-anticipated sequel to Sony's hit 2018 animated film Spider-Man: Into The Spider-Verse has been delayed. Spider-Man: Into The Spider-Verse drew in fans to it with impressive animation along with hilarious and exciting story. It grossed over $300 million worldwide and won Best Animated Feature at the Golden Globes. The sequel was originally slated for an April 2022 release, but it was recently revealed that the Spider-Verse sequel has been pushed back until October 7, 2022. 
Details are scarce about the plot of the sequel at this time, but according to SlashFilm.com it looks like the growing romance between Miles Morales and alternate universe Gwen Stacey aka Spider-Gwen will be a major part of the film. Miles' roommate Ganke will have a bigger part to play much like his character in the comics. And we will also meet a new Spider-Verse hero with the appearance of Japanese Spider-Man. 
It was already announced that the untitled Spider-Man 3 starring Tom Holland has been pushed to November 5, 2021. We now know that the video game adaptation Uncharted, has taken over the release date formerly held by Spider-Man 3. Uncharted is slated for July 16, 2021 release date. Uncharted unlike most films was moved up from the expected fall 2021 release which is likely connected to the delay of Spider-Man 3. It looks like Sony flipped the video game and comic book film release dates so that Holland could get to work on Uncharted first. 
On the animated front Sony has shifted Vivo from a spring 2021 release date to summer of the same year. Now set to hit theaters on June 4, 2021 this will be Sony Pictures Animation's first foray into the musical genre. Vivo will feature original songs by Lin-Manuel Miranada and star Will Smith as a capuchin with a love for music and want for adventure. The capuchin will undertake a difficult journey from Havana to Miami in order to fulfill his destiny.
Phil Lord and Chris Miller's animated family adventure, Connected, will be moving back over a month to be released October 23, 2020. Connected is about a family driving their college aged daughter to her dream school who get deterred by a technological uprising. This unexpected turn of events means a family road trip will turn into a mission to save the world. Hotel Transylvania 4 will also have a change in release date, but unlike most films it is being released earlier than expected. Sony is shifting the release of Hotel Transylvania 42021 from the previously set December 2021 to instead hit theaters August 6.
Escape Room 2 has been pushed back a few days so instead of being released December 30, 2020, it will now come out January 1, 2020. This is a sequel to the 2019 horror film Escape Room and little is known about the plot at this time. The Nightingale, a period drama starring sisters Dakota and Elle Fanning was initially planned to be released on Christmas Day this year, but it no longer has a release date at this time.
Kevin Hart has two Sony films that are being delayed. Fatherhood, a drama directed by Paul Weitz about a widower and single father's struggles to raise his daughter, has been pushed back from fall of 2020 to April 2, 2021. Hart's other Sony film, action comedy Man from Toronto is now set to be released November 20,2021. Woody Harrelson is replacing Jason Stathem in Man from Toronto. 
There will likely be more changes as the hold in productions and movie theater closures continue. The COVID-19 pandemic has caused a lot of delays in the world of entertainment, but at least with new release dates being announced it gives us something positive to look forward to in the future.
Which Sony films are you looking forward to? What are your thoughts about the release date shake ups? Leave your thoughts below in the comments or on our social media.