Could Borderlands soon be a lock for a Best Actress Academy Award nomination? Perhaps even a win?
Film adaptations of video games have something of a bad reputation in Hollywood, where they tend to get torn apart by both critics and audiences alike: but coming off the popularity and success of recent adaptations like Detective Pikachu and Sonic The Hedgehog, it's no surprise that more and more studios are looking to turn the video game experience into a theatrical one.
RELATED: SONIC THE HEDGEHOG WRITERS REVEAL HOW MUCH OF JIM CARREY'S ROBOTNIK WAS IMPROVISED
Lionsgate has had an adaptation of the hugely popular Borderlands game in the works for a couple months now, with Eli Roth set to direct and Emmy-award winning Chernobyl writer Craig Mazin developing the screenplay. Now, it's being reported that they've found their star in none other than two-time Oscar winner and critically acclaimed actress Cate Blanchett.
Who is Borderlands' Lilith?
Blanchett is certainly far from a predictable choice to play the Borderlands film's protagonist, Lilith, a spunky, nerdy warrior and powerful magic-user known as a Siren, whose abilities include the powers of flight and invisibility.
However, her addition to the cast is likely to have a major impact on the industry, assuming the film is a hit and her role is well-received, because it could open the door to even more actors of Cate Blanchett's caliber signing on to projects such as these, possibly giving the genre some of the respect it needs. But for now, let's take a moment to look at the character Blanchett will be playing, and what she could bring to the role.
RELATED: DONKEY KONG HIGH-SCORER UNDERGOES LEGAL DISPUTE
Lilith is one of the major protagonists of the Borderlands series, and she fights alongside the heroes, but she also struggles with her darker, more violent tendencies over the course of the saga. She has the capacity for ruthlessness and can certainly be impulsive or self-centered. She's also a powerful fighter, probably the most powerful of the small group of Sirens still existing in the game's futuristic sci-fi universe. A world where mega-corporations fight to control entire planets and hoard resources, and she possesses incredible cosmic superpowers.
BORDERLANDS' LILITH IS LIKE A MIX BETWEEN HELA AND GALADRIEL
This won't be Blanchett's first time wielding powers like these, as she's well known for her role as the villainous sorceress Hela in Marvel's Thor: Ragnarok, but that role, and all the fun, campy action scenes that came with it, seemed tailor-made for Blanchett. The Borderlands heroine Lilith should give Blanchett a little more of a challenge.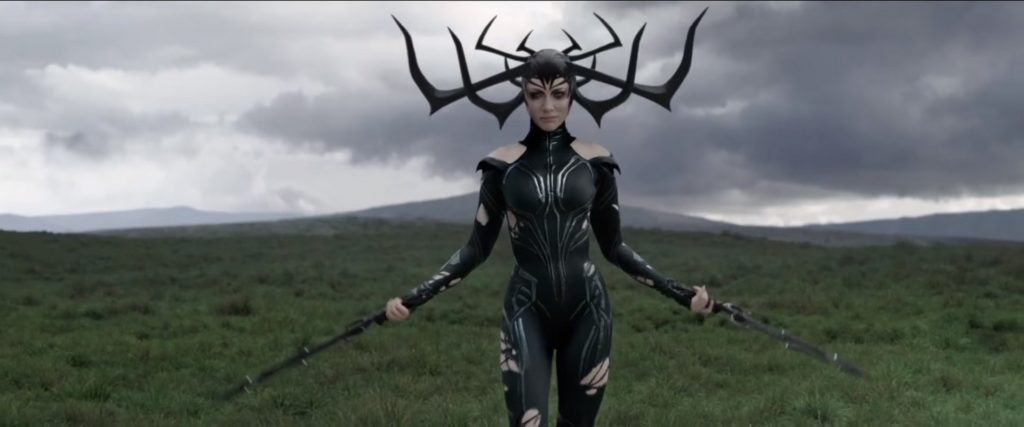 Lilith is a more down-to-earth character and a traditional fighter, who struts her stuff in post-apocalyptic fashion (complete with ragged crop-top, impressive tattoos and a spiky red hairdo), and has a geeky passion for Bunkers & Badasses, a fantasy roleplaying game within the roleplaying game. Heck, there should be plenty of opportunities for some funny meta-humor callbacks to Blanchett's own status as a fantasy genre legend for her portrayal of the Elven ring-bearer Galadriel in The Lord Of The Rings trilogy.
RELATED: RIAN JOHNSON RELEASES KNIVES OUT SCRIPT ONLINE FOR FREE
It'll definitely be interesting to see how Blanchett takes this unique role and makes it her own. Given how quickly she was able to cement herself as an icon of the drama, fantasy, and superhero genres, it's hard to imagine that becoming a video game movie legend would pose a problem for her. It's also very cool and commendable to see that Lionsgate isn't going to let Blanchett's age get in the way of this casting choice. It also makes one wonder whether they'll be able to cast similar talent in the film's other key roles, much like how they did with the all-star ensemble cast of last year's smash hit Knives Out.
What do you think of the casting? Do you think Cate Blanchett will be a good Lilith in Borderlands? To be honest, how could she not be? Leave your thoughts in the comments below.