Young Padawans will soon be put to the test with a series of physical and mental challenges in Star Wars: Jedi Temple Challenge, a children's game show that will begin airing on the Star Wars Kids YouTube channel this June.
The game show will be hosted by actor Ahmed Best, known for playing Jar Jar Binks in the Prequel Trilogy and The Clone Wars animated series. Best will be playing Jedi Master Kelleran Beq, who guides the eager Padawans through an assortment of challenges. Best will be assisted by comedian Mary Holland who will be playing a wise-cracking protocol droid, AD-3. Sam Witwer, a frequent player in the Star Wars universe and a fan favorite, will also be featured as a currently unnamed agent of the Dark Side, who aims to thwart the Padawan learners as they enter the Jedi Temple.
When Does Jedi Temple Challenge Debut?
On June 3rd, the first two episodes of the series will debut on both the Star Wars Kids website and YouTube channel.
"With so many children and families home and looking to Star Wars for hope and entertainment, we wanted to make Jedi Temple Challenge available to as many young fans as possible by airing the series on our Star Wars Kids network for everyone to enjoy."

Mickey Capoferri, Lucasfilm Senior Director of Online Content and Programming
What Can Star Wars Fans Expect?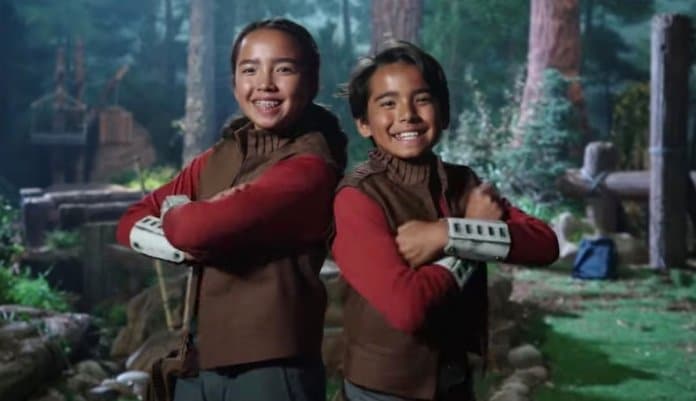 Jedi Temple Challenge will consist of three trials that will test the will and resolve of its participants to become Jedi Knights and wield their lightsabers. This structure is similar to Nickelodeon's Legends of the Hidden Temple, another team based action adventure game show. The Padawans face a strength trial on a distant forested world, a knowledge trial onboard the Jedi star cruiser Thilia, ultimately culminating with one team embarking on a bravery trial in the heart of a Jedi Temple, where they are sure to be tempted by the Dark Side of the Force.
RELATED: STAR WARS: THE HIGH REPUBLIC DELAYED UNTIL 2021
Interestingly, Jedi Temple Challenge was originally announced to be headed for Disney+, but now will be available to all on the Star Wars Kids YouTube channel. Hopefully, the show no longer being considered "an exclusive" is a signal of wavering confidence in its quality. At the very least, it will now reach a much broader audience.
What did you think of the trailer? Will you be tuning into Jedi Temple Challenge's premiere next week? Let us know if you're excited.
KEEP READING: EA CONFIRMS STAR WARS JEDI: FALLEN ORDER IS THE 1ST IN A NEW FRANCHISE