Disneyland Resort plans to begin a phased reopening in July, pending government approval.
Disney has proposed their phased reopening plan for Disneyland Resort. Similar to their resort in Florida, it begins with the Downtown Disney shopping and dining complex opening first, on July 9. The plan is then to have Disneyland and Disney California Adventure theme parks reopen on July 17, the sixty-fifth anniversary of Disneyland opening. Followed by Disney's Grand Californian Hotel & Spa and Disney's Paradise Pier Hotel reopening July 23. However, at this time the plan is still pending approval from state and local government officials.
RELATED: DISNEY PARKS LOOKS TO LOSE $21 BILLION DURING SHUTDOWNS
The phased reopening includes plans for cleaning and social distancing to help keep guests and cast members safe. These plans are the same as the other Disney theme parks attempting to reopen after the months long closures due to the pandemic. Some of these include required face coverings, hand washing stations, and physical barriers added in certain locations. Temperature checks will be required for guests and cast members before entering the park and there will be enhanced sanitization throughout the parks. Physical distancing will be maintained throughout the parks and cashless payment options will be preferred. 
Disneyland: Now Limited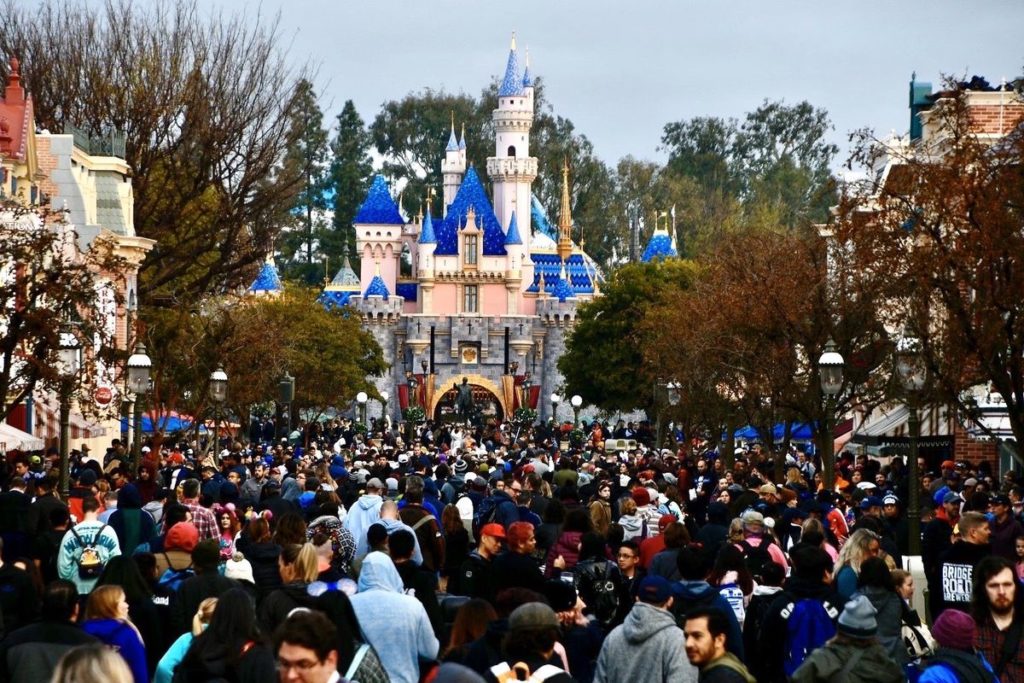 When the parks reopen it will be at a limited capacity to help keep social distancing possible. Certain experiences will also not be open immediately including parades, fireworks and other night time shows, as well as character meet and greets. Though characters will be throughout the parks to entertain guests in different ways.
There will also be a new reservation system put into place. This new system will require guests to make a reservation in advance to enter the park. This is to help maintain the limited capacity that Disneyland will require in order to comply with the expected government guidelines. Disneyland also makes it clear on their official website that "by visiting the Disneyland Resort, you voluntarily assume all risks related to exposure to COVID-19."
RELATED: DISNEY REOPENING SHANGHAI DISNEYLAND AND FLORIDA DISNEY SPRINGS
Many of these requirements are similar to what will be happening at Walt Disney World and what has successfully been working at Shanghai Disneyland since It reopened in May. Governor Newsom includes theme parks as part of stage three of the plan to reopen California. This is of course assuming COVID-19 cases and hospitalization rates stay stable. Recently there has been a bit of an uptick of COVID-19 cases in California so it isn't surprising that government officials haven't yet given the all clear on the phased reopening plan.
Following Disney's announcement of Disneyland's phased reopening an online petition was started on Change.org which has over 37,000 signatures. The petition reads
"As you know, Covid-19 cases are rising and have not dropped. Many people have lost loved ones due to this pandemic and by reopening the parks they are endangering cast members and guests to be exposed to Covid-19. There are more cases now than when the parks closed on March 13th, 2020. Health Officials have stated that the 2nd wave of Covid-19 will be worse. So reopening before the 2nd wave even hits us is irresponsible and greedy. I understand everyone is rejoicing for the reopening of the parks but not during a pandemic where people are DYING, now is not the time."
Given the rise in cases and the second wave that is expected to still be coming the concern is understandable, especially since most of the business at the Disneyland theme parks is likely to be from locals initially. While many are excited for Disney to open the gates to the theme parks the concerns that people still have given the ongoing pandemic is also something that will hopefully be taken into consideration while government officials are deciding on the guidelines for the reopenings of theme parks in California.
What do you think about Disneyland reopening? Do you think it's too early to reopen? Do you want to go to Disneyland when it reopens? Leave your thoughts in the comments below or on our social media.
KEEP READING: WALT DISNEY WORLD WILL BEGIN PHASED REOPENING IN JULY: EVERYTHING YOU NEED TO KNOW
Source: Disneyland.Disney.Go.com