There has been a swarm of Teenage Mutant Ninja Turtles rumors as of late, which is a clear indication that the property is ready to reemerge. The last two theatrical installments were produced by Michael Bay's Platinum Dunes' to mixed results, both critically and at the box-office. However, the franchise seems as viable as ever.
Teenage Mutant Ninja Turtles has had a steady presence on the small screen over the decades, with Nickelodeon pumping out multiple animated series in recent years. There has also been a big-screen animated film in the past as well, proving that TMNT is a staple at the box-office.
Seth Rogen's Teenage Mutant Ninja Turtles
Now, Nickelodeon is looking to take their production back to the big screen and have enlisted the help of some of Hollywood's biggest names. Point Grey Pictures, headed by Seth Rogen and Evan Goldberg, will produce a new Teenage Mutant Ninja Turtles film for Nickelodeon Animation Studios.
While Seth Rogen is known to most as a celebrity actor, he and Goldberg have already produced some of the most critically acclaimed comic book adaptations in the modern era, with Preacher and The Boys. They also have experience with theatrical animation with the R-rated romp, Sausage Party.
The new Teenage Mutant Ninja Turtles film will be distributed by Paramount Pictures, while Jeff Rowe (Gravity Falls) will be directing the feature. Brendan O'Brian (Neighbors) has been tasked with screenplay duties, so it seems that all the pieces are in place to get the reboot flying at a high altitude.
RELATED: SPLASH MOUNTAIN AT DISNEYLAND AND DISNEY WORLD IS GETTING A NEW PRINCESS AND THE FROG THEME
Teenage Mutant Ninja Turtles began as a dark, moody, and surprisingly violent comic, created by Kevin Eastman and Peter Laird in 1984. The property was adapted into an animated children's show a few years later, which turned the Turtles into pop culture legends. Live action films, video games, toys, lunch boxes, and even a live concert tour were only some of the ways that Teenage Mutant Ninja Turtles capitalized on their popularity. So it's no shock that a new film is in development.
There isn't any real information on the direction of the Teenage Mutant Ninja Turtles reboot. While the involvement of Rogen would seem to signal that the film could be significantly darker and more mature than 2007's TMNT, the last animated feature to hit theaters. The partnership with Nickelodeon Animation is a clear indication that the film will more than likely stay within the family friendly realm.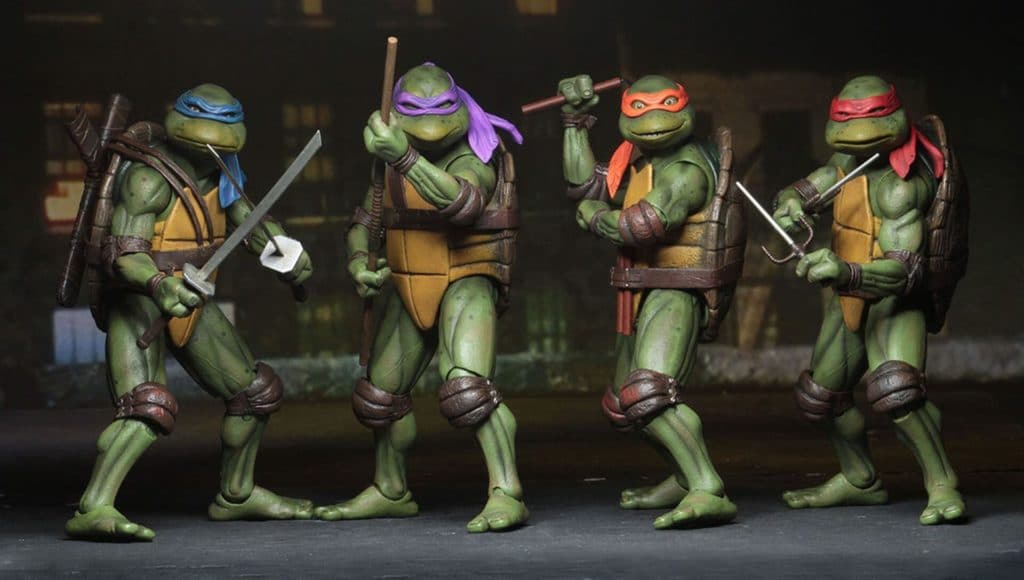 IDW is preparing to launch a new comic run titled, TMNT: The Last Ronin, which is a story set in the future where there is only one Ninja Turtle left. This warrior returns to avenge his fallen brothers. The bitter take brings to mind works like The Dark Knight Returns and Old Man Logan. It will be interesting to see how the run is received and if it will influence either this or other future Teenage Mutant Ninja Turtle projects.
While there isn't much more to go on. This project seems perfectly suited for an announcement at Comic Con at Home, or a similar convention, to show off the new concept art and direction of the film. We will make sure to keep our ears to the sewers and bring you all the latest. What kind of take do you want Rogen and Goldberg to take on the new Teenage Mutant Ninja Turtles reboot? Let us know in the comment section below or on our social media!
KEEP READING: MIGHTY MORPHIN' POWER RANGERS/TEENAGE MUTANT NINJA TURTLES #5 REVIEW
Source: IGN