Critical Role and McFarlane Toys are bringing Mollymauk back to the fans with a limited edition 12" figure.
July has been a great month for Critters, with the beloved Critical Role returning after a months-long hiatus, the first official Critical Role Funko Pop getting released for Virtual SDCC, and now a McFarlane Toys figure of Mollymauk.
The group has just announced another new piece of exciting merch available in their store a 12" figure of the fan favorite Tiefling blood hunter Mollymauk Tealeaf. This figure is the first collaboration between Critical Role and McFarlane Toys. Comic Book reported last year that the team signed licensing agreements with multiple companies including McFarlane Toys. 
More Merch For Critical Role
The licensing agreements between Critical Role and Penguin Random House has led to an upcoming book "The World Of Critical Role" which will give fans an inside look into how the beloved series has come to exist. The crew also has their first official Funko Pop coming out just in time for Virtual SDCC after Critical Role signed a licensing agreement with Funko. 
Taliesin Jaffe who played Mollymauk Tealeaf shared his enjoyment of the process of making the figure on twitter.
You can read the full description of the limited edition Mollymauk figure from the series shop below:
"Long may he reign! Our limited edition Mollymauk Tealeaf 12" scale figure ‒ created with our friends at McFarlane Toys ‒ is made of durable high-quality PVC, and will certainly stand out amongst your other cherished treasures.
Molly wears his signature extravagant robe and brandishes two removable scimitars. His right arm can also be rotated so that his right scimitar can be removed and returned easily. Along with his trademark smirk, Mollymauk is flashing four iconic cards from his tarot deck: The Eye / The Hand, The Judge / The Tyrant, The Anvil / The Sword, and The Moon / The Mirror.
Our Molly figure sits on a 7" woodgrain base featuring the Critical Role logo, and comes beautifully showcased in themed packaging befitting our beloved blood hunter in all his flamboyant glory."

RELATED: CRITICAL ROLE REVEALS FIRST FUNKO POP AVAILABLE JULY 22 FOR VIRTUAL SDCC
The level of detail on this figure is stunning as you can see in the pictures from multiple angles below.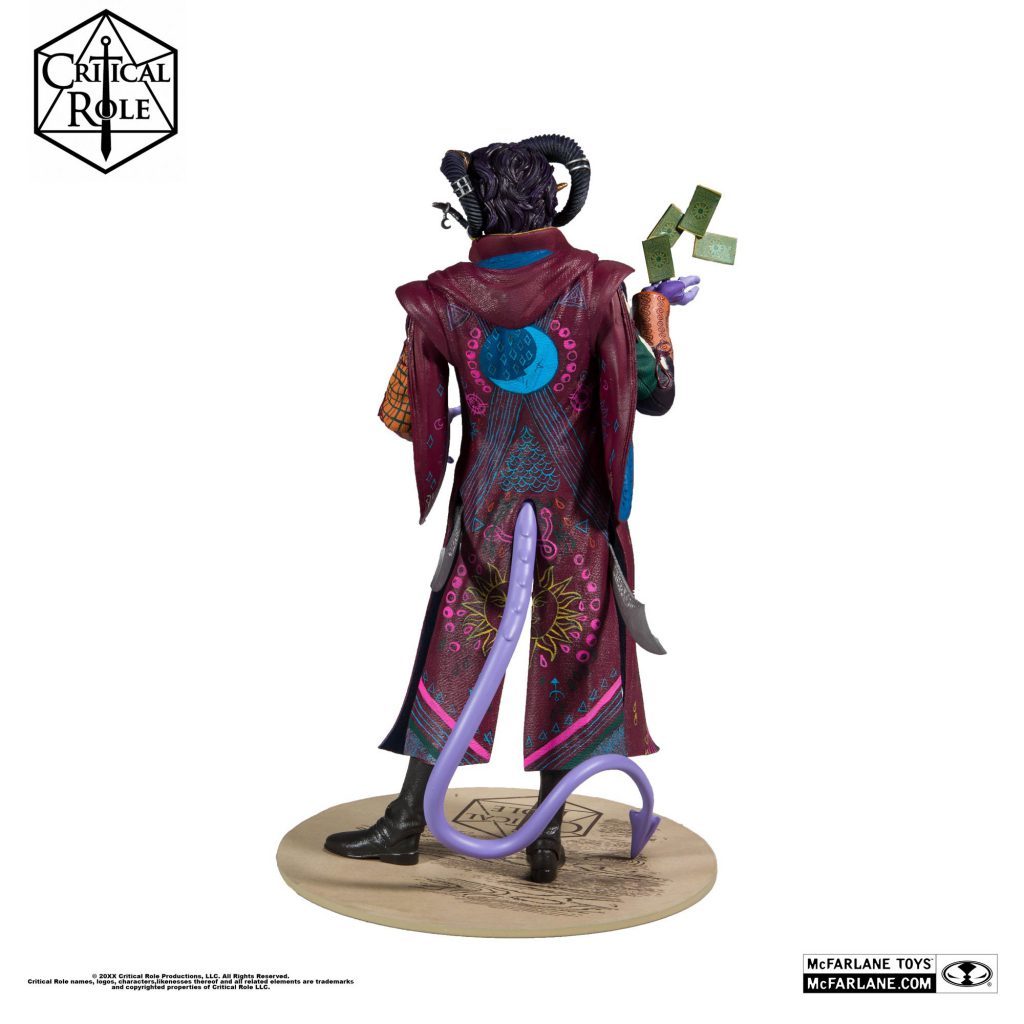 Critical Role is a web series with a cast of voice actors playing Dungeons & Dragons on a weekly basis. It has grown from what began as a home game between friends to a massive internet phenomenon with fans around the world. The series originally launched on Geek & Sundry in 2015 before splitting off to their own production company and studio in 2019.
There is an upcoming animated series based on the characters and stories from Campaign 1, The Legends of Vox Machina. The Kickstarter campaign that Critical Role launched broke records raising over $11.3 million and lead to the animated series being picked up by Amazon Prime for two seasons. 
Campaign 2 of Critical Role began in January 2018 and just celebrated episode 100 of the campaign when the series returned from hiatus on July 2. Campaign 2 focuses on a group of misfit characters who become an adventuring party who come to be known as the Mighty Nein. Mollymauk Tealeaf was played by Taliesin Jaffe and was a member of the Mighty Nein. This limited edition figure is an exciting addition for any Critters collection.
Available now through the Critical Role US and Critical Role UK shops for $80. Critical Role returned after a months long hiatus, due to the ongoing pandemic, on July 2. New episodes air every Thursday at 7pm PST on twitch.tv/criticalrole and they are available on the Critical Role YouTube channel the following Monday.
Are you excited about the Mollymauk Tealeaf figure? What other characters do you hope to see McFarlane Toys make figures of? Share your thoughts in the comments below or on our social media.