WrestleMania weekend will have a big change to two of its show's venues.
As we reported in February, WrestleMania 37 will be held in Hollywood, California, in the newly built SoFi Stadium. However, NXT Takeover and SmackDown were set to take place at the Staples Center. There appears to be a change of plans with the venue, as Staples Center double booked the Friday and Saturday with a regional Mexican act, Grupo Firme.
RELATED: TRIPLE H AND VINCE MCMAHON DISCUSS RATINGS, SIRIUSXM AND AEW
WWE always likes to have a lead up to WrestleMania with shows in the area starting Thursday and ending Monday with Raw. The WWE Hall of Fame Ceremony on Thursday at the Staples Center which still works and Raw still works. It's just the SmackDown and NXT Takeover, Friday and Saturday respectively, which are the problem.
Did Someone Drop The Ball?
This is not an issue of WWE not booking the arena or Staples accidentally double booking. I'm sure WWE decided to not hold those events at the Staples Center, or they are pulling a power move. 
This COVID stuff has stuck around for a lot longer than anyone expected or wanted. It's unclear if Wrestlemania will even happen in a traditional form. WWE may not want to hold those days, if they don't know if they can even have a regular event. They can always have a Thunderdome event like they've been doing recently. However, another option is if things go back to normal, the Grupo Firme concerts may get postponed and WWE slides back in with a heel move. Staples Center may have already agreed to this and Grupo Firme is fully aware.
Will WrestleMania's Venue Change Too?
As things stand now, SmackDown and NXT Takeover are not being held at Staples Center on that Friday and Saturday, but this also brings up two important questions. Where will those events be held and are those the only two shows cancelled or moved? Having a Thunderdome show at the Amway Center would make the most sense.
RELATED: AJ STYLES LEFT RAW BECAUSE HE COULDN'T WORK WITH A LIAR
The second big question leads into a big issue. Is WrestleMania going to be moved as well? SoFi Stadium is a huge venue and is brand new. I'm sure they really wanted to hold the biggest wrestling event of the year at their new stadium. It just doesn't make sense to hold an empty WrestleMania there.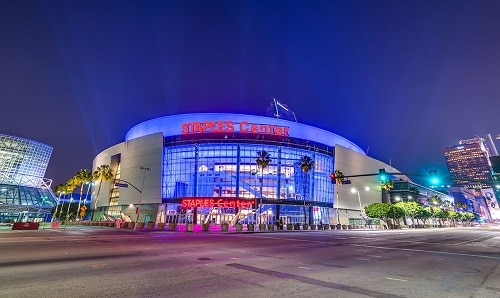 WWE doesn't have any tickets on sale for any of their WrestleMania weekend events so we have no idea what their plan is for that weekend. However, Staples Center has their lineup and Grupo Firme tickets are on sale.
WrestleMania is scheduled, if things stay the same, for March 28, 2021. This is a long way off so WWE has time to figure out where and if they will hold these events. The event schedule at most arenas and stadiums is looking pretty sparse, so WWE has options to choose from. Now that the scheduling conflict is out in the open, I wouldn't be surprised if WWE addresses it soon and makes a venue announcement or releases a statement on the situation.
What do you think of the scheduling changes? Do you think WWE will move NXT Takeover forward or back a week and stay at Staples Center? We'd love to hear your thoughts on the situation so leave a comment below. 
KEEP READING: GOLDBERG REVEALS HE'S SIGNED WITH WWE FOR ANOTHER 2 YEARS
Sources: ProWrestling, Staples Center