During a recent Disney press conference, Becky Bresee head of animation on Frozen II and the Once Upon A Snowman short talked about how Once Upon A Snowman reveals Olaf's origins and looks at Frozen scenes from a new perspective.
Once Upon A Snowman takes place during the first Frozen film and reveals how Olaf fell in love with summer and shows what Olaf was doing in the forest until he found Anna and Kristoff. What is great about this short is it not only shows what Olaf was up to from the time of his creation to when he joined Anna and Kristoff on their journey it also directly connects to a number of moments within the first Frozen film.
When Anna and Kristoff meet Olaf, he loves the idea of summer and everything he could do, but he has no idea that he would melt in the scorching temperatures. Becky Bresee talked about revealing one of the biggest mysteries of Olaf's character, how he learned about and fell in love with Summer after just being created.
"Well, when really diving into what the short was going to be and how it was going to weave in and out of the first film…from when Elsa creates him during Let It Go, to when Anna and Kristoff and Sven meet him in the forest…what little things can we weave in there that makes sense or that would answer questions or whatever?

And, one of them I always had was like, "Well, he is obsessed with summer, yet he doesn't know he would melt. How does that work? How does he know what summer is? He was just created and stuff." So, there was a very logical explanation for that. And we see it in this little short. It just, it kind of wrote itself, it made sense that it would be in there."
Not only will fans learn about how Olaf fell in love with summer, they will get to revisit a number of locations and scenes from Frozen, but from a new point of view. Instead of following Anna and Elsa's story, they will be following Olaf.
RELATED: DISNEY INVESTOR ARGUES BLACK WIDOW RELEASING ON DISNEY PLUS IS A "TREMENDOUS OPPORTUNITY"
Once Upon A Snowman adds new layers to Frozen providing unexpected insights and connections between Olaf's origins and Anna and Kristoff's adventure to find Elsa. Becky Bresee noted how interesting it was to be able to explore parts of Frozen from a different perspective.
"The whole project was neat in that we know who animated the first moments and then seeing those moments from a totally different angle… you have insight to what's happening next and before and all that. So it's just really fun to see it all connect…it's just neat to see these moments play out in a different way."
ONCE UPON A SNOWMAN OFFICIAL SYNOPSIS AND TRAILER
The previously untold origins of Olaf, the innocent and insightful, summer-loving snowman who melted hearts in the Academy Award®-winning 2013 Disney animated feature, Frozen, and its acclaimed 2019 sequel, are revealed in the all-new Walt Disney Animation Studios animated short, Once Upon a Snowman. The film follows Olaf's first steps as he comes to life and searches for his identity in the snowy mountains outside Arendelle. Once Upon a Snowman is directed by Trent Correy (animation supervisor, "Olaf" in Frozen 2) and Dan Abraham (veteran story artist who boarded Olaf's "When I Am Older" musical sequence in Frozen 2) and will debut exclusively on Disney+ October 23, 2020.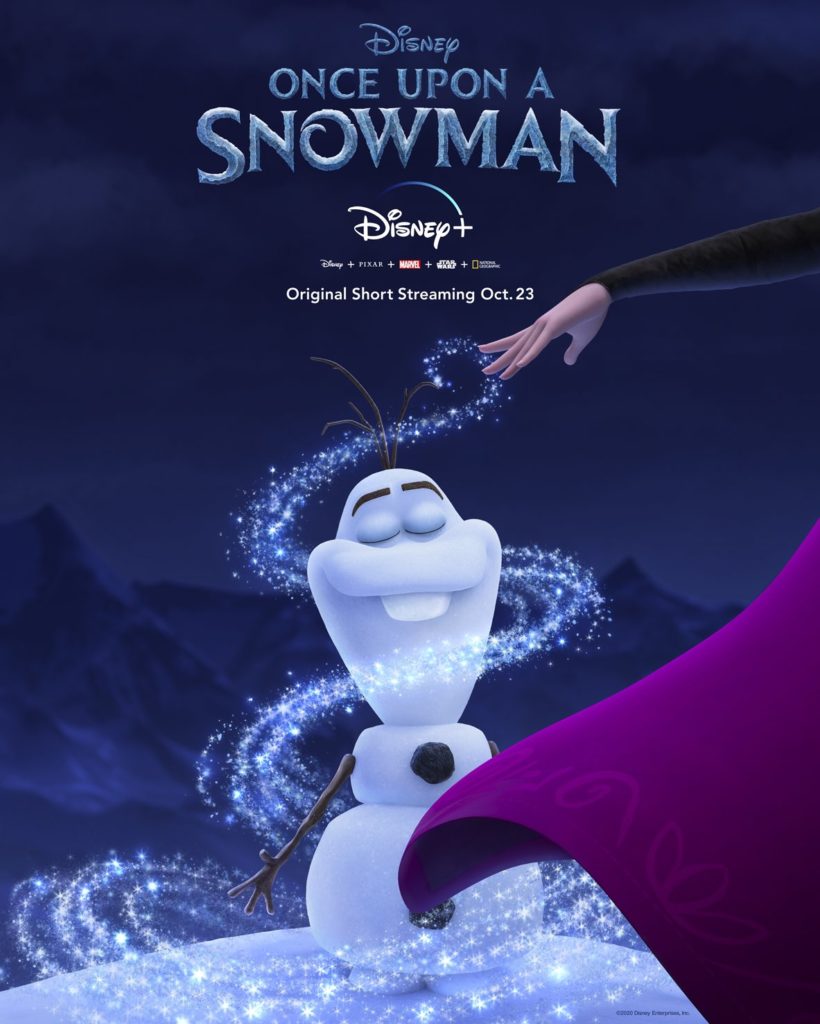 Once Upon A Snowman is written and directed by Trent Correy and Dan Abraham. Once Upon A Snowman will be released on Disney Plus on October 23.
Are you going to watch Once Upon A Snowman? Are you excited to see how it ties directly into Frozen? Leave your thoughts in the comments below or on our social media.
KEEP READING: NEW AT HOME WITH OLAF ANIMATED SHORTS FROM THE FROZEN TEAM