Olaf has become a favorite character of many children and adults alike and in the upcoming short, Once Upon A Snowman, audiences will get the chance to see what he was doing from the time he was created by Elsa, until he found Anna and Kristoff in the forest.
During a press conference for the upcoming short, writer and director of Once Upon A Snowman Trent Correy, revealed he has been thinking about this short since the first Frozen movie.
"I started as a crowd animator during the first Frozen and my very first character to animate was Olaf. I was very lucky to get to animate Olaf for the rest of the show and I very clearly remember seeing Chad Sellers animator shot during Let It Go, while I was a trainee and Elsa meets Olaf and it's beautiful and then she just walks away. She creates life and she walks away and I was like, there's got to be a story there…I want to see what Olaf's first steps are like and we don't see them for another 20 minutes in the film."
WHY PEOPLE CONNECT WITH OLAF
RELATED: DISNEY INVESTOR ARGUES BLACK WIDOW RELEASING ON DISNEY PLUS IS A "TREMENDOUS OPPORTUNITY"
This is a story close to Trent Correy's heart, having initially wondered what the little snowman was up to during the film before Anna and Kristoff came across him. But why has Olaf connected with audiences so strongly? During the press conference writer and director of Once Upon A Snowman, Dan Abraham explained why he thinks Olaf has become such a beloved character and the focus of shorts like Once Upon A Snowman and The At Home With Olaf short series.
"I would say that Olaf has this overwhelming optimism and sincerity about him. And that just never gets old. It's something that we all sort of aspire to and sometimes fall short. But Olaf is always there charging ahead with just this eternal optimism and sweetness that I think is a part of all of us, but maybe we wish we had more of. And it's sort of aspiring."
Olaf's naivete and childhood innocence is what Peter Del Vecho, creative consultant on Once Upon A Snowman believes people love about the character.
"And I think we can all relate to his sort of innocence as a child. That's slightly naive look at the world, but in doing so, I agree, Trent, he can really hit on some profound, emotional things. You can zero in on things that maybe, as adults, we miss."
Olaf has become a staple character of the Frozen franchise and this wacky adventure will add another layer to audience's understanding of the character. Once Upon A Snowman allows audiences to learn more about Olaf and what his first moments of life were like. But the heart of who Olaf is connects directly to the love he was born from.
RELATED: NEW AT HOME WITH OLAF ANIMATED SHORTS FROM THE FROZEN TEAM
Olaf is a personification of the bond between Anna and Elsa. From when he was first built when they were kids, to when Elsa created him in the woods, he harkens back to a simpler time. And getting the chance to see what he was up to before he found his family is a fun peak behind the curtain of this fan favorite character.
ONCE UPON A SNOWMAN OFFICIAL SYNOPSIS AND TRAILER
The previously untold origins of Olaf, the innocent and insightful, summer-loving snowman who melted hearts in the Academy Award®-winning 2013 Disney animated feature, Frozen, and its acclaimed 2019 sequel, are revealed in the all-new Walt Disney Animation Studios animated short, Once Upon a Snowman. The film follows Olaf's first steps as he comes to life and searches for his identity in the snowy mountains outside Arendelle. Once Upon a Snowman is directed by Trent Correy (animation supervisor, "Olaf" in Frozen 2) and Dan Abraham (veteran story artist who boarded Olaf's "When I Am Older" musical sequence in Frozen 2) and will debut exclusively on Disney+ October 23, 2020.
Once Upon A Snowman is written and directed by Trent Correy and Dan Abraham. Once Upon A Snowman will be released on Disney Plus on October 23.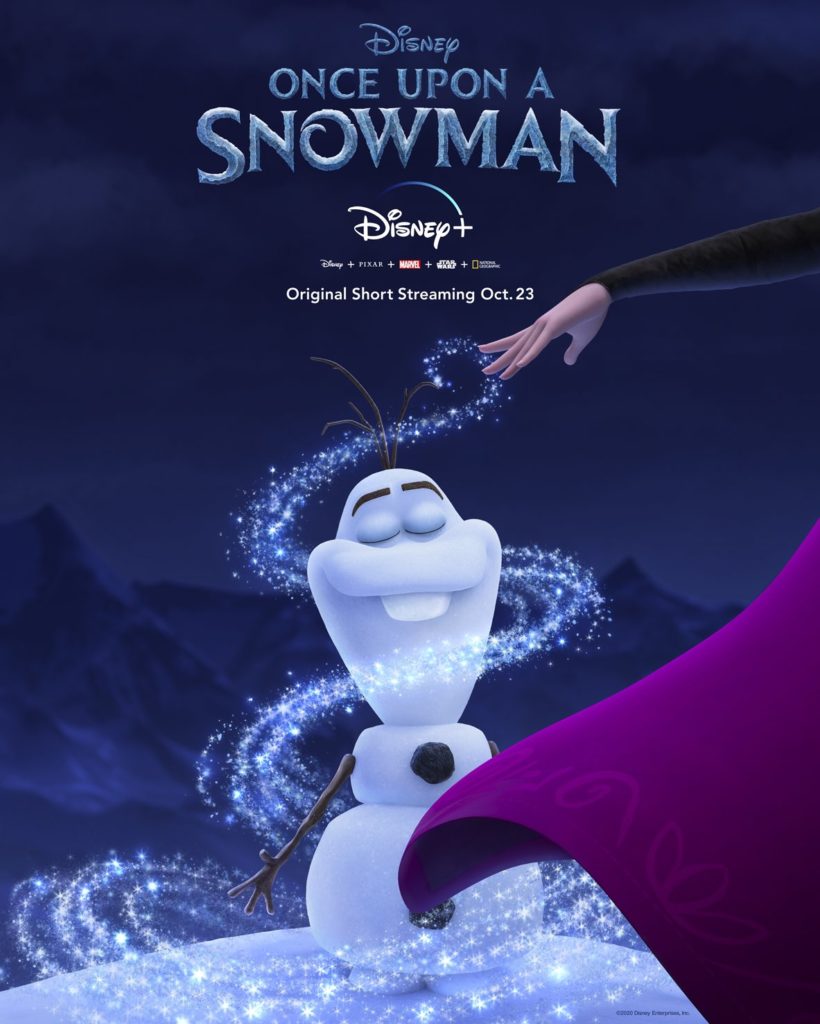 Are you going to watch Once Upon A Snowman? Do you want to see Olaf's origin? Leave your thoughts in the comments below or on our social media.
KEEP READING: HOW PIXAR CONSTRUCTED SOUL'S WORLD