EC3 makes his ROH debut to drum up interest in his upcoming match against Moose at Impact Wrestling Bound For Glory PPV.
In what was a highly anticipated debut to ROH fans, I'm sure former WWE Superstar EC3 came to the ring to cut a promo. Recently EC3 has changed up his character a bit. He went from a buff, rich prettyboy to a ripped philosopher of sorts.
RELATED: SASHA BANKS ADMITS BEING ON HOT ONES LANDED HER SURPRISE ROLE ON THE MANDALORIAN
EC3 wants to shake the very foundations of what ROH was built on. He questions what honor is and if Ring Of Honor has any left. EC3 calls out the locker room and questions if they deserve to step in the same ring as greats like CM Punk, AJ Styles and Bryan Danielson.
The narrative of life and in this case honor needs to be questioned according to EC3.
"Is honor real? Because there is no honor in what we do. We've allowed ourselves to be controlled our entire lives. Corporations, politicians, media, our thoughts, our beliefs, even our love has had authority over us. Everyday they take from us our freedoms and everyday we lose focus on our greater purpose.

Is there honor in fighting back? Is there honor in fighting back those that control you, demean you, degrade you, try to cancel you? Is there honor in fighting back for your freedom to act? To think? Freedom to speak and freedom to feel. Is there honor in finding purpose?

Is there honor in the past? I stand in hallowed halls built by hallowed names. Black hats, and punks with Styles Clashes, submission machines, and dragons with national identity. They were great men and they built a great house, but men are fallible. Men conform.

Is there honor in the now? Briscoes, Lethal, Dragon Lee, Rush. These names synonymous with the best wrestling on the planet. Is that a fact or is that self praise? I'm not here to wrestle. I am here to fight. I am here to seek out the greatest competition this planet knows and I want to fight them. I want to punch, kick, scratch, claw. I want to bring total freaking war Von Clausewitz style to anybody and everybody.

Without pain, without sacrifice you have nothing. I am willing to purify myself by pain. I am willing to sacrifice myself on this altar of honor, the Ring of Honor. Honor, I will put that name to the test. You have been warned," EC3 said.
RELATED: SCOTT STEINER UNDERGOING HEART PROCEDURE FOLLOWING COLLAPSE
Because no one knows who Van Clausewitz was, including myself, he was Prussian military theorist. He came up with the concept of fighting an "absolute war" which is often confused with "total war." What those two things are doesn't matter and is confusing as hell like EC3's promo.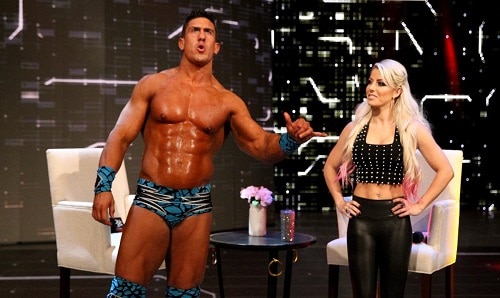 Huh? WTF Was EC3 Trying To Say?
That was one of the worst promos I've heard in a very long time. I've always said that the most important aspect of a promo is the speaker has to believe what they are saying. However, the promo has to actually make sense. What in the hell was he talking about? It seemed like people wrote sentences with the word honor in it and then EC3 read it off a paper.
A good promo should make me feel something besides confused. It should make me mad, sad, happy, motivated or something. I guess EC3 didn't learn anything from his performance center promo classes.
If you want to watch Impact Wrestling Bound For Glory it will air Saturday at 8 p.m. and hopefully EC3's match will be better than that promo.
Did you understand what he was talking about? Are you excited for any of the Impact Wrestling Bound For Glory matches? If you question the narrative of comments then…snore. You know what to do in the comments below.
KEEP READING: ROBERT ROODE OPEN TO RETURNING TO NXT AND BECOMING "A CHAMPION AGAIN"
Sources: ProWrestling, ROH YouTube Channel