Paul Heyman speaks about his time running Raw, his eventual departure, and his relationship with Vince McMahon.
On a recent episode of Ariel Helwani's MMA Show, Paul Heyman was a guest. Helwani asked about Heyman's time with the WWE and being moved from the executive director of Raw to "just another talent on the roster." Paul Heyman first talks about why he was given the job in the first place and what the job ultimately boiled down to.
"I served at the pleasure of Chairman Vince McMahon and there came a day where I was no longer at the pleasure of Vince McMahon. When I took the role, I made an agreement with Vince McMahon; I want this job as long as every morning, Vince McMahon woke up and said, 'thank God Paul Heyman is looking after Raw.' The day that he didn't wake up and feel that way, I didn't want the job anymore. I'd been in a similar role when Vince was not happy with me, and it's a miserable existence. I didn't want it. On that day, Vince didn't wake up that morning thanking whatever deity he subscribes to that Paul Heyman was in charge of Raw. We left with a smile, a handshake and a hug. No harsh feelings. Actually, (we had) better feelings about each other because of the way it ended because it ended miserably before," Heyman said. H/T To Fightful For Transcription
RELATED: ROBERT ROODE OPEN TO RETURNING TO NXT AND BECOMING "A CHAMPION AGAIN"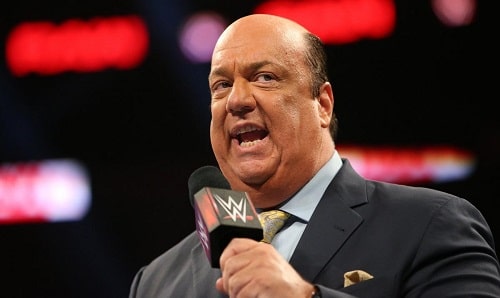 Heyman's Old Job And Firing
Paul Heyman served as the executive director of Raw from June 2019 to June 2020. In that year Raw did not dip drastically in quality, but it didn't rise either. The dissatisfaction Vince may have had with Heyman didn't look like it came from on-air issues with the show. The official excuse for firing Heyman by WWE was a streamlining issue.
RELATED: AJ STYLES WAS ALMOST AN ALL ELITE PART OF AEW
Since COVID took away from the wrestling traveling schedule everything was out of the NXT Arena. Having a guy in charge of Raw and one in charge of SmackDown made a lot less sense. Bruce Prichard who was the executive director of SmackDown took over both shows.  
Was Paul Heyman Too Slimly Even For Vince?
However, as we reported earlier, Paul Heyman was accused of spearheading the firing of Gallows and Anderson by AJ Styles. Styles also accused Heyman about lying to his face about the Gallows and Anderson release. Heyman's backstage reputation started to decline and may have reached up the ladder to Vince and soured his view on Heyman.
Heyman took some time off WWE TV, but in August he made his return. Roman Reigns made his comeback and needed a special heel manager to complete his new full heel persona. The perfect guy was waiting in the wings who goes by the name Paul Heyman. Who better to help someone who has always been criticized for his mic skills but with the best heel manager alive today, Heyman?
The return of Heyman to help WWE's top talent in Reigns confirms WWE has not soured completely on using Heyman. Heyman is the best mouthpiece money can buy and to not use him is an utter waste of talent.
What do you think of Paul Heyman's return? Do you think Heyman can elevate Reigns to the top talent WWE sees him as? Is there anyone else you would like to see Heyman manage? Unleash your inner advocate and voice your opinions below. 
KEEP READING: NXT HALLOWEEN HAVOC COMING LATER THIS MONTH
Sources: ProWrestling, Fightful, Ariel Helwani's MMA Show