Spell is a horror movie from director Mark Tonderai (Gotham, Black Lightning, Locke & Key) and starring Omari Hardwick.
Hardwick (Kick-Ass, Power, Sorry To Bother You) plays Marquis T. Woods, a lawyer who takes his family to his anachronistically rustic hometown after his abusive father passes away. While his family is present and relevant to the story, the cast is relatively small and the story almost exclusively follows Marquis in his battle against the hoodoo cannibal Eloise, played by Loretta Devine.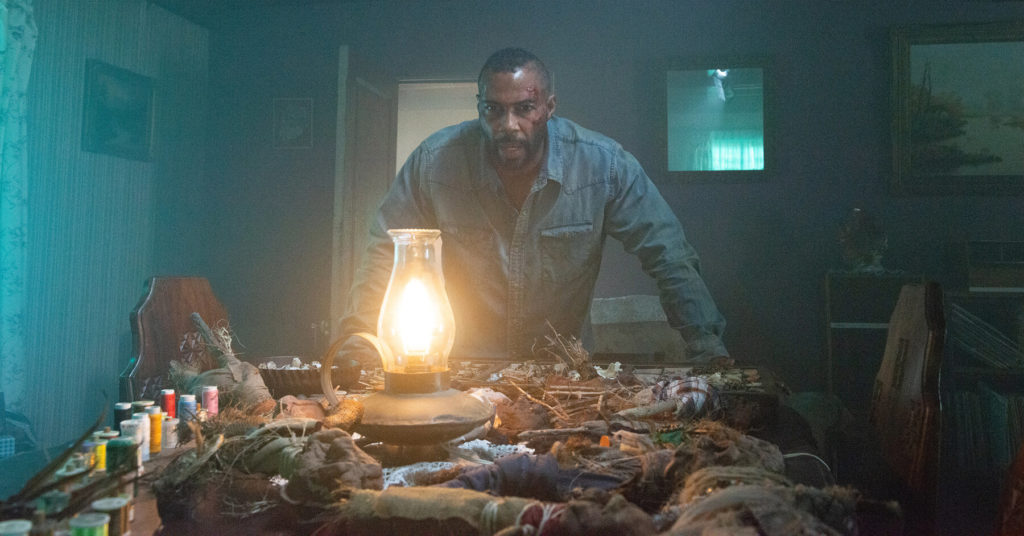 Devine captured Marquis after his plane crashed on the way to his father's funeral, and he woke up without his family in Eloise's country home, with bandages on his wounded feet. The struggle between these two characters is an engaging one, and it provides a good handful of legitimately frightening scenes. If you're looking for a fun but flawed horror film this Halloween season, Spell is not a bad option.
An Ancient, Mysterious Neck Of The Woods
My problem with the film ultimately can be summed up in two words – unrealized potential. Mark Tonderai does a fine job with Kurt Wimmer's (Total Recall, Point Break) solid script. The film actively talks about heavy themes regarding ancestry, origin, and history. Eloise is ultimately trying to prove to Marquis that he's the same as her, a creature in tune with dark forces, and to some degree, she succeeds in that.
RELATED: HUBIE HALLOWEEN REVIEW: ADAM SANDLER AND HIS WEIRD VOICE ARE BACK AT IT
Unfortunately, the huge third act plot twist falls flat. It reminded me of the ending of Netflix's Death Note, where Light revealed his incredible master plan. While Spell was ultimately more believable, the execution simply wasn't performed with finesse. This movie may have entertainment value, heart even, but it lacks grace.
Spell: More Than The Sum Of Its Parts
Now that's out of the way, I would like to applaud Spell for a handful of things. The body horror is fantastic, and thoroughly upsetting to look at. Hardwicks performance is solid, if not revolutionary. The set design and cinematography help this relatively low budget film feel like a blockbuster for almost the entire runtime. While Spell may not provide satisfying answers to many of the thematic questions it asks, it is thought-provoking all the same.
I also have to give credit to the creative team behind Spell for the atmosphere that they created for this film. You really get a feel for the old timey, agricultural hellscape Marquis has found himself in. This film is a spooky and authentic adventure, albeit an imperfect one.
If you like dark magic, hoodoo, and violent entertainment, you'll have fun with Spell. No, it's not reinventing the wheel, and that sucks. But it only sucks because I believe that with some fine tuning of the script and pacing improvements, Spell really could have been something special.
Alas, horror fans should be thankful for the few horror movies we get this Halloween. No, it's not Halloween Kills or Candyman, but it's not half bad either. Support your theaters if you can, and feel that it's safe to do so.
Let us know what you think of Spell in the comments below or on our social media. Always remember, we are always watching. We are The Illuminerdi.