The third and final installment of the Jurassic World trilogy, Jurassic World: Dominion, has finally wrapped up filming.
Director Colin Trevorrow announced on his Twitter account that the film has wrapped principal photography. Trevorrow wrote, "All my gratitude to our extraordinary crew and cast. We made a family".
Veteran Jurassic Park actor Sam Neil also explained in his Twitter that filming was difficult due to the strict protocols. These protocols related to shooting during the ongoing pandemic. But Neil did give high praise to his cast and grew for pulling it of. Neil wrote, "There were days we thought we might not make it, but we have.. we pulled off what seemed well nigh impossible. Great crew. Lovely cast. Top director. Phew- and CELEBRATIONS".
The proud achievement of the Jurassic World: Dominion cast and crew completing the film should be highly praised. Mainly, because filming during a pandemic is such uncharted waters for the industry.
Jurassic World: Dominion's Difficult But Victorious Journey
The third entry to the Jurassic World trilogy first started shooting this past February in Canada. Filming then moved to multiple locations in England in the following month of March. One of the locations was London's legendary Pinewood Studios. Pinewood Studios is known for filming many known movies in history. These movies include all of the James Bond films, Alien, Richard Donnor's Superman, Batman Returns, Mamma Mia, Harry Potter and The Deathly Hallows Part 1 & 2, and many more.
However shooting and production of Jurassic World: Dominion had to shut down in March due to the global Covid-19 pandemic. Many of the film's cast and crew had to quarantine and shelter for multiple months. Fortunately, the film was allowed to resume production in July with new safety protocols. This was the first major Hollywood blockbuster film to implement these rules and protocols.
However, Jurassic World: Dominion was forced to pause filming again for two weeks in October. It was mainly because a few cast members on the film had positive tests for Covid-19. Universal Pictures released a statement about the positive tests stating "a small amount of positive tests for Covid-19 emerged from the crew". So it was not a surprise that they indeed had to halt production again temporarily.
RELATED: SCREENWRITER DAVID KOEPP GIFTS OVER 30 FILM SCRIPTS FREE TO THE PUBLIC, INCLUDING SPIDER-MAN AND JURASSIC PARK
According to a report from Deadline, 40,000 Covid tests were taken during the process of filming. The studio also spent millions of dollars in safety protocols. Then finally the cast and crew had to isolate in a bubble for a few months. But in the end, the cast and crew pulled off an amazing journey and defied the odds.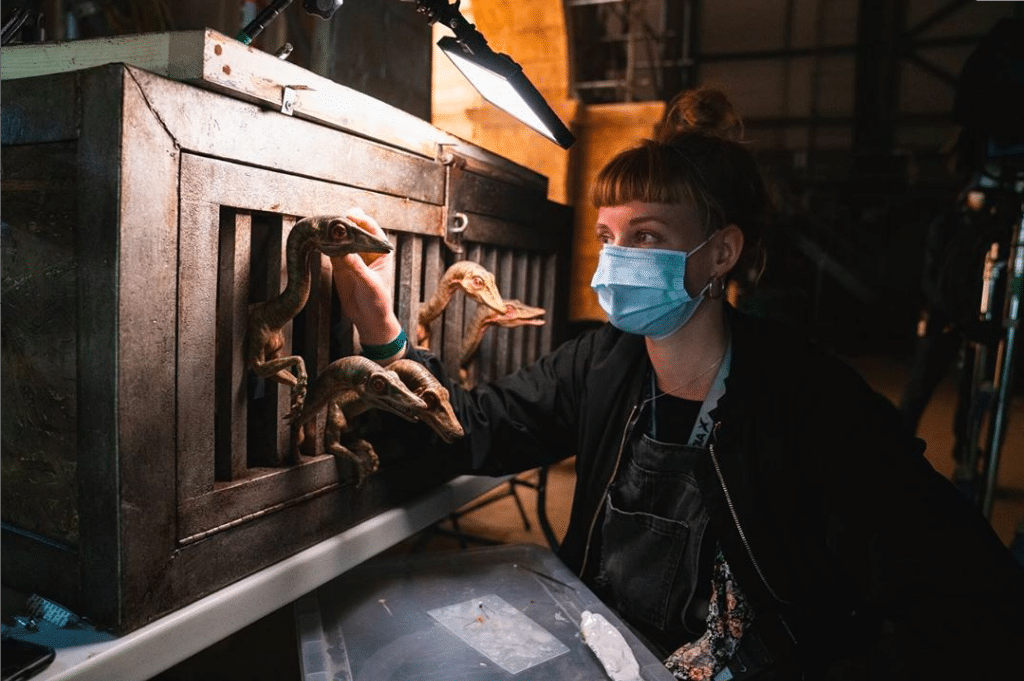 We all should acknowledged the love, commitment, passion, perseverance, hard work, fight, and sacrifice the cast and crew of Jurassic World: Dominion went through. The fact that these hard working individuals risked their health and safety in finishing Dominion is inspiring.
Their resiliency has made Trevorrow proud. Trevorrow acknowledged his cast and crew resiliency with this loving message "I'm not sure I can put it into words, it has been remarkable". Trevorrow also added "our crew and our cast has been so resilient. All the producers have worked around the clock to make it the best it can. It has been inspiring". No matter the outcome or reaction this upcoming film receives, we should acknowledge its inspiring message. The bravery of the cast and crew of Jurassic World: Dominion will forever be remembered in history.
RELATED: DISNEY RELEASES FIRST FILIPINO-THEMED ADVERT FOR CHRISTMAS 2020, FROM OUR FAMILY TO YOURS
Jurassic World: Dominion will be the third and final film of the Jurassic World Trilogy. The film will also be the sixth film in the Jurassic Park film franchise. The film is set to be concluding chapter that started of with the original Jurassic Park film in 1993.
Jurassic World: Dominion will be directed by Colin Trevorrow who was also the director of the first two Jurassic World films. The film is produced by Frank Marshall and Derek Connelly. It stars Chris Pratt and Bryce Dallas Howard returning to their roles from the first two Jurassic World films. Jurassic World: Dominion will also include the return of the stars of the original Jurassic Park film such as Sam Neill, Laura Dern, and Jeff Goldblum. Other actors that will also star in the film will be Mamadou Archie, Daniella Pineda, Campbell Scott, Isabella Sermon, Justice Smith, Omar Sy, DeWanda Wise, and B.D Wong.
Jurassic World: Dominion is scheduled to premiere on June 10, 2022.
KEEP READING: FANTASTIC BEASTS 3: MADS MIKKELSEN IN TALKS TO REPLACE JOHNNY DEPP AS GRINDELWALD
Source: /Film