Warner Bros has finally released its live-action feature film trailer for animation's most popular mouse and cat duo, Tom and Jerry.
The upcoming film is based on the hit characters that were created in the 1940s, so the on screen duo has been entertaining audiences for decades. The Tom and Jerry franchise spawned multiple animated TV shows, shorts, spin-offs, and animated movies. Some examples of their shows over the years are Tom and Jerry Show (1975), The Tom and Jerry Comedy Show (1980-1982), Tom and Jerry Kids (1990-1993), and the current one Tom and Jerry (2014-Present).
The franchise also produced 13 direct to DVD animated movies. Examples of those direct to DVD films are The Magic Ring, Blast Of To Mars, Shiver Me Whiskers, A Nutcracker Tale, and Back To Oz. Tom and Jerry's journey through the years have been a wonderful sight in the entertainment and animation industry.
The upcoming live-action/animation hybrid movie is not the first time that Tom and Jerry hit theatres. The duo's full-length theatrical debut was with the Tom and Jerry: The Movie that was released in 1992. However that film was not the first time Tom and Jerry was on the big screen. Decades before that, Tom and Jerry shorts screened in movie theatres delighting moviegoers. Now with this upcoming live-action movie we will be able to see Tom and Jerry in our current modern world.
Tom and Jerry Official Trailer
Tom and Jerry Trailer Breakdown
In the start of the trailer we see Tom and Jerry walking together side by side near a bus stop. We see that the two will be going separate ways. The two shake hands and Tom goes to sit on the bus stop bench. So far, the two former enemies seem to have now become friends. But that wasn't the case as Jerry purposely laid out another trap for Tom.
We then see Jerry trying to pretend to hug Tom, but he leads him to get run over a bus. We then fast forward to New York City and the film's main setting, a luxurious hotel.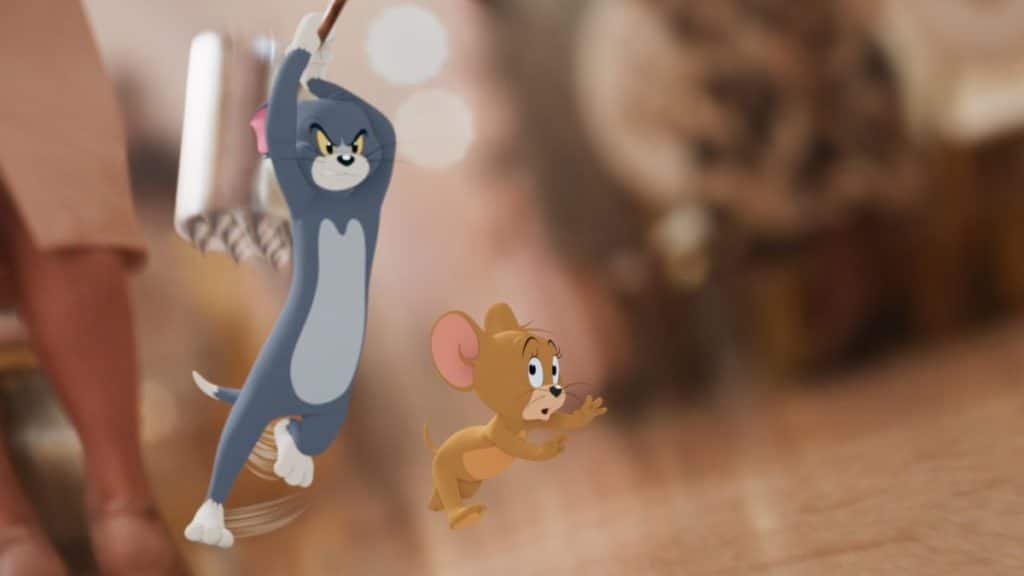 We then see one of the film's main characters Kayla, played by Chloe Grace Moretz. Kayla has accepted a job at the hotel as a wedding planner. Her boss, played by Michael Pena, explains that the hotel is hosting and planning "the wedding of the century." However we find out that Jerry the mouse has taken residence in the hotel and Kayla's boss and staff wants him exterminated.
RELATED: LILO AND STITCH LIVE-ACTION FILM FINDS NEW DIRECTOR IN CRAZY RICH ASIANS' JON M. CHU
We then find that Kayla has hired none other than Tom to take care of Jerry and, in classic fashion, Kayla's plan goes awry. After many slapstick scenes, including one where Tom pretends to be Batman and actor Ken Jeong appears as a head chef, we are shown the film's title card.
The film uses the same animation style of the Tom and Jerry Comedy Show for its dynamic duo. Hopefully the upcoming film will please older and newer fans alike.
Chloe Grace Moretz on Tom and Jerry
During a recent interview with People, Chloe Grace Moretz shared her thoughts on the experience working on the upcoming film and the similarities that she has to her character Kayla. Moretz explains, "I loved that she was a lot like Jerry," and added "she was a girl who gunned for what she wanted to achieve but realizes that time and honesty is what will prevail in the end."
Moretz also explained that she was a huge Tom and Jerry fan growing up. She shared that the animated duo was "a mainstay in my household growing up and we would always crowd around to watch their silly antics play out on screen!"
RELATED: WONDER WOMAN 1984 TO DEBUT IN THEATERS AND AT HOME FREE TO HBO MAX SUBSCRIBERS ON X-MAS DAY
She finally explained the hardest challenge she faced while filming: Working with nothing there or an invisible person. Grace said, "Tom was a stick with a name tag (seriously) and for Jerry at least I had a little to-scale model of him."
That's not a surprise as she isn't the first actor to have that experience. Just think of NBA superstar Michael Jordan filming Space Jam, Brendan Fraser on Looney Tunes: Back In Action, or even Lebron James in the upcoming sequel, Space Jam: A New Legacy. So by the sound of her comments, she and the other actors might have done a lot of improv. With a star actress such as Moretz, the hype and excitement for this upcoming film can't be enough.
Tom and Jerry is scheduled to premiere on March 5, 2021.
The upcoming film is based on the characters created by William Hanna and Joseph Barbara. The film stars Chloe Grace Moretz, Michael Pena, Rob Delaney, Colin Jost, Ken Jeong, Pallavi Sharda, and Jordan Bogler. Veteran Voice Actor Frank Welker will be the voice of Tom and Jerry. It's directed by Tim Story, produced by Chris DeFaria, and written by Kevin Castillo. What do you think of the new trailer? Do you like the animation and live-action style? Let us know in the comment section below and over on Twitter!
KEEP READING: REBOOT OF DARKWING DUCK ANIMATED SERIES IN DEVELOPMENT FOR DISNEY PLUS WITH SETH ROGEN AS EXECUTIVE PRODUCER
Source: People