Braun Strowman has been pulled from the TLC main event due to a knee injury.
According to Dave Meltzer of the Wrestling Observer, the plan was to have Strowman face Drew McIntyre for the WWE Championship. However, Strowman currently has a knee injury and will be off WWE TV for the near future.
Braun Strowman Out of Contention?
WWE explained the absence in kayfabe by having Strowman attack WWE Producer Adam Pearce last week on RAW. Braun Strowman has been suspended indefinitely and thus has been written out of the current title picture and out of the TLC match.
Aren't All Triple Threats Sudden Death?
This week on RAW WWE has announced a Sudden Death Triple Threat match for the open position to face McIntyre for his championship. I don't know what a Sudden Death Triple Threat is and how it is different from a regular Triple Threat. The Sudden Death implies first fall wins, but aren't all Triple Threats first fall?
RELATED: OMOS IS HERE: AJ STYLES' GIGANTIC ASSOCIATE'S NAME IS FINALLY REVEALED
The three Superstars battling for the spot are Riddle, AJ Styles and Keith Lee. My guess is it will be between Lee and Styles. I love Riddle, but he is not ready for a top title just yet. Styles has held the WWE Championship before and was a good champion. Styles can have a great match with anyone, so Styles vs McIntyre will be good. Lee is dominant and would make sense that he can beat McIntyre as Lee is big and imposing. However, if Lee wins it sets up a perfect feud for Braun Strowman to return to. The two have been feuding off-and-on for a little while now and it makes perfect sense if they feud for the championship.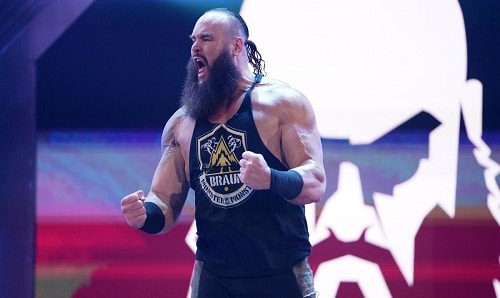 The Monster Among Men May Have A Monster Among Knee Injuries
We don't know the exact extent of Braun Strowman's knee injury.  It is not clear what the injury is or how long it will take him out for. If it requires surgery, it would put him out of action for a little while.
RELATED: BRAUN STROWMAN'S PROFOUND INSIGHT INTO WRESTLERS' MENTAL HEALTH AND WRESTLING SOLELY FOR WWE
TLC will take place Sunday Dec. 20. The other main event for the Universal Championship will see Kevin Owens challenging for Roman Reigns' Universal Championship. That should be a good match and I'm glad to see Owens back in the top tier title picture. I've always been a fan of his.
Who do you think would have come out the WWE Champion if Strowman and McIntyre had faced off at TLC?  Who do you think will win the Sudden Death Triple Threat match? Out of Riddle, Styles and Lee who do you think has the best chance against McIntyre?  Leave your thoughts in the good ole comments below.
KEEP READING: FAKE AJ STYLES MAKES A SURPRISE ENTRANCE INTO IMPACT WRESTLING
Sources: ProWrestling, Wrestling Observer