Everyone's favorite Italian plumber and his colorful friends will be making their grand appearance at Universal Studios Japan! Universal Studios announced that the first Super Nintendo World has been set to open at their Osaka site next year on February 4, 2021.
Originally Super Nintendo World Japan was set to open earlier this year. But due to the coronavirus pandemic, the planned opening was delayed. If the new planned grand opening date stays its course, it will coincide with Universal Studios Japan's 20th Anniversary.
Universal Studios Japan also just released a new teaser trailer for their new park. The trailer included a inside layout of the park, and one of its main attractions, Mario Kart: Koopa's Challenge. By the looks of the new trailer, Nintendo fans should be in for a treat
Super Nintendo World Official Theme Park Reveal Trailer
After several years of declining software and console revenue, Nintendo wanted to leverage and try developing its intellectual properties and characters. Plans for Super Nintendo World were first announced when Nintendo along with Universal Parks & Resorts formed a partnership in 2015. The partnership deal allowed Universal to make multiple Nintendo themed areas in their amusement parks. In hopes of finding similar success as the Wizarding World Of Harry Potter in the other Universal theme p ark.
RELATED: PATTY JENKINS TEASES WONDER WOMAN 3 AND EXCITING AMAZONS SPIN-OFF CONNECTIONS
Then finally in 2017, the two companies announced that the construction of Super Nintendo World on their Osaka site in Japan had begun. Earlier this year Nintendo and Universal revealed a promotional Youtube video of the upcoming Super Nintendo World theme park. The trailer featured the song "We Are Born To Play" by Galantis, with collaboration from Charli XCX. It showcased a 3D animated rendering of the park, featuring dancers along with Nintendo fans having fun and playing. The video was a huge success and only increased interest for the upcoming park.
Inside Universal Studios Japan's Super Nintendo World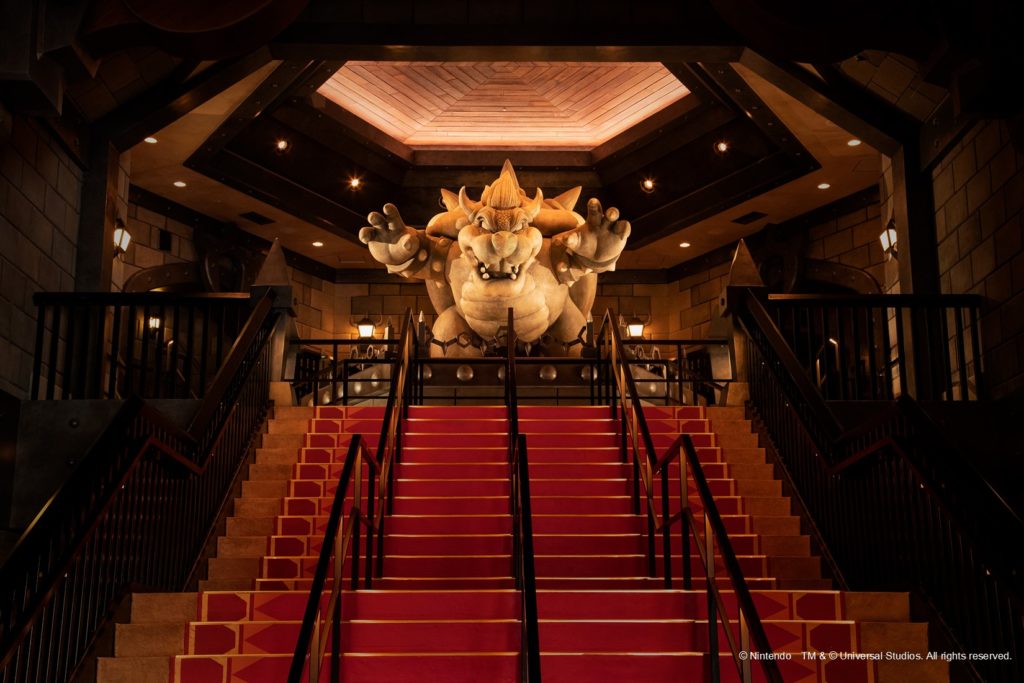 So far the information of what's inside Super Nintendo World has been minimal. According to reports and rumors, the park might have two levels, a ground level and a second level. It's also reported to have an entrance plaza where guests have to enter through a warp pipe, similar to the Super Mario games. The theme park will include Nintendo themed shops and restaurants for the guests.
The park looks to be based on the Mushroom Kingdom and will include Princess' Peach Castle and Bowser's Castle. The latter of which is the rumored location of the Mario Kart: Koopa's Challenge ride.
RELATED: THE LAST OF US: HBO AGREES TO FULL SEASON ORDER OF VIDEO GAME ADAPTATION
Universal Studios Japan also revealed three ride attractions that will be in the theme park: Mario Kart: Koopa's Challenge, Yoshi's Adventure, and Power Up Band key challenges. All of the rides' themes are inspired by games in the Super Mario franchise as well.
Mario Kart Brought To Life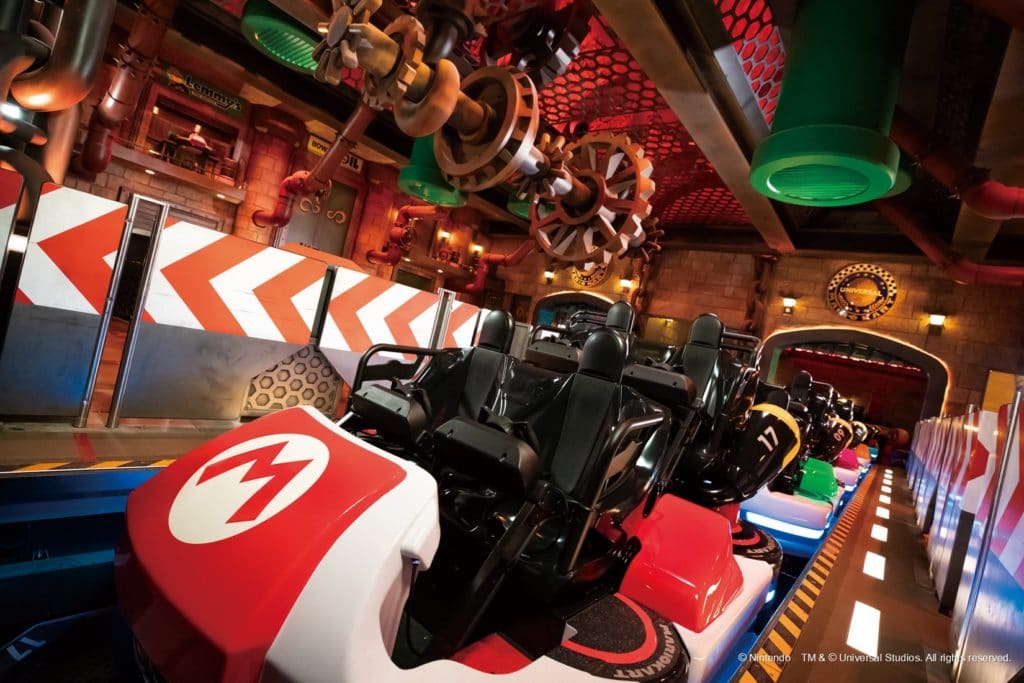 The Mario Kart: Koopa's Challenge ride will be a ride based on the very popular Mario Kart game franchise. Information about it is still minimal, but according to rumors it could be a trackless dark ride. By the looks of the promotional trailer shown in January, it could have similar interactive element as Disneyland's Autopia or California Adventure's Radiator Spring Racers. Fortunately Universal Studios Japan did reveal a tease of the ride in their recent trailer. The ride will be located in the Bowser's Castle location. The ride will also have a themed line que that will take guests exploring Bowser's castle before entering the ride.
RELATED: DOCTOR WHO HOLIDAY SPECIAL: REVOLUTION OF THE DALEKS FEATURES THE EXCITING RETURN OF CAPTAIN JACK HARKNESS
According to Universal, the ride will include a headset (most likely VR), that will take participants through the Super Mario universe. Fans will have to wait and see, but we are hoping it could have same interactive features or elements similar to Disneyland's Toy Story Mania or Buzz Lightyear's Astro Blasters ride attractions. In the Mario Kart games you could throw obstacles and pranks to other players in order to win the game. Hopefully they adopt those elements, but that's just a wishful thought. Whatever the true outcome of the ride, fans are assured to have a fun and wild ride.
Yoshi Takes Guests On His Grandest Adventure Yet
The Yoshi's Adventure ride is based on Mario's pet dinosaur Yoshi. Now information about this ride is very minimal. Universal Studios Japan has not announced complete details of the ride, but can assume it will be a kid and family friendly ride. The ride will feature the Omnimover ride system that was used in other attractions such as Disney's Spaceship Earth, Haunted Mansion, Buzz Lightyear Astro Blasters, and the Little Mermaid: Ariel's Undersea Adventure. It appears the ride will be located in the lower lever of the park, so guests and fans should be able to easily see it.
Power Up Bands: A World Of Play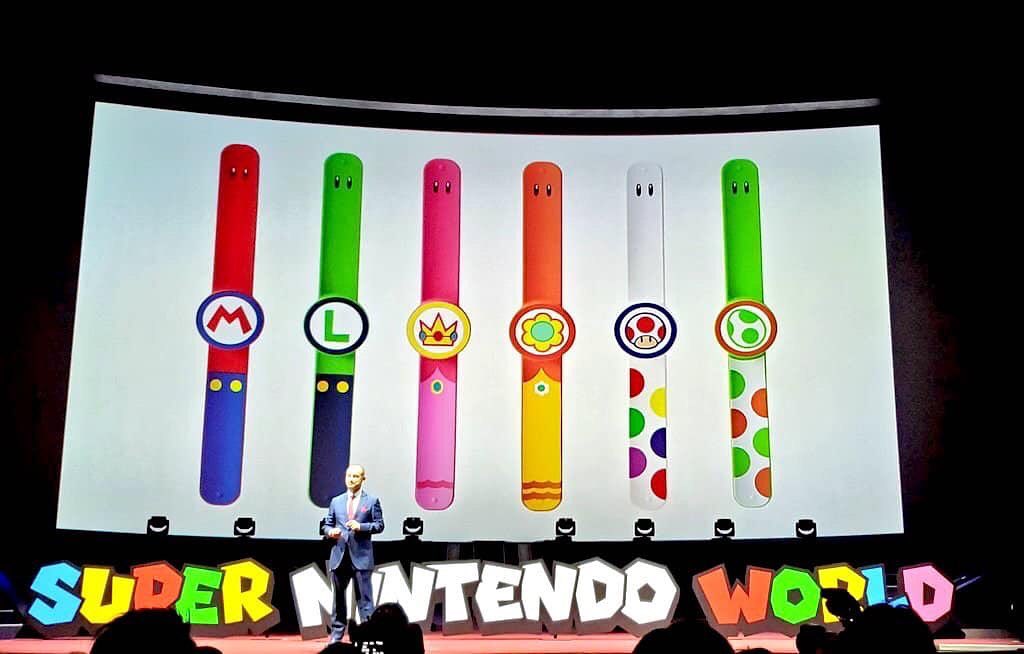 The third announced attraction, Power Up Band Key Challenges, highlights the park's main feature, The Power Up Band. By the looks of it, this attraction could be a scavenger hunt style interactive attraction, as the park is rumored to have multiple play areas and locations.
RELATED: NEW OXFORD STUDY SUGGESTS PLAYING VIDEO GAMES IMPROVES MENTAL HEALTH
The Power Up Band is a wearable watch that guests will able to receive for purchase when entering Super Nintendo World. The Power Up Band is similar to the interactive magical wands guests use in the Wizarding World Of Harry Potter. The bands will also work in conjunction with an app on guests' phone which they have to download.
The Power Up Band promises interactive applications such as jumping up and punching gold question mark boxes like in the Super Mario games. Super Nintendo World could have multiple interactive points and locations to use the Power Up Band for guests. This feature would be similar to the Wizarding World Of Harry Potter were guests have to find the points and locations with their purchased interactive magical wands.
Future Of Super Nintendo World
With the pending grand opening of Super Nintendo World in Japan, fans and guests should be excited for the long awaited theme park. However, Super Nintendo World won't be only exclusive to Japan. Universal announced that multiple Universal Studios theme parks around the world would also have a Super Nintendo World themed area in the future. Among the confirmed sites are Universal Studios Singapore and Hollywood.
There is currently no timeframe of when the themed Nintendo areas will open in the other parks. However Universal Studios Hollywood has already started construction for their version of Super Nintendo World. Each park will have different variations of rides according to Universal.
RELATED: STAR WARS: TALES FROM THE GALAXY'S EDGE TRAILER AND AMAZING GAMEPLAY REVEAL YODA AND MUCH MORE
The future of Super Nintendo World is bright. Fans have been hoping for a theme park based on Nintendo's beloved characters for generations. Now it's becoming a reality. However, Mario and his friends are not the only Nintendo characters in the franchise.
Hopefully with the success of Super Nintendo World in Japan, Universal could give us expansions or new attractions based on other hit Nintendo properties. Examples of other hit franchises include Pokemon (holographic or virtual battles anyone?), Legend Of Zelda, Donkey Kong, Metroid, Kirby, Animal Crossing, Wario, Star Fox, Fire Emblem, Kid Icarus, Earthbound, Splatoon, and many others. Only time will tell.. Until then, let's hope Super Nintendo World can make us believe and make us play!
What do you think of the new Super Mario World? How long until you start planning a vacation to the theme park? Let us know in the comment section below or let's take a ride over on Twitter!
KEEP READING: A POWER RANGERS GAME WOULD BE AMAZING FOR VR, HERE'S WHAT IT WOULD TAKE TO MAKE IT
Source: Yahoo