Impact Wrestling has a familiar wrestler with a homage to a familiar persona. This past week Swoggle became AJ Swoggle, with his parody of AJ Styles.
Ethan Page insisted he get a match with The Good Brothers formerly known as Karl Anderson and Luke Gallows for the Impact Wrestling Tag Championships. The Good Brothers proposed an idea that if they can make it past and beat a phenomenal opponent, Page could get a title opportunity. Page agreed to the match, but got more than he bargained for.
A WEEnomenal New Gimmick
The phenomenal opponent ended up being none other than The WEEnomenal One, AJ Swoggle. Swoggle came in full current era AJ Styles gear including his entrance gestures. While Page was distracted, Swoggle rolled up Page in a schoolboy pin for the three count.
RELATED: AEW AND IMPACT STAR KYLIE RAE IS NO LONGER WRESTLING
If Swoggle sounds and looks familiar then he should. In the WWE he was known as Hornswoggle. He wrestled for WWE from 2006 to 2016. Hornswoggle built up a solid name for himself appearing very often and becoming popular. However, because of his 4-foot-5-inch height, those matches were very gimmicky and he was used purely for comedy and shock value. Swoggle has wrestled for Impact Wrestling off-and-on since 2016.
An AJ Styles parody makes a lot of sense for Impact for a few reasons. The first being that AJ Styles is one of the top wrestlers in the world. His gimmick and clothing would be immediately recognizable by wrestling fans. The Good Brothers are former associates of Styles, as they are former Bullet Club members and they along with Styles were known as The OC in WWE.
RELATED: CODY REGAINS TRADEMARK ON THE LEGENDARY RHODES NAME
However, the most important reason is that Impact Wrestling, or as it was formerly known TNA, truly is the house that AJ Styles built. Styles was the face of TNA and was one of the young guys that made people want to watch TNA along with Samoa Joe.
Impact Is Bound For Trying To Relive Past Glory
Impact is notorious for trying to relive past glory as they commonly show clips of old matches with AJ Styles, Joe, Kurt Angle, Jeff Hardy among with many others. Having a fake AJ Styles is another way to get people to watch Impact by using the Styles name.
RELATED: AJ STYLES WAS ALMOST AN ALL ELITE PART OF AEW
It is unclear if this is a one-time only thing from Swoggle or if this is his new gimmick for the foreseeable future. My guess is this is going to be a thing for a little while. Styles owns his name, so WWE isn't going to be coming after Impact or Swoggle. I have a feeling that Styles thinks that this is the funniest thing ever.
Is AJ Styles Really Done With Impact?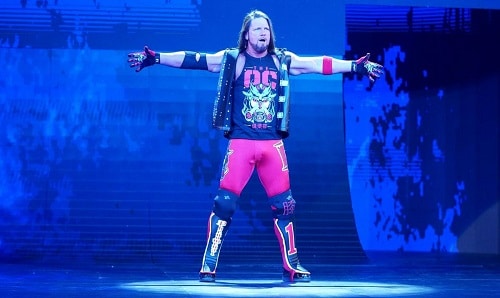 This may not be the last time we see a Styles in Impact. The Good Brothers have been very vocal about trying to get AJ Styles back in Impact for another go-around.
"Ultimately, we're going to talk AJ Styles into coming back to Impact. That's what we're doing every single day. We're texting him and telling him to come back," Anderson told Sportskeeda.
What do you think of AJ Swoggle? Do you like this new gimmick? Do you think it will last? Would you like to see AJ Styles do one more run in Impact before he retires?  Throw a WEEnomenal Forearm to the comment section below and make sure to let us know what you think over on Twitter.
KEEP READING: OMOS IS HERE: AJ STYLES' GIGANTIC ASSOCIATE'S NAME IS FINALLY REVEALED
Sources: ComicBook, Sportskeeda