The Mandalorian Chapter 13 "The Jedi" is a masterpiece. Director and writer Dave Filoni channels Kurosawa for an episode that exemplifies the essence of what George Lucas created Star Wars to be about: the bonds of family, whether it be blood or found.
The Mandalorian Chapter 13 "The Jedi" *SPOILERS*
The task of introducing Ahsoka Tano into live-action, while also subtly weaving her into The Mandalorian's story without losing narrative focus, was no easy task. Filoni, Jon Favreau, and their crew pulled it off in spades. Rosario Dawson's portrayal was nuanced and accurately brought to life a world weary Ahsoka Tano, who no longer allows the jurisdiction of the Jedi pave her path. Instead, she follows her own intuition of what a protector of good should be.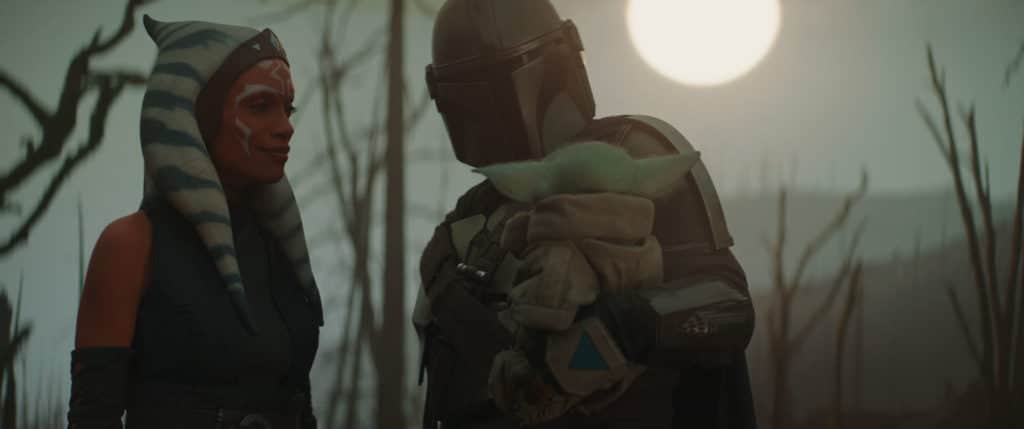 This "The Jedi" was beautiful from start to finish. Baz Idoine's cinematography produces many frames that will be continually discussed. Ahsoka and Grogu standing under the moonlight with Mando in the foreground, is one of my personal favorites. Ludwig Göransson's scores are always fantastic, but the inclusion of Ahsoka and even Yoda's themes into the score heightened the emotional impact of these scenes.
RELATED: STAR WARS LEGEND DAVID PROWSE SADLY PASSES AWAY AT 85
The influences of Kurosawa on Filoni's direction of this episode are fascinating. The showdown in the Japanese stylized water garden between Morgan Elsbeth and Ahsoka – a confrontation of two samurai – juxtaposed to the Western stylized standoff between Lang (Michael Biehn) and Mando was fantastic. The Mandalorian does a great job at honoring the genres and tropes that inspired Star Wars as we know it.
The most important facet that we should take away from this episode, as amazing as the combat and Ahsoka's introduction was, is the evolution of Grogu and Mando's relationship. Ahsoka says it herself, after all this time together Grogu sees Din Djarin as a father figure. That is something that is rooted in trust, it is something that cannot be easily dismissed and cast aside. They are a family of two, of Clan Mudhorn, and as much as Mando claims he is fulfilling his duty to reunited this child with his people, the reality is he needs Grogu as much as this young child needs him.
"The Jedi" may be The Mandalorian's best episode, as it exceeded many fans expectations of its Ahsoka Tano reveal, but also how it is fundamentally rooted in the core attributes of what makes Star Wars great. Family, especially fathers and sons- either blood related or paired by the wonders of the Force, is what this magnificent universe is all about. What did you think of this weeks episode? Share your thoughts and theories in the comment section or join us over on Twitter!
KEEP READING: THE MANDALORIAN CHAPTER 13 "THE SIEGE" REVIEW: SIMILAR THRILLS, BUT STORY KICKING INTO LIGHTSPEED