We here at The Illuminerdi are proud to bring you our review of Star Wars: Episode I: The Phantom Menace, just a few short decades after it aired. 
This won't be a typical Illuminerdi review, however. This article is the first installment in a series that's been a long time coming. Starting from this film and going up to The Rise Of Skywalker, I'll be evaluating the entire saga of film and television that comprises the official Disney canon. That means 9 episodic films, 3 spinoff movies, and 15 seasons of television.
RELATED: GEORGE LUCAS CLAIMS NO ONE UNDERSTANDS THE STYLE OF THE STAR WARS PREQUELS
I am also keeping the door open to analysis of other media such as comic books, novels, or even some Star Wars Legends content, but those articles will be marked as explicitly separate from this overall Disney canon review. If I want to watch Genndy Tartakovsky's Clone Wars series, or feel called to my PS2 copy of The Force Unleashed, I'm going to want to write about the experience.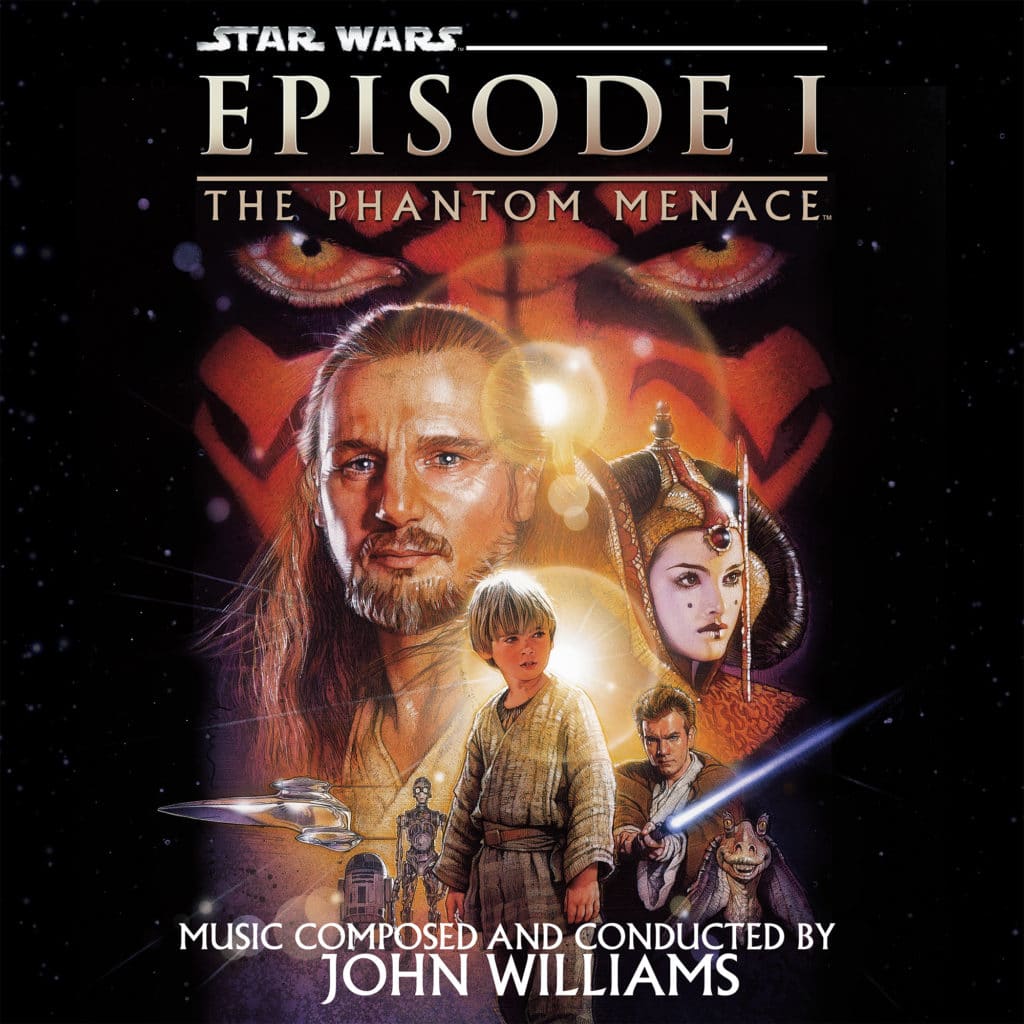 SETTING THE STAGE FOR THIS STAR WARS SERIES
While I promise that I'm getting to the actual review of Episode I soon, I need to set the stage for just another moment. I am coming at this from the vantage point of a fan who was raised on Star Wars, but ultimately felt franchise fatigue after the disappointment of the sequel trilogy.
Furthermore, I am quite intentionally writing these articles in a very casual manner. This isn't a peer-reviewed academic reexamining of cinema. This series is my story of passion reignited, and this direct yet relaxed approach feels most appropriate. I hope that some of my fellow Star Wars fans will join me on this journey of intentionally unbiased rediscovery.
And finally, on to our feature presentation. Let's talk about The Phantom Menace. This is a film that has been traditionally treated as something awful, something you should be ashamed to like. Fans reacted so negatively to this film that Jake Lloyd, the actor who plays the young Anakin Skywalker, ultimately quit acting. That's not to mention the immense levels of harassment and derision that Jar Jar Binks actor Ahmed Best suffered.
STAR WARS: EPISODE I: THE PHANTOM MENACE WAS CRITICALLY REVILED
Even in recent years, when the prequels have largely been reappraised as items of intrinsic value to the Skywalker saga, The Phantom Menace is still almost universally considered to be the weakest of that trilogy. While there is little to no chance that Revenge Of The Sith is surpassed as my favorite prequel throughout this reevaluation, I can confidently tell you that Episode I is a wonderful piece of art in it's own right.
This movie ultimately centers on two core stories. Anakin Skywalker's beginnings as a Jedi learner and Shiv Palpatine's beginnings as the greatest evil mastermind of the star wars universe play out side by side. This glorious duet sets the stage for a saga nigh unparalleled in cinematic history, and these two are far from the only players.
Ewan McGregor and Liam Neeson's chemistry as Qui-Gon Jinn and Obi-Wan Kenobi is just as pitch perfect as you remember it, and Natalie Portman's performance as Padme Amidala is captivating and powerful. Fan favorites like C-3PO and Darth Maul fill roles that are much smaller, yet still satisfying. Even Jar-Jar is at least tolerable, ignoring the odd fart joke.
STAR WARS IS INTENTIONALLY CORNY, AND THAT'S OK
This movie is campy, comedic, and melodramatic as hell, but guess what? That's the point. George Lucas recently went on record and admitted that while his films could be corny, that corniness was his very intent. Speaking about Attack Of The Clones, Lucas said-
"Most people don't understand the style of Star Wars. They don't get that there's an underlying motif that is very much like a 1930s Western or Saturday matinee serial. It's in the more romantic period of making movies and adventure films. And this film is even more of a melodrama than the others."
This film favors a fun, thoughtful slow burn approach in comparison to the more adrenaline soaked successors in this saga. The seeds of a truly breathtaking epic are being sewed right here, from Anakin's incredible attachment issues, to the corruption of the senate and the republic. Some of the greatest scenes in this film unsurprisingly feature Ian McDarmid's Palpatine. The depth and genius of his manipulation is simultaneously astounding and terrifying.
PODRACING IS STAR WARS AT ITS FINEST
The action sequences are enjoyable, but admittedly not among the strongest in the franchise. Personally, I thought that the Podracing sequence was more fun than any fight scene bar the third act finale with Maul, Obi-Wan and Qui-Gon. Yes, you read that right. I was on the edge of my seat for the entire podrace. It's unique, high-octane, and completely undeserving of the mountain of criticism levied it's way.
If you enjoyed the over the top, melodramatic space opera nature of the original trilogy, Star Trek, or large portions of the Tokusatsu genre, you'll likely enjoy Episode I: The Phantom Menace. This movie's somewhat more child-friendly approach never sacrifices it's universal appeal, and it serves to distinguish this film from Episodes II-IX. 
The only sin The Phantom Menace is guilty of committing are arguably the underdevelopment of Darth Maul, the occasionally dull pacing, and the odd stupid joke. This is the story that starts it all, and it deserves far more credit than it gets. As long as you are willing to embrace this franchise for the bizarre menagerie of science fiction magic that it is, you're going to love Episode I. 
Star Wars: Episode I: The Phantom Menace is directed by George Lucas and stars Jake Lloyd, Liam Neeson, Ewan McGregor,  Natalie Portman Ahmed Best, Ian McDarmid, and Anthony Daniels. The film is available to stream on Disney+. 
KEEP READING: HAYDEN CHRISTENSEN IN OBI-WAN KENOBI SERIES PROMISES "THE REMATCH OF THE CENTURY"