Come take your first look at new photos from Coming 2 America.
Picture this. The year is 1988 and audiences in America just came out of the theater from seeing Coming to America with Eddie Murphy and Arsenio Hall for the upteenth time. The movie went on to make over $300 million dollars at the box-office. If headlines came out of Hollywood that a sequel to this smash hit would come three decades later, movie goers would probably scratch their heads out of curiosity, or doubt. Well that scenario never happened… until now.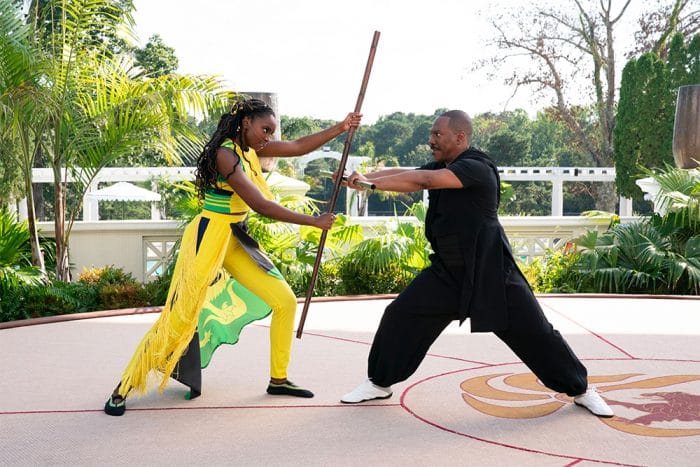 Coming to America 2 has been in the works for some time now, and last week, we got a first look of the movie, with many returning actors such as Shari Headly and the great James Earl Jones. Now, there are new photos released that show off some of the new players in the movie. There is Kiki Layne, who plays the daughter of prince Akeem, Jermaine Fowler as Lavelle, the long lost son of Akeem, whom he will be meeting for the first time. Leslie Jones as Lavelle's mother, Tracy Morgan as Lavelle's uncle and last but not least, Wesley Snipes as General Izzi.
During an interview with Slashfilm, Snipes was asked about his role in Coming 2 America and said:
"I'll be playing the bad guy. He's not really a bad guy, he's just a misunderstood guy. His name is General Izzi, and he is the general who is next door to him. They're trying to work it out so that the two kingdoms can come together. It would be better for everyone if the kingdoms can come together. If they don't come together, I think there is going to be some sadness all around there. Some people are not going to be too happy. The chickens are not going to run. The cows are not going to moo. The sheep are not going to baaaah. Nothing is going to happen. So I think it should go my way."
New Photos From Coming 2 America
Director Craig Brewer talked to Entertainment Weekly and revealed that part of the plot will be a coming of age story. As Akeem must become the new king of Zamunda and finds out he has a son in America. Akeem must then learn how to run the country with the old laws that built the kingdom.
RELATED: KEVIN FEIGE CONFIRMS CHADWICK BOSEMAN RECORDED "NUMEROUS EPISODES" OF WHAT IF…? BEFORE HIS TRAGIC PASSING
Other cast members that were announced were Rick Ross, Teyana Taylor, Michael Blackson, Louie Anderson and the returning John Amos as  Cleo McDowell.
Coming 2 America is set to stream on Amazon Prime March 5th, 2021 
Take a look at the photos above and let us know your thoughts on the sequel? Are you excited for Coming 2 America? Do you believe it will live up to the first movie? Let us know in the comments below. 
KEEP READING: COMING 2 AMERICA, THE SEQUEL TO EDDIE MURPHY'S HIT 80S COMEDY, SOLD TO AMAZON IN DEAL WORTH OVER $100 MILLION
Sources: SlashFlim, Entertainment Weekly