Over 30 years after Coming To America was released, fans of Eddie Murphy's famed comedy will be able to stream the sequel. Coming 2 America will star Eddie Murphy once again as Prince Akeem after he learns he has a son he knew nothing about in America. Coming To America premiered in theaters in 1988, and now fans will get a chance to see the story continue.
The 1988 comedy Coming To America follows Eddie Murphy's Prince Akeem who tires of his privileged life style as prince of fictional African country Zamunda. Prince Akeem goes against his parents, who have set up an arranged marriage, and goes to America with his best friend and personal aide Semmi, played by Arsenio Hall, to find real love. Coming 2 America is set to have a number of actors return to reprise their roles including Eddie Murphy, Arsenio Hall, James Earl Jones, and more. Eddie Murphy and Arsenio Hall played multiple roles in the original and hopefully will once again in the sequel.
RELATED: LOVE AND MONSTERS REVIEW: A SURPRISINGLY THRILLING HUMAN STORY
Coming To America grossed nearly $300 million at the world-wide box office. Coming 2 America was originally set to hit theaters earlier this year, but the ongoing COVID-19 pandemic and with movie theaters still closed across the world it isn't shocking that Eddie Murphy's highly anticipated sequel is moving from theaters to video on demand. According to Variety, Paramount is in the process of finalizing a deal with Amazon Studios worth about $125 million.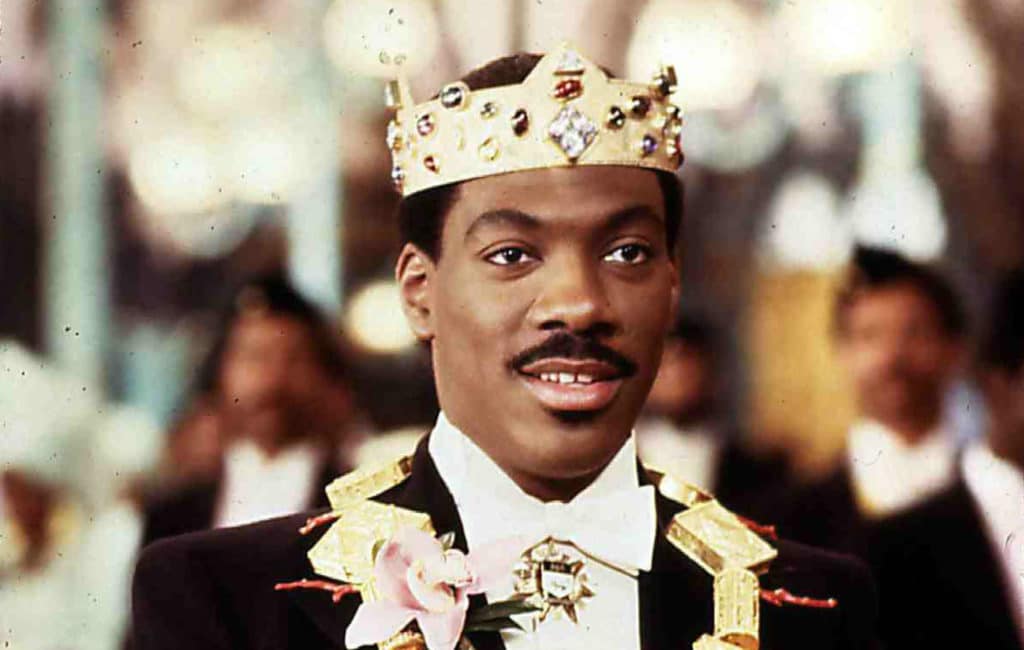 While many movies have been delayed to 2021 or later, others have been released on video on demand instead of theatrically. This includes films like Trolls: World Tour, which caused tension between theaters and studios specifically AMC and Universal, as well as Da 5 Blood, Mulan, and the upcoming Pixar film Soul. Paramount has already sold films to streamers including Aaron Sorkin's Trial of the Chicago 7 and Lovebirds both of which were sold to Netflix. Without Remorse has already been sold to Amazon.
With no news about when theaters will be able to reopen across the United States, the movie theater business seems to be in serious trouble. Many are looking at major financial issues that could lead to bankruptcy in 2021. It looks like Eddie Murphy's Coming 2 America will be available on Amazon Prime Video on December 18 according to Fandango's Erik Davis.
RELATED: HUBBIE HALLOWEEN REVIEW: ADAM SANDLER AND HIS WEIRD VOICE ARE BACK AT IT
Variety reports that final details of the deal are in the process of being ironed out which includes two consumer marketing tie-ins one with McDonalds and the other with Crown Royal whisky. The McDonalds tie in makes sense given the McDonalds rip-off McDowell's from the first film where Eddie Murphy's Prince Akeem worked after he moved to the United States. McDowell's has actually become a pop-up restaurant more than once over the years in Hollywood as well as Chicago.
EDDIE MURPHY'S COMING 2 AMERICA SYNOPSIS
Set after the events of the first film, former Prince Akeem Joffer (Eddie Murphy) is set to become King of Zamunda when he discovers he has a son he never knew about in America – a street savvy Queens native named Lavelle (Jermaine Fowler). Honoring his royal father's (James Earl Jones) dying wish to groom this son as the crown prince, Akeem and Semmi (Arsenio Hall) set off to America once again.
Eddie Murphy's son will be played by Jermaine Fowler who starred in the CBS comedy series Superior Donuts, with a supporting cast that includes Tracy Morgan, Leslie Jones, Wesley Snipes, and more. Coming 2 America is directed by Craig Brewer (Hustle & Flow) who worked with Eddie Murphy on the 2019 Netflix film Dolemite Is My Name. David Sheffield and Barry W. Blaustein returned to write the sequel Black-ish creator Kenya Barris was brought on for rewrites.
Do you love Coming To America? Are you excited to see Eddie Murphy in Coming 2 America? Leave your thoughts in the comments below.
KEEP READING: VIXEN SOLO PROJECT RUMORED TO BE IN QUIET DEVELOPMENT AT WARNER BROS FOR THE DCEU