The latest AEW Dynamite was a tribute show to Brodie Lee, formally Luke Harper. To culminate the tribute, the TNT Championship was awarded to Lee's son, Brodie Lee Jr., aka -1.
RELATED: WWE AND AEW STAR JON HUBER DEAD AT AGE 41
It was reported and assumed immediately following Dynamite that the TNT Championship was retired with Jr. being the final champion. Tony Khan presented the championship to Jr. and said it was his for life. However, during the post-show with Tony Schiavone it got even more confusing. Schiavone spoke about the awarding of the Championship to Jr and said the company would have to "come up with a new belt."
This led fans to assume and post comments taking this as the official announcement of the championship being retired. However, later in the post-show Khan gave Schiavone a note asking him to clear up the confusion. Darby Allin is still the official champion and the championship has not been retired. That particular belt is retired and will stay with Jr forever, but the TNT Championship will live on.
"The particular belt that was given to little Brodie tonight, has been retired, NOT the TNT Championship itself," Schiavone said. "That is not the case. The belt was, and rightfully so."
TNT Championship Passed Down To Son
Lee was the second ever TNT Champion and in my opinion the greatest ever. I'm glad it went to his son. He can look at that belt and remember his dad and know that he was a great man and a great wrestler.
RELATED: KENNY OMEGA TO APPEAR ON IMPACT TO SPEAK ON SHOCKING "WINTER IS COMING" FINISH
Later in the post-show to close it out Schiavone wanted to say again that the TNT Championship has not been retired, but that particular belt is.
"Again, the TNT Championship will go on. The belt has been retired. A new belt is being made, it will be given to Darby, of course, who is still our TNT Champion," Schiavone said.
However, we still don't have all the answers.  We don't know if AEW is planning on making a copy of the TNT Championship and giving it to Allin, or if it will be a redesign. Personally I hope to see a completely different design. It will make Jr's championship more special and one-of-a-kind. Secondly I am a big fan of AEW's belt design and their classical take on championship title design. I would be interested to see what they would come up with.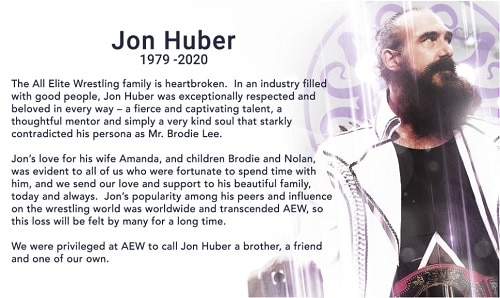 Do you want to see the TNT Championship retired? Would you rather see the championship completely redesigned or a clone of the current design? Leave a comment and your thoughts below.
KEEP READING: RIDDLE RE-SIGNS WITH WWE AFTER TOUGH NEGOTIATIONS
Source: WrestleZone