Power Rangers has an almost-thirty year history of robust villains that set the series and their audiences ablaze through their ambition and treachery. The Boom Studio comics has a reputation of taking inspiration from the various heroes and villains of this franchise and tell new stories based on them. Based on news from the Bleeding Cool, one of the most iconic villains in the franchise (and dare I say one of the most Shakespearian) will receive much deserved limelight in March 2021.
Astronema (AKA Korone), the Princess of Darkness, and the successor of Dark Specter's galactic throne of the United Alliance of Evil, will be the subject of the one-shot Boom Studios comic, Power Rangers Unlimited: "Heir to Darkness #1".
POWER RANGERS UNLIMITED: HEIR TO DARKNESS #1
Based on the lore of Power Rangers in Space (1998) the Kaocian Red Ranger, Andros, fought against Dark Specter and many of his associates in pursuit of his missing sister, Karone. She was kidnapped by the ruthless bounty-hunter, Darkonda as a child. Karone was later revealed to be none other Astronema, the main antagonist and anti-villain of the season.
The one-shot Power Rangers comic centers on the time Karone went missing. It deals with her being brought to Dark Specter, being raised by Ecliptor, and her rise to power as Astronema. According to Richard Johnston of Bleeding Cool, the story ties directly to the Mighty Morphin' and Power Rangers comics. The source also hints possible ulterior motives behind various characters will be revealed in the comic, which will uncover new revelations for the new Power Ranger teams.
REVEALED: THE MYSTERIOUS RANGER IS REVEALED IN POWER RANGERS: DRAKKON NEW DAWN #2: REVIEW
It will be written by  L.L McKinney (A Blade So Black) and illustrated by Simone Ragazzoni (Power Rangers: Drakkon New Dawn).
What do I think of the comic? Well, it's complicated. I want to be transparent by saying I am not particularly a fan of the Boom Studios' comics. That isn't to say I think they are bad; but rather they just aren't my "cup of tea".
With that said, I am grey on the idea of telling an untold story of Astronema. It's a mix between my intrigue in learning a villain's backstory as someone who likes to analyze and evaluate the psychology of literary and historical villains versus leaving a space of ambiguity for fans to come up with their own creative stories as to how one would become "-determined to prove a villain" (Richard III, 1.1.30).
REVEALED: SUPER POWER BEAT DOWN #27: WATCH GODZILLA VS DRAGONZORD IN AN INTENSE FIGHT TO THE DEATH
If I could say what I would like to see in this comic, this is what I'd like: I would like to see this comic emphasize the empathetic and compassionate relationship between Ecliptor and Astronema. For me, that was what made both villains so appealing as a kid. I am thinking something parallel to the episode of Lost Galaxy, "Heir to the Throne" (1999). This is where Ecliptor would at first be a strict and authoritarian instructor, but over time would become a compassionate and authoritative mentor. Gradually they would develop a blossoming father-daughter relationship as a foil to the cold and heartless assassin she is meant to become.
I also would like to have Darkonda instigate something that would explain thoroughly why in the show, Ecliptor wanted to keep Astronema as far away from him as possible. Sure, one could reason that she might figure out that Darkonda kidnapped her as a kid and she might turn good if she found out that her brother is not only alive, but also a Ranger. However, I think there's more to it than just maintaining the program of indoctrination, since at that point in time, Ecliptor and Astronema have already developed an empathetic bond.
Personally I am a fan of the idea of some villains being able to learn to love and gain a sense of humanity, while others are just irredeemably vile, and then have them feud on the different means they pursue their common ends. If one is a fan of the Boom Studios comics or just a fan of the villains from Power Rangers in Space, this may be one to pick up when it hits shelves in March. I for one, being in the latter of the two groups, am interested in what kind of story they will give the Princess of Darkness.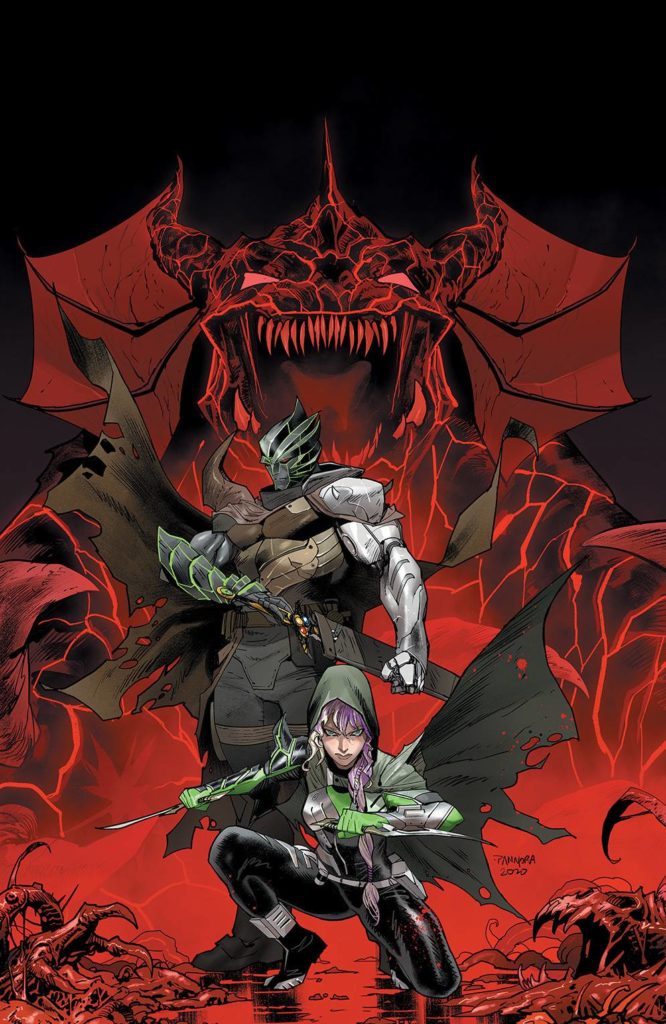 KEEP READING: POWER RANGERS IS LEAVING NETFLIX ON FEBRUARY 1ST
Source: Bleeding Cool