Whether one is a fan of Kamen Rider or a fan of New-Japan Pro-Wrestling (NJPW), there's always one name that has become a household for both fandoms: Hiroshi Tanahashi.
Hiroshi Tanahashi is a Japanese heavyweight and international champion wrestler, and for 20 years has been very open about his love for the Kamen Rider franchise. One of the gimmicks that he's well-known for doing is basing his wrestling costume design off of various riders from the aforementioned Tokusatsu series. The most recent costume that he has donned (shown below) is based off of Kamen Rider Saber (from the currently-running 2020 season of the same name) and his Dragon-Arthur form.
The plot of Kamen Rider Saber is that the main character Touma Kamiyama is a novelist who had recurring dreams of a "Wonder World", a knight with a red sword, and a little girl who was sucked into a wormhole inside a white book in the sky. When it's revealed that the Wonder World is real and people are being trapped inside it by villains called Megids, Touma finds himself in possession of the red sword from his dream, and becomes Kamen Rider Saber.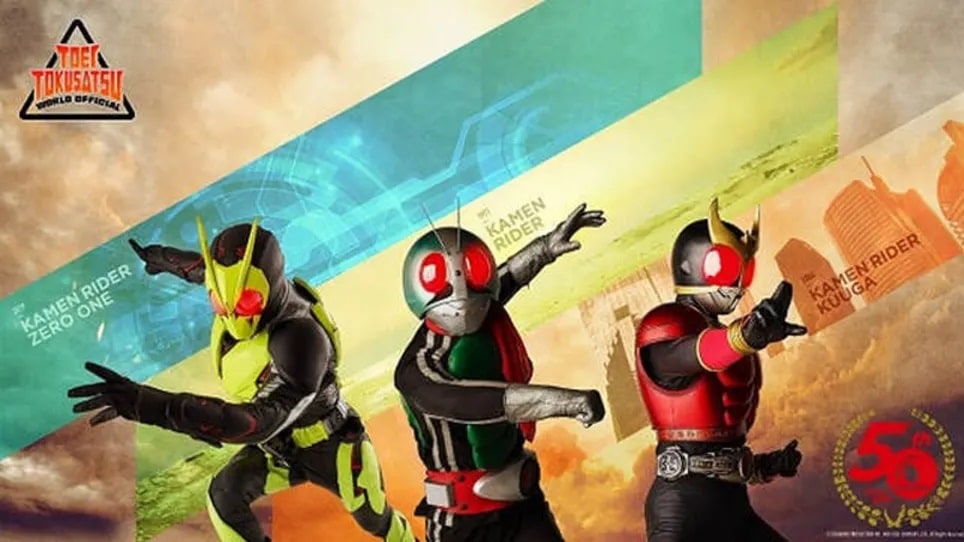 RELATED: SUPER POWER BEAT DOWN #27: WATCH GODZILLA VS DRAGONZORD IN AN INTENSE FIGHT TO THE DEATH
Saber belongs to an order of knights called the Sword of Logos, who keep the balance between the two worlds, and gain super powers using wonder-ride books (based on fairy tales such as Peter Pan, 3 Little Pigs, Aladdin, etc.). As one might easily guess, Arthur form is gained by using the King Arthur wonder-ride book, which grants Saber his first major power-up in the season.
Hiroshi Tanahashi's History With Kamen Rider
Hiroshi Tanahashi has long history of having wrestler costumes based on riders. His most recent suit design prior to Saber was based on Zero-One's Metal Cluster form, and another he had was based on W's Fang/Joker form.
The costumes aren't his only homage to Kamen Rider. Hiroshi Tanahashi's iconic pose of pointing his finger to the sky is a direct reference to Kamen Rider Kabuto, who he stated was his favorite rider (as he is this author's). This pose became such a staple in Tanahashi's career, that the son of one of his fans pointed out a statue of Kabuto from Toei Hero World calling it "Kamen Rider Hiroshi Tanahashi".
He has also called his podcast Cast Off (referencing Kabuto shedding his pupa-like armor), and has quoted some of the rider's grandmother's iconic proverbs. Additionally, at one point he styled his hair to reference Kamen Rider Build's Rabbit/Tank form and there is a video of him singing "Aozora Ni Naru" (outro theme to Kamen Rider Kuuga (2000)) by Jin Hashimoto in the ring.
Hiroshi Tanahashi also has done more direct tie-ins with Kamen Rider. In the official music video for Kamen Rider Wizard's (2012) opening theme, "Life is SHOWTIME" by Shou Kiryuin, Tanahashi is one of three Japanese athletes featured to fight ghouls alongside Wizard.
RELATED: JAY WHITE'S FUTURE UNCERTAIN AND MAY BE LEAVING NJPW
However, he was even more directly involved in the film Kamen Rider Heisei Generations: Dr. Pac-Man vs. Ex-aid and Ghost with Legend Riders (2016), where he played the villain Souji Kuruse (aka Robol Bugster).
Do you like Hiroshi Tanahashi's Dragon-Arthur form? Which is your favorite of Tanahashi's rider forms? Which rider forms would you like to see him adapt next? Be sure to comment your answers below or over on Twitter.
KEEP READING: KAMEN RIDER COMING TO YOUTUBE FOR FREE