Ghibli gets ready to roll out its 22nd feature film and first full 3D CG animated film, Earwig and the Witch, by director and co-founder of the studio, Gorō Miyazaki.

Being its first new film in several years, Studio Ghibli's Earwig and the Witch will be making its debut in select theaters across the nation on February 3, 2021, and on HBO's HBO MAX streaming platform on February 5, 2021.
RELATED: KEVIN FEIGE CITES DICK VAN DYKE SHOW AS HUGE INSPIRATION FOR WANDAVISION
The film's English dub cast includes the incredibly talented Vanessa Marshall, Richard E. Grant, Dan Stevens, Kacey Musgraves, and Taylor Paige Henderson as the film's protagonist, Earwig.
GHIBLI THROUGHOUT THE YEARS
The studio's most recent feature film was When Marnie was There, released in 2014. They have been commended for various legendary releases such as Princess Mononoke (1997), Nausicaä of the Valley of the Wind (1984), Spirited Away (2001), Kiki's Delivery Service (1989), and Howl's Moving Castle (2004), among many others.
These films went on to win various accolades, such as a National Academy Award for Best Picture of the Year and Academy Award for Best Animated Feature.

Studio Ghibli would go on to have a hand in the development of the Ni No Kuni series with Bandai Namco Entertainment, Level-5, and QLOC. With "Ni no Kuni: Wrath of the White Witch (2011)" and "Ni no Kuni: Revenant Kingdom (2018)" led with Ghibli animator veteran Yoshiyuki Momose at the helm, the series went on to win nominations for the BAFTA Games Award for Artistic Achievement and for Story, VGX Award for Best Soundtrack, and the VGX Award for Best RPG and Satellite Award for Outstanding Role Playing Game.

The full press release can be seen below, and we definitely can't wait to see Studio Ghibli's comeback with its first ever CG animated feature film.
EARWIG AND THE WITCH OFFICIAL PRESS RELEASE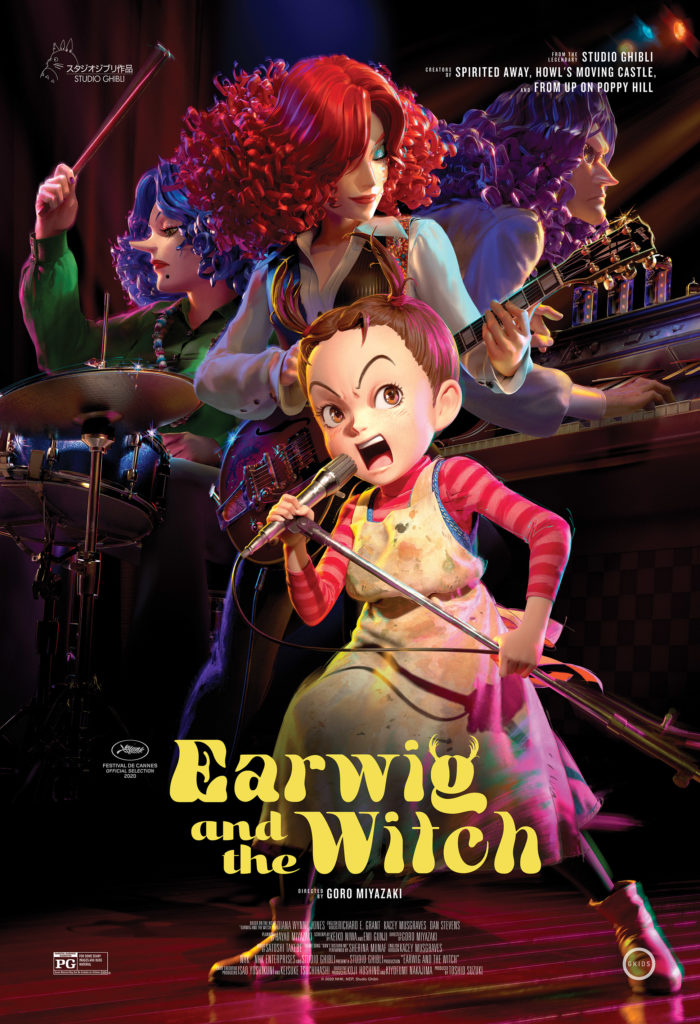 GKIDS ANNOUNCES THE NORTH AMERICAN THEATRICAL AND
US STREAMING RELEASE DATES FOR STUDIO GHIBLI'S

"EARWIG AND THE WITCH"

THE GORO MIYAZAKI FILM WAS AN OFFICIAL SELECTION AT CANNES AND IS THE
FIRST NEW STUDIO GHIBLI PRODUCTION IN FOUR YEARS
****
FILM OPENS IN SELECT THEATERS NATIONWIDE STARTING FEBRUARY 3, 2021
STREAMING DEBUT ON HBO MAX STARTING FEBRUARY 5, 2021


ENGLISH LANGUAGE VERSION FEATURES THE VOICES OF RICHARD E. GRANT, KACEY MUSGRAVES, AND DAN STEVENS, WITH THEME SONG PERFORMED BY KACEY MUSGRAVES


VIEW TRAILER HERE

NEW YORK (January 7, 2021) – GKIDS, the acclaimed distributor of multiple Academy Award®-nominated animated features, will release Studio Ghibli's highly-anticipated new feature EARWIG AND THE WITCH in both theaters and on streaming in early February, followed by a home entertainment release in the spring. The film will open theatrically on February 3, 2021, in both Japanese subtitled and English dub versions.

The film will appear in select theaters nationwide with longtime partner, Fathom Events, as well as independent theater circuits. Starting February 5, Earwig and the Witch will also be available to stream in the US on HBO Max. HBO Max is the exclusive US streaming home of the Studio Ghibli catalog and Fathom Events has been a longtime partner in GKIDS' annual Ghibli Fest events. EARWIG AND THE WITCH will also qualify for awards consideration.

The latest film from Japan's legendary Studio Ghibli (Spirited Away, My Neighbor Totoro, Princess Mononoke and more) is directed by Goro Miyazaki (From Up on Poppy Hill, Tales from Earthsea) and produced by studio co-founder Toshio Suzuki, with planning from Academy Award®-winner Hayao Miyazaki. An official selection for the 2020 Cannes Film Festival, the film aired on NHK in Japan December 30, 2020. Based on the children's novel by Diana Wynne Jones (Howl's Moving Castle), the film marks Studio Ghibli's first CGI animated feature and first feature film production in four years.

The recently announced English language cast features the voices of Richard E. Grant (Can You Ever Forgive Me?, Gosford Park), Kacey Musgraves ("Golden Hour" "Same Trailer Different Park") and Dan Stevens (Eurovision Song Contest: The Story of Fire Saga, FX's Legion), as well as Taylor Paige Henderson as "Earwig". In addition to her debut voice acting role as "Earwig's Mother," six-time Grammy Award winner Kacey Musgraves sings the English language version of the film's theme song, "Don't Disturb Me."

"We are thrilled to be bringing Goro Miyazaki's magical new film to North American audiences next month," said GKIDS president Dave Jesteadt. "Earwig and the Witch is the first new Studio Ghibli release in four years, and is the studio's first foray into computer animation. Working together with HBO Max, Fathom Events, and other theatrical partners will enable GKIDS to bring this wonderful film to the widest possible audience."

"Once again Studio Ghibli has created a visual and storytelling masterpiece, said Fathom CEO Ray Nutt. "Fathom is excited to continue our partnership with GKIDS, and bring the premiere of Earwig to theaters and fans nationwide."

SYNOPSIS
Growing up in an orphanage in the British countryside, Earwig has no idea that her mother had magical powers. Her life changes dramatically when a strange couple takes her in, and she is forced to live with a selfish witch. As the headstrong young girl sets out to uncover the secrets of her new guardians, she discovers a world of spells and potions, and a mysterious song that may be the key to finding the family she has always wanted.


About GKIDS
GKIDS is the New York-based producer and distributor of award-winning feature animation for both adult and family audiences. Since 2009, the company has scored a phenomenal eleven Best Animated Feature Oscar® nominations. Current releases include Wolfwalkers (Tomm Moore and Ross Stewart), On Gaku: Our Sound (Kenji Iwaisawa), Lupin III: The First (Takashi Yamazaki), Ride Your Wave (Masaaki Yuasa) and Earwig and the Witch (Goro Miyazaki).

GKIDS also handles North American distribution for the famed Studio Ghibli library of films, one of the world's most coveted animation collections with titles such as Spirited Away, My Neighbor Totoro, Princess Mononoke and more. GKIDS also produces the annual LA-based film festival, ANIMATION IS FILM, which embraces the highest aspirations of animation as a cinematic art form and is a vocal advocate for filmmakers who push the boundaries of their work to the fullest range of expression of which medium is capable. www.gkids.com

About Studio Ghibli
Studio Ghibli is one of the most acclaimed and influential animation studios in the world, inspiring filmmakers and audiences alike over the last 30 years with beloved stories and breathtaking visuals. Under the brilliance of visionary animation directors Hayao Miyazaki and Isao Takahata, and producer Toshio Suzuki, the studio's films are known for timeless classics such as My Neighbor Totoro, Kiki's Delivery Service, and Ponyo; and have won countless international awards including an Academy Award® for Best Animated Feature for Spirited Away, as well as four additional Oscar® nominations for Howl's Moving Castle, The Wind Rises, The Tale of The Princess Kaguya, and When Marnie Was There.

Director and studio co-founder Hayao Miyazaki was separately given an Honorary Award at the Academy of Motion Picture Arts and Sciences' Governors Awards in 2014, and the Academy Museum of Motion Pictures will pay tribute to his artwork with a special exhibit when the Museum opens in 2021.

www.EarwigMovie.com

TWITTER: http://Twitter.com/gkidsfilms
INSTAGRAM: http://Instagram.com/gkidsfilms
FACEBOOK: http://Facebook.com/gkidsfilms
TRAILER, PHOTO AND MATERIALS AT: http://www.gkids.com/press

Contact:
Brigade: Guillermo Restrepo
[email protected]


Source: GKids
KEEP READING: 4 SHOWS FANS SHOULD WATCH TO PREPARE FOR POWER RANGERS DINO FURY