Join us here at The Illuminerdi as we dive into everyone's favorite Star Wars movie, Attack Of The Clones!
Yes, that opener was sarcasm, because as you surely know, AOC is rarely anyone's favorite Star Wars film. Like Episode I before it, most critics seemed to detest the film with a fiery passion. The allegedly cheesy dialogue, wooden performances, and creepy romance are brought up by this film's detractors to this very day. 
RELATED: GEORGE LUCAS CLAIMS NO ONE UNDERSTANDS THE STYLE OF THE STAR WARS PREQUELS
Fascinatingly, these complaints are not all necessarily invalid. Some of the dialogue is quite unbelievable and over the top. Anakin's relationship with Padme is strange, and his undying need to be with her can be quite creepy at times. What you have to realize, however, is that these elements are not mistakes – they are intentional. 
Episode II: Attack Of The Clones is Star Wars at its Star Wars-iest. What I mean by that is that the franchise has always been a sci-fi soap opera, and that is never leaned into harder than in this film. Wild plot twists, usually centered around familial relationships, are the lifeblood of the Skywalker Saga.
EPISODE II ATTACK OF THE CLONES EMBRACES THE NATURE OF THE SAGA 
The whole concept of the franchise is so crazy and out there that when you criticize the franchise for these elements, you are criticizing it for staying true to its nature. You'd think that by the fifth movie, folks would have realized that. 
Now, that isn't to say that you have to like science fiction melodramas, nor does it mean that this film is without flaws. Attack Of The Clones isn't perfect, and you aren't required to like it to be a true Star Wars fan. The pacing isn't as tight as it could be, and certain plot elements could use some clarification, particularly Tyrannus and Sifo Dyaz' involvement in the creation of the Clone Army. 
Truthfully, my gripes and grievances with this film are as minor as the issues I had with The Phantom Menace were. Personally, I love the histrionic atmosphere of Episode II. I love the action, I love the characters, I love it all, and I'm not ashamed to admit that.
Now, enough defending, and onto the reasons you should check the film out. Ewan McGregor is far more interesting as Obi-Wan in this film than he was in the prior, and he gets a lot more time in the limelight.  Additionally, While I love Jake Lloyd to death, Hayden Christensen's turn as Anakin Skywalker is far more interesting and complex. 
STAR WARS: EPISODE II GAVE US THE BEST DYNAMIC DUO OF ALL TIME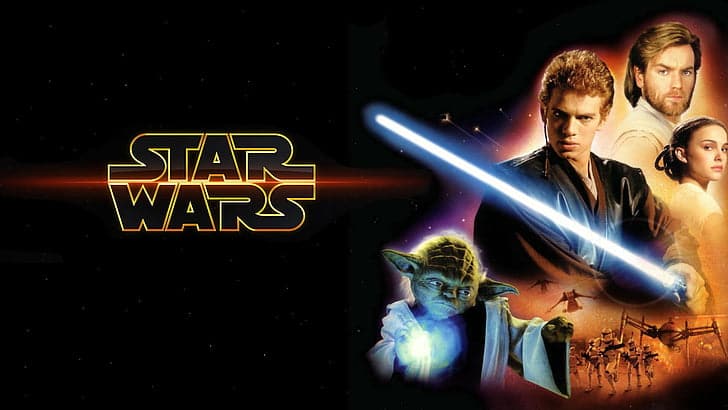 You can feel the beginnings of Lord Vader throughout the film, sitting just below the surface, and it is wonderfully tragic. His rage, his passion, and his deep love for those he holds dear coalesce violently, and in the next film, catastrophically. Even examined without the lense of this film's prequel status, Christensen's performance is relatable, entertaining, and heartbreaking.
Padme really comes into her own here as well, standing out as a strong, incredibly brave woman who you can't help but admire. Jango Fett and Count Dooku make for stellar antagonists, truly upping the ante from Episode I's Darth Maul. Palpatine takes more of a backseat here, but his puppet-mastery is still quite present. 
In addition to the phenomenal cast of characters, this movie looks incredible, both in terms of action and setting. We get to see more of Tatooine, Naboo, and Coruscant than ever before, AND the fascinating worlds of Kamino and Geonosis are introduced.
STAR WARS FLORA & FAUNA ARE EXPLORED IN EPISODE II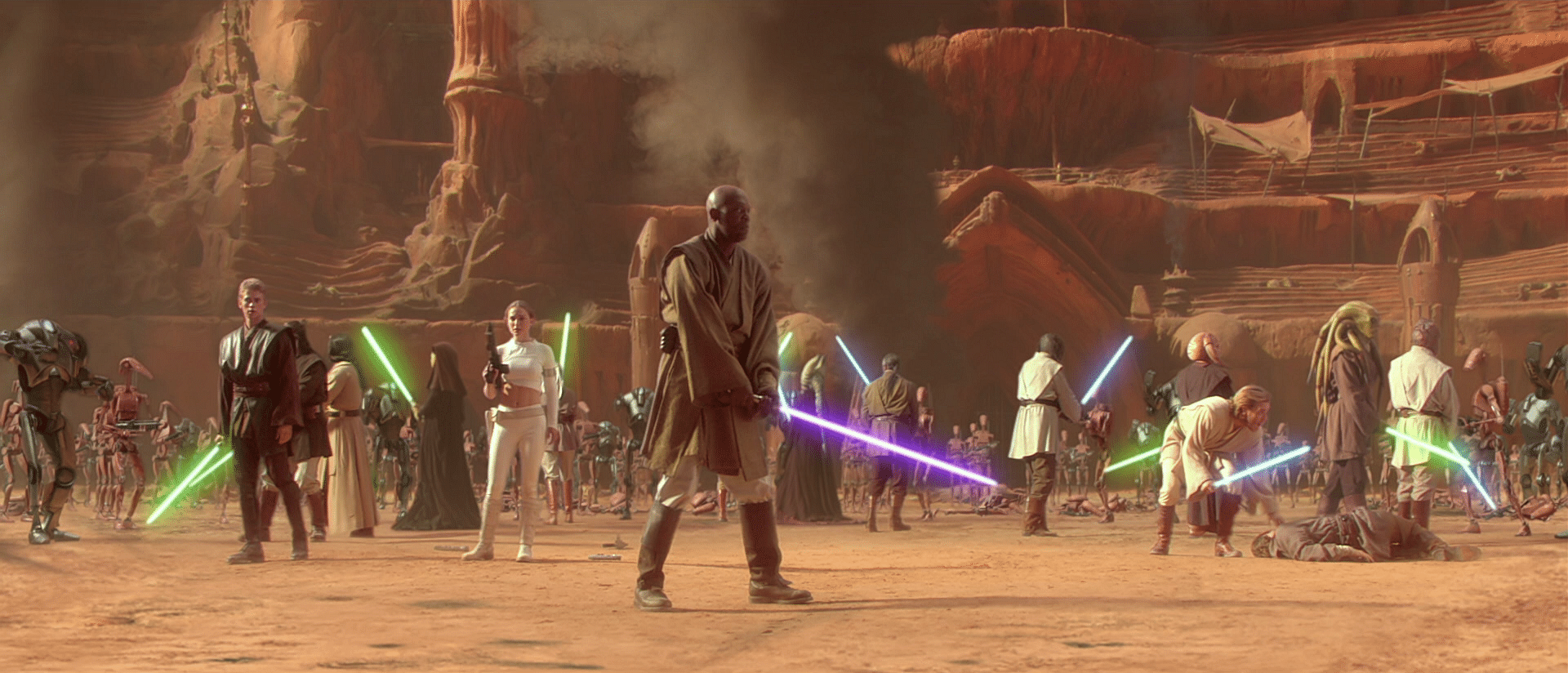 Watching unique beasts like the Nexu, Reek and Acklay always makes me smile, and their just the tip of the iceberg. There are more fascinating species and alien races brought into the saga in Attack Of The Clones than in any other Star Wars film, though I do reserve the right to rescind that comment at a later point in this series.
As for the action scenes, they are simply to die for. From the high-speed chase of Zam Wesell throughout Coruscant, to Jango's duel with Kenobi on Kamino, to the infamous battle of Geonosis, this movie has it all, and then some. I don't even need to mention the fight between Yoda and Dooku, as that is the one scene in this film that is nigh universally beloved.
To bring this review to a close, I would ask you to examine what you're looking for in the Star Wars franchise. If you want a hyper-serious drama with oscar potential, look elsewhere.
Attack Of The Clones is melodramatic, corny, and extravagant, yes. Episode II is also hilarious, emotionally resonant, and action packed. This film is a fantastic blend of many moving parts, and it juggles them all with an amazing level of finesse. I highly recommend that you go to Disney+ and check it out. Just make sure you go into it with an open mind. 
Star Wars: Episode II: Attack Of The Clones is directed by George Lucas and stars Ewan Mcgregor, Hayden Christensen, Temuera Morrison, Natalie Portman, Christopher Lee, Ian McDiarmid, and Anthony Daniels.
KEEP READING: THE MANDALORIAN IS THE MOST PIRATED SERIES OF 2020