There is much debate with fans of the Marvel Cinematic Universe whether or not Agents of SHIELD is considered canon. Clark Gregg, who played the lovable Agent Phil Coulson in Iron Man and the hit Marvel TV series recently weighed in during a podcast.
With the MCU putting its narrative focus on its Disney+ hits show, there is more success waiting in the wings on what's to come in Phase 4. Before the likes of WandaVision, The Falcon and the Winter Soldier, and Loki, there was Agents of SHIELD, which followed an elite team led by Avengers actor Clark Gregg as the sly and ever so dedicated Agent Phil Coulson. Although the show ended its run after 7 seasons back in August 2020, it appears it may make its return in more ways than one.
AGENTS OF SHIELD: CANON OR NOT CANON & DOES IT ALL FIT?
From an interview conducted by podcast team Marvel Movie Minute, the hosts spoke to Avengers and Agents of SHIELD star Clark Gregg (Phil Coulson) on which Gregg shared on his experience being a part of the MCU and the show:
"It's really nice. Ya know, I had the greatest run and the greatest time doing each of the movies. I loved doing all of it. And I really had a blast. I don't yearn for anything… It's really flattering to me that people do seem to make a buzz about, 'When's he going to show up?' Ya know, I just enjoy watching what [Marvel Studios President] Kevin [Feige] and everybody has been doing. And Kevin's been really cool, as he always is and always has been to me…"
RELATED: BLACK PANTHER 2 SET PHOTOS SPOT SHURI & OKOYE IN HIGH-SPEED CHASE
In regards to some speculation that WandaVision de-canonizing some of the material from Agents of Shield, Gregg mentioned that Marvel Studios head Kevin Feige asserted to not "underestimate" fans of Agents of SHIELD, the Netflix shows [such as Daredevil / Jessica Jones / Luke Cage / Iron Fist / Cloak and Dagger / Inhumans], or the characters in them:
"[Feige] is so classy to the fans, I just think that's why Marvel has done something so special, is [ because] they're number-one priority is taking care of fans […] I read this comment the other day where someone said that about, 'Did this diminish Agents of SHIELD?'

And [Feige] said, 'Ya know, I think you're really underestimating how powerful and passionate the fans of that show and the Netflix shows are and were,' and I would never underestimate them or the possibility those characters, cause I really want to see (Daredevil actor) Charlie Cox, I really want to see people who love those shows, I want to see it all get crossed over as much as it could, cause I think that's what the Marvel fans want."
Gregg concluded that "there's room for everyone" in a franchise like the Marvel Cinematic Universe, one that is slowly expanding into a multiverse.
INTO THE MULTIVERSE: FROM NETFLIX TO BEYOND?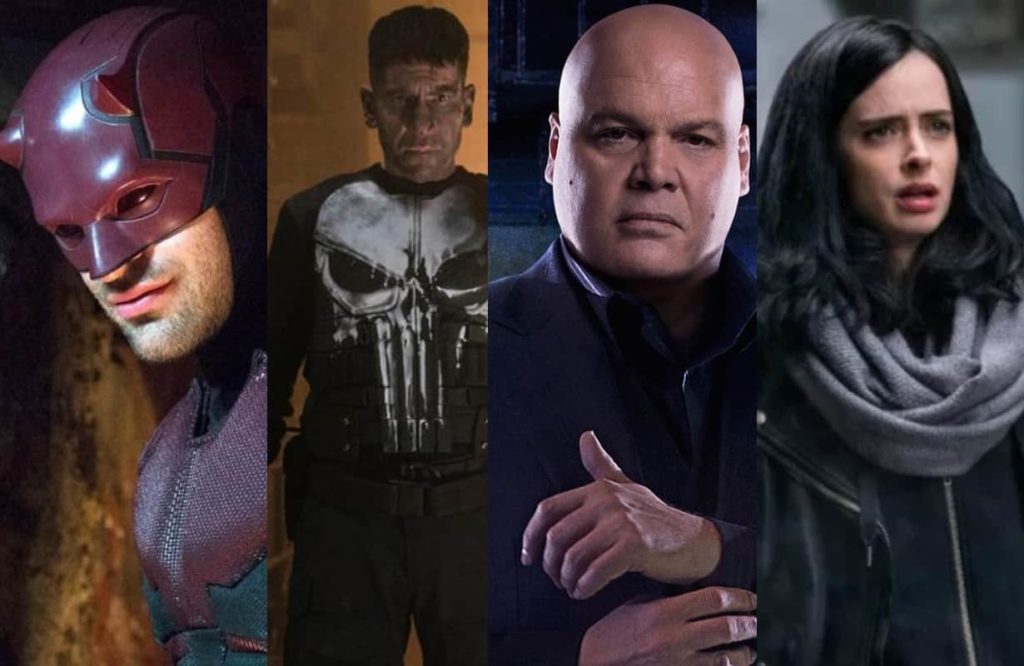 Gregg's thoughts seem to indicate that speculation on Agents of SHIELD being canonical in the MCU is a sure thing. Though with the appearance of the Darkhold in WandaVision being different from what was featured in Agents of SHIELD, it's safe to say that anything is possible with the presence of a multiverse with what has been showcased in both Loki and the first trailer for Spider-Man: No Way Home.
RELATED: NIA DACOSTA PITCHED AN X-MEN & GALACTUS TEAM-UP MOVIE TO MARVEL AND WE WANT IT NOW
With theories bouncing left and right on the implications of a multiverse affecting the MCU, Netflix series fan favorites such as Charlie Cox's Matt Murdock/Daredevil and Vincent D'onofrio's Wilson Fisk/Kingpin possibly making their way into the MCU based on the premise of Spider-Man: No Way Home are among the many famous fan theories given that villains of franchise' past – Dr. Otto Octavius, Green Goblin, and Electro – will be making their return to the silver screen. We would so excited and delighted to see our favorite SHIELD agents make a return on Disney+ or even jump their way into the narrative of Phase 4.

What are you looking forward to most in Phase 4 and what are your favorite moments from past Marvel Studios' shows? Let us know in the comments! In the meantime, for all things related to the multiverse and beyond, stay hooked with us on Illuminerdi!
Source: Marvel Movie Minute Podcast
READ MORE: KEVIN FEIGE REVEALS THE LESSONS HE LEARNED FROM WORKING ON SAM RAIMI'S SPIDER-MAN