Our Friend director Gabriela Cowperthwaite explains how documentary film has guided her film career.
Gabriela Cowperthwaite comes from the world of documentaries and is most well-known for directing Blackfish. A film about the captivity of killer whales, specifically Tilikum the whale that killed it's trainer, and how it's dangerous for both the whales and people. The documentary was nominated for a BAFTA Award for Best Documentary. Gabriela Cowperwaithe's film directorial debut was Megan Leavey a biographical drama about Megan Leavey a young Marine and her combat dog Rex.
Gabriela Cowperthwaite has once again stepped behind the camera to direct Our Friend, which is based on the Esquire article, "The Friend: Love Is Not a Big Enough Word," written by Matthew Teague. The article talks about Teague's wife's terminal cancer diagnosis and how their family only got through it because Matt and his wife's best friend, Dane, moved in to help the family.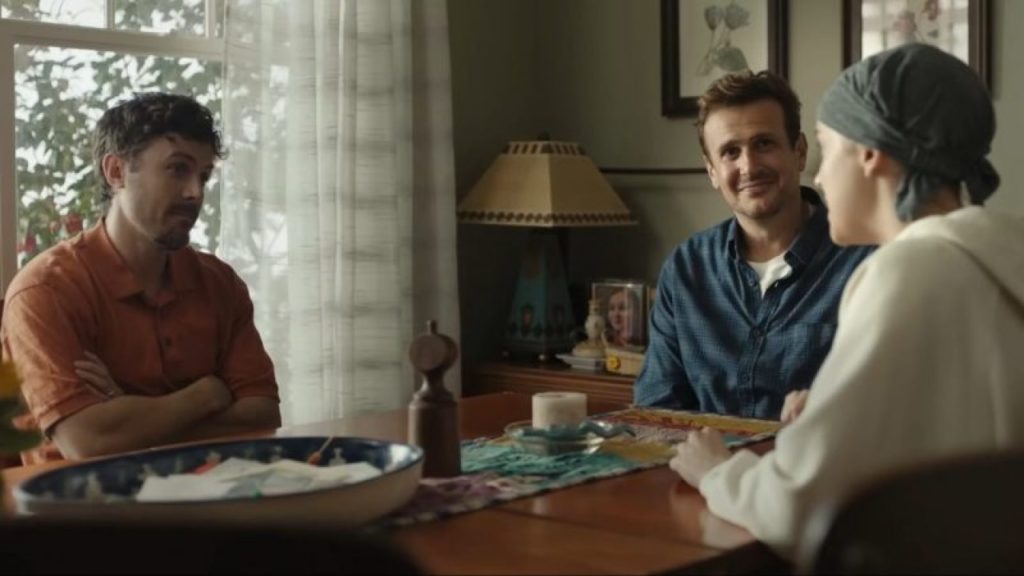 This powerful true story had to be handled in a conscientious way, not only because it is based on a true story, but because it is something that hits close to home for many people, especially with the global pandemic causing so many people to lose loved ones. In an interview with the Illuminerdi, Gabriela Cowperthwaite talked a bit about how her background as a documentarian helped her to make this movie.
GABRIELA COWPERTHWAITE ON HOW HER DOCUMENTARY EXPERIENCE HELPED HER ON OUR FRIEND
"I mean the one thing that I feel that documentarians have, is they know what real looks like." Gabriela Cowperthwaite continued, "And for me, in order for film to work, or the films that I make, to work, they have to feel like they could actually be really happening. And so, that to me was something I knew I could bring to this. I felt like because this is a story that we're all in some way shape or form dealing with, whether you know someone who's sick, or who has cancer, who has COVID, or any of that, I think this is so, so universal, that it has to feel like an experience that people can recognize."

"Because we can all tell you immediately if it's genuine or not. If it looks and feels authentic or not…so to me that was just like really paramount, is that this feels as real and authentic as possible."
RELATED: REDEMPTION DAY INTERVIEW: DIRECTOR HICHAM HAJJI ON WHY NOW IS "THE RIGHT MOMENT" FOR THE FILM'S RELEASE
Given that documentaries are about revealing the truth, it's no surprise that her first two films outside of documentaries have been based on true stories. Gabriela Cowperthwaite clearly takes the responsibility of telling this story seriously. She had a huge task in sharing this story in an authentic way, especially given that Matthew Teague, who's personal tragedy the film is based on, is an executive producer on Our Friend.
GABRIELA COWPERTHWAITE FUTURE PROJECTS
Gabriela Cowperthwaite also revealed a few upcoming projects that she is working on. She didn't give too many details, but the director looks to have a busy future.
"Yeah, so, I'm actually filming right now in North Carolina. I'm filming a space station thriller." She continued, "it is very fun. So, we're in preproduction right now."
While she didn't say too much about this it seems to be a bit more of a departure from the documentaries and films based on true stories that she is known for. That's not all though, she also revealed that she has a number of other projects in the works.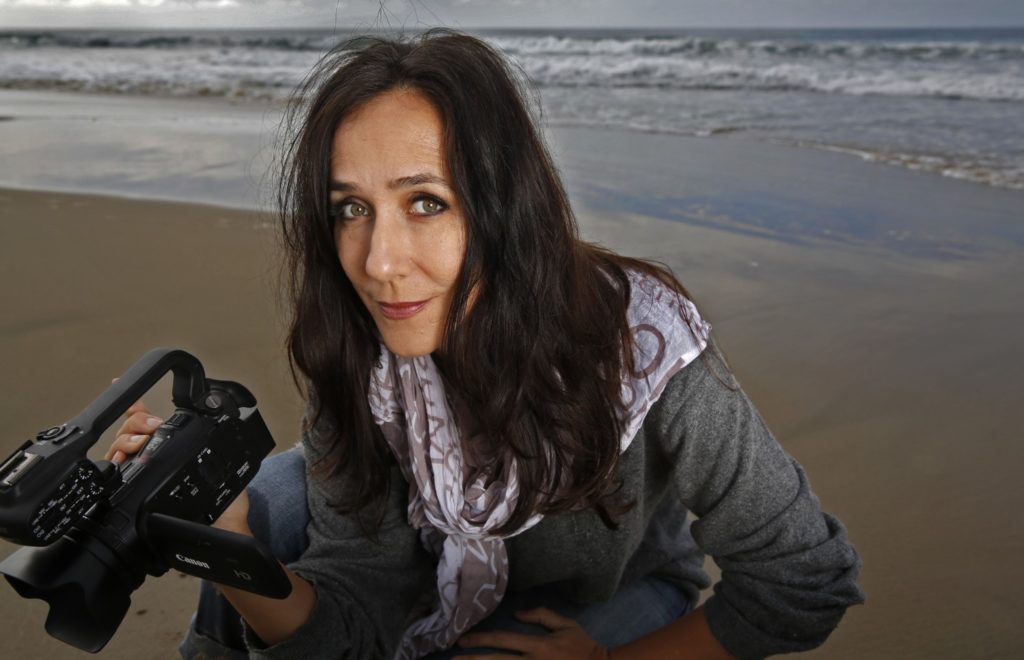 "I'm working on two documentaries. One I've been working on for about four years. And another one, I just started. And then some things that I'm attached to in the future, a horror movie, an action movie and a sort of real-life drama."
Given the current state of the world she said "all of them hopefully will go at some point." For now, her current project is a space station thriller which she is already working on in North Carolina. It will be interesting to see Gabriela Cowperthwaite transition into new genres of film and how she brings the "real" into each of her films.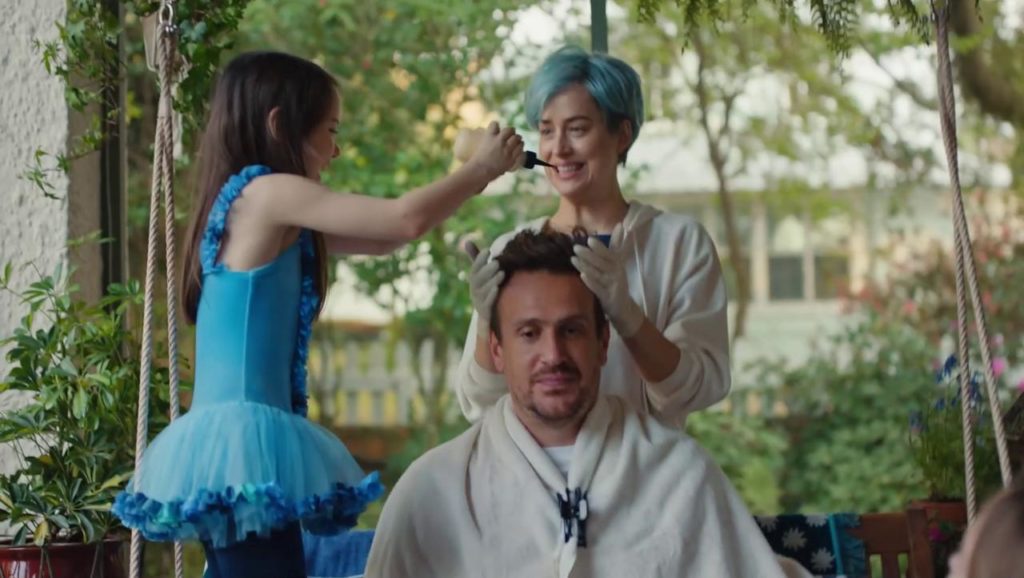 Our Friend Synopsis
Our Friend is based on the Esquire article written by Matthew Teague about his wife being diagnosed with terminal cancer and how they managed to handle that with the help of their best friend, Dane, who put his life on hold and moved into the family's home in order to help the family get through the impossible situation. His actions would have a much greater impact than any of them expected. Our Friend is written by Brad Ingelsby and directed by Gabriela Cowperthwaite. Our Friend stars Dakota Johnson as Nicole Teague, Jason Segel as Dane Faucheeux, Casey Affleck as Matt Teague.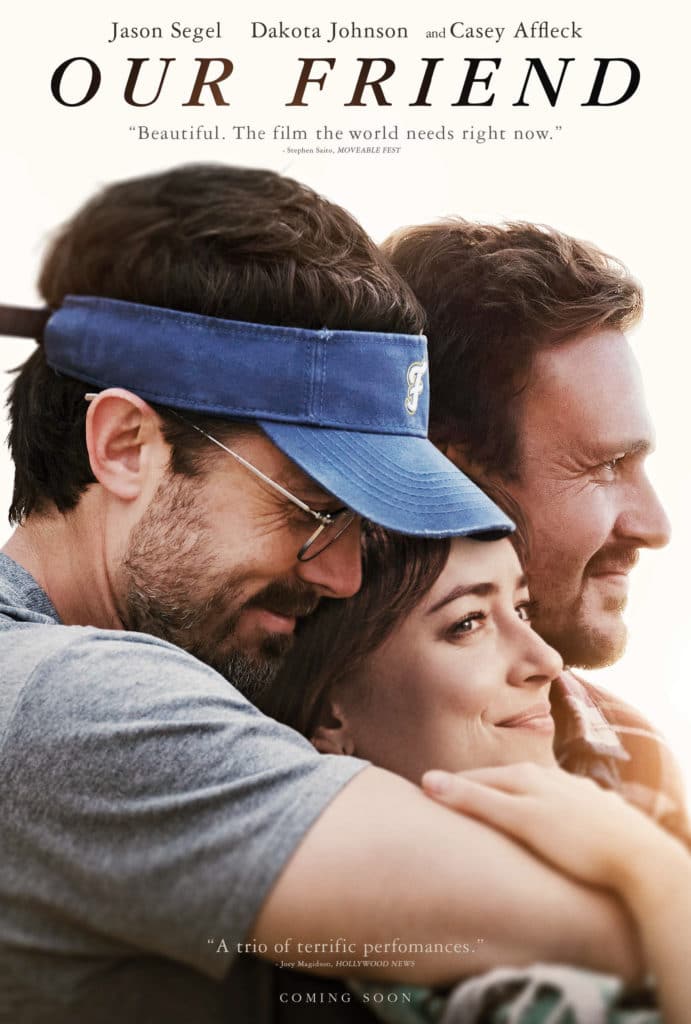 Our Friend is in select theaters and on demand January 22, 2021. Will you be seeing Our Friend? Have you read the Esquire article Our Friend is based on? Are you excited about Gabriela Cowperthwaite's other upcoming projects? Leave your thoughts in the comments below or on our social media.
KEEP READING: REDEMPTION DAY INTERVIEW: TENET AND ANT-MAN 3 STAR MARTIN DONOVAN ON WHY POWERFUL VILLAINS FASCINATES HIM