Finding Ohana star, Lindsay Watson, talks about representing Hawaii and her Hawaiian culture in the new Netflix film.
Netflix is releasing a slew of new films in 2021 and on January 29th the streaming service will bring a new family adventure film to audiences. In a similar vein to the cult classic Goonies, Finding Ohana focuses on a group of kids who find themselves on the hunt for a lost treasure. However, Finding Ohana is about more than hunting for treasure, it's a story of family, as well as Hawaii and the Hawaiian culture.
Lindsay Watson On Hawaiian Representation in Finding Ohana
Lindsay Watson, who stars as Hana is from Hawaii and she talked about representing her home and culture in a way that hasn't really been seen before. In an exclusive interview with The Illuminerdi, Lindsay explained what it feels like to be able to represent her Hawaiian culture in Finding Ohana.
"Such an honor, our Hawaiian culture really hasn't had a chance to hit the big screen anywhere. My whole life I didn't see anyone like me on the TV screens. I didn't see movies about Hawaiians in the proper sense and so when I'm seeing this film and the script, it's written so well and accurate to Hawaii. I'm like, only someone from Hawaii would know these things. So, I mean I felt, really happy from the beginning. Already, that I was like 'oh this is going to be a passionate project that people are going to put their heart into' so it was an honor for me to jump into that."
And while Lindsay is honored to be able to share this project she also talked about the responsibility that they had to represent Hawaii the right way.
"Lots of stress that came with it. A weight on your shoulder as being a Hawaiian girl you want to do the culture well. You want to represent it in the most accurate sense. But I had so many people around me supporting and so many other fellow Hawaiians and even the non-Hawaiians in the crew they were so leading with their heart, wanting to help and make sure we do the culture the proper way on screen. And it came out amazing, I think Hawaii is going to be really proud of it."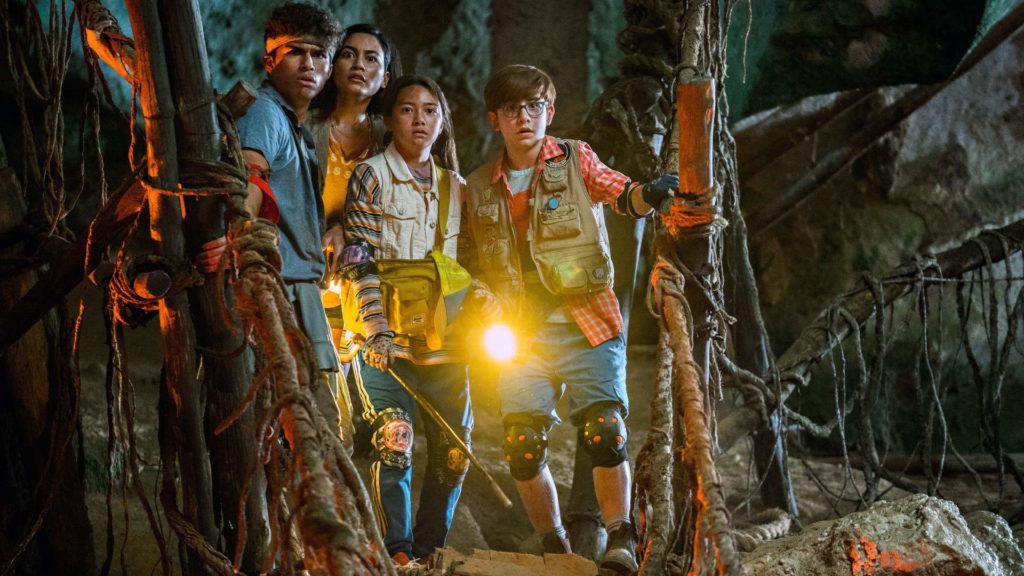 Hawaii and the Hawaiian culture are an integral part of the story of Finding Ohana. Lindsay was born and raised on Hawaii and had a number of similarities to her character, Hana. Lindsay Watson explained that this was a dream role for her.
"Everything about Hana is who I am. She's this Hawaiian girl who loves her people, loves her culture, loves her family and will protect it at all costs. And all things that I feel the same way about, the Hawaiian culture is so important to me so it was just such a seamless role for me to just fall right into."
RELATED: WATCH THE NEW RAYA AND THE LAST DRAGON TRAILER AND CHECK OUT THE MAGICAL NEW POSTER NOW
Lindsay Watson also explained that she hopes that people walk away from this film having learned something they didn't know about Hawaii.
"Learning a Hawaiian word, you know, learning about our legends, our practices if anyone walks away knowing something they didn't know before it about Hawaii. That's going to be a cherry on top for me because that was our goal. We want to share this culture with the world and hopefully it's received so well across the world."
Finding Ohana is a movie full of adventure, family, and friendship, but it also is a film about Hawaii. Hawaiian culture is not something that has been represented often and it is no surprise that Lindsay feels honored to be able to share her home and culture with the world.
FINDING OHANA TRAILER AND SYNOPSIS
A summer in rural O'ahu takes an exciting turn for two Brooklyn-raised siblings when a journal pointing to long-lost treasure sets them on an epic adventure with new friends, and leads them to reconnect with their Hawaiian heritage.
Finding Ohana will be available on Netflix January 29. Finding Ohana stars Kelly Hu, Branscombe Richmond, Kea Peahu, Alex Aiono, Lindsay Watson, Owen Vaccaro, Chris Parnell, Marc Evan Jackson, and Ricky Garcia. Finding Ohana is written by Christina Strain and directed by Jude Weng. Are you going to watch Finding Ohana? Are you interested in learning more about Hawaii and Hawaiian culture? Leave your thoughts in the comments below or on our social media.
KEEP READING: NETFLIX BRINGS THE SPIRIT OF ALOHA WITH FINDING OHANA