Matt Cardona revealed some details from the mass WWE release in April which were not previously known, including information about his own contract.
Matt Cardona who was better known by his WWE name of Zack Ryder spoke with Fightful Select about his contract with WWE.  Since everyone knows him as Zack Ryder, I will use that name to simplify everything.
RELATED: LARS SULLIVAN QUIETLY RELEASED FROM WWE
Ryder revealed the nature of his exit from WWE. He was set to resign with WWE in 2019, but he chose not to. This made the end of his WWE contract occur in August of 2020. What makes this interesting is that when he was released his 90-day non-compete clause expired one month before his actual WWE contract would have ended.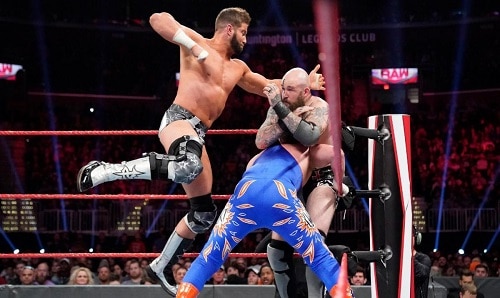 Matt Cardona Said Released Superstars Wanted Out
Ryder was part of the mass release from WWE which occurred in April of 2020 due to COVID related budget cuts. Some of the other big names cut during that release included Karl Anderson, Luke Gallows, Russev and Kurt Angle.
RELATED: STEPHEN AMELL'S WRESTLING SHOW ANNOUNCES BIG TIME HEEL
However, the most interesting bit of information to come out of Matt Cardona's interview was surrounding other superstar releases.  According to Ryder several other Superstars who were released had indicated to WWE they were looking to be released.  I can almost guarantee one of those Superstars was Russev.  Ryder also indicated several of those who were released were yet to sign a new contract.  This comes as a relief because it did seem that a lot of the releases were out of nowhere and Superstar's were blindsided.  I'm glad to hear that may not have been the case for all the Superstars. 
Playing The Field And Seeing What's Out There
Ryder spent a little bit of time in AEW after WWE, but now he is over in IMPACT Wrestling. However, he just revealed he hasn't signed a contract with IMPACT. Currently he is a free agent playing the field. Good for him. He is scheduled to team up with Eddie Edwards to face Brian Myers better known as Curt Hawkins and Hernandez at Saturday's IMPACT No Surrender.
Ryder was part of WWE for 15 years, from 2005 to 2020. While there he became a mainstay of the company. However, his success was pretty limited. While in WWE he won the Intercontinental Championship, United States Championship and Raw Tag Team Championship with Curt Hawkins. He was well liked and it was apparent he is talented. On rare occasions his talent bled through while wrestling a higher caliber Superstar. However, his character wasn't one which was easy to get behind. It was hard to see him being a top tier champion and was even difficult to get behind him winning the Intercontinental Championship.
Where do you want to see Ryder end up? Do you think he would do better in IMPACT or AEW? Would you like to see Ryder get another shot in WWE and maybe tag with Riddle to have a bit of a BROmance? Leave some comments and let us know what you think.
KEEP READING: KENNY OMEGA EXTENDS AN INVITATION TO TAG WITH KENTA
Sources: WrestlingHeadlines, Fightful Select