This past week on AEW Dynamite KENTA showed up and gave Jon Moxley a GTS. After the show Kenny Omega offered a warm welcome to KENTA.
KENTA has had the number one contendership to Moxley's IWGP United States Championship for a while. Moxley can't fly to Japan because of COVID to defend the championship. I think KENTA thinks that is a crap excuse. However, KENTA decided to fly to the US and take the fight to Moxley instead.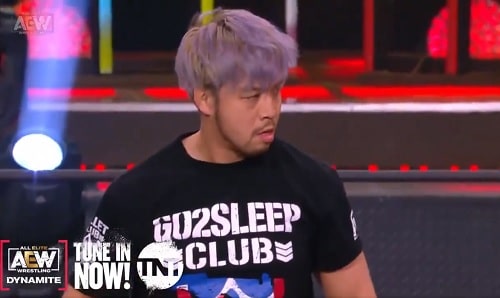 RELATED: CODY REGAINS TRADEMARK ON THE LEGENDARY RHODES NAME
KENTA took the opportunity to ambush Moxley during his match with Kenny Omega. After the show Kenny Omega caught up to KENTA and offered to team up against Moxley. Kenny Omega extended the universal sign of wrestling friendship and offered to "Too Sweet" him. KENTA's reply was a little unexpected.
"Shut the f*** up. I'm not your friend. I'm here to beat Jon Moxley," Kenta said.
KENTA Came Here To Kick Moxley's Ass And Chew Bubble Gum
No doubt KENTA was referring to him being the number one contender for the IWGP United States Championship. Kenny Omega then challenged Tony Khan to make a match between him and KENTA vs Moxley and Lance Archer.
Khan stepped up to the challenge and made the match. Next week on AEW Dynamite the two teams will meet in a Falls Count Anywhere-Anything Goes match. It is sure to be a slobberknocker as JR would say. Last week Moxley attacked KENTA on NJPW Strong and KENTA decided to return the favor. Their feud is really heating up and it will explode into the two of them facing off for that United States Championship in no time.
RELATED: WILL WE SEE JOHN CENA AT WRESTLEMANIA? TRIPLE H GIVES AN INTERESTING TEASE
Next week's AEW Dynamite already has a pretty stacked card and this is just going to put it over-the-top. So far it will have AEW TNT Champion Darby Allin vs Joey Janela, Chris Jericho and MJF vs The Acclaimed and Cody Rhodes and Lee Johnson vs Pretty Peter Avalon and Cezar Bononi.
Hideo Itami's Final Form May Be KENTA
For those unfamiliar with KENTA he may be more recognisable by his WWE name, Hideo Itami. He wrestled for the company from 2014 to 2019. He came in really hot and was getting a good push and started to gain in popularity. However, Itami got injured which stopped any push or momentum.  
RELATED: CODY RHODES GIVES AEW AN "A" RATING FOR THE YEAR
This was the story of most of his time in WWE. He got a push and started to set up some cool matches and then out with an injury.  It eventually got to the point where people forgot about him and to care about his matches. However, perhaps the thing he is most known for is as the inventor or CM Punk's finisher the GTS.
In 2019 Itami left WWE and began working for NJPW. KENTA eventually won the NEVER Openweight Championship in NJPW.
RELATED: GOLDBERG COMMENTS ON YOUNGER WRESTLERS CRITICIZING HIM AND OTHER LEGENDARY WRESTLERS
The pair of Kenny Omega and KENTA is going to be pretty stiff competition, but Moxley and Archer aren't pushovers either.
What do you think of Kenny Omega and KENTA tagging together? Do you hope KENTA sticks around? Is there anyone besides Moxley in AEW you would like to see KENTA wrestle in the near or distant future? What about in Impact? What is your favorite Kenny Omega moment? KENTA and I apparently aren't friends either, but you and I are! So drop those comments below or over on our social media and let me know what you think.
KEEP READING: LARS SULLIVAN QUIETLY RELEASED FROM WWE
Source: WrestleZone