The Boys has been a massive success for Amazon Prime, with fans eagerly awaiting not only a third season, but a highly anticipated spin-off.
It was revealed that there would be a spin-off of the "superhero" series last year. The series was renewed for a third season ahead of the season two premiere and according to Variety the second season of The Boys had the most watched worldwide launch of any Amazon series. The Boys Untitled Spinoff was fast tracked after the massive success of the second season of The Boys on Amazon.
THE BOYS UNTITLED SPIN-OFF SERIES DESCRIPTION
The Boys Untitled Spinoff is set at America's only college exclusively for young adult superheroes aka Supes which is run by Vought International. The spin-off is described as an irreverent, R-rated series that explores the lives of hormonal, competitive Supes as they put their physical, sexual, and moral boundaries to the test, competing for the best contracts in the best cities. Part college show, part Hunger Games – with all the heart, satire and raunch of The Boys.
Eric Kripke revealed in an interview with The Wrap how they came up with the idea for the spin-off series.
"I would say it's loosely inspired by an element of the comics, which is the G-Men. Part of the G-Men is there's sort of an educational, college experience," The Boys showrunner explained. "And we just used that as a jumping-off point, kind of similar to 'The Boys,' where we sort of take an initial notion and then we are going to run with it in our own weird direction."

"We think there's a real opportunity to see another part of the Vought world. But probably, more importantly, to make a show that isn't really made that often…the goal for this is to make this superhero show one of the most realistic college shows anyone's made. And really deal with real college issues and really explore what it's like to be that age."
The Illuminerdi can exclusively reveal character breakdowns for the highly anticipated spin-off series.
THE BOYS UNTITLED SPINOFF CHARACTER BREAKDOWNS
Marie Moreau is described as an 18-year-old black woman who is motivated, bold, and determined. As the Caribbean's first and only superhero she is tenacious in her need to prove that "a little Black girl from the Caribbean can grow up to become one of the world's greatest superheroes." Marie is quick-witted, intelligent, highly focused, and well trained. Marie has "the pride of her nation and her family's financial future riding on her shoulders" and she is dogged in her pursuit to get to the top of this competitive college while her classmates mock her impressive aspirations.
Not to be deterred Marie's flippant and derisive sense of humor cuts straight through her rivals. Marie is surrounded by malevolent forces and she will find herself compromising her values in order to pursue the ever-elusive American dream. Marie is described as a lead character and series regular in The Boys Spin-off.
RELATED: THE BOYS WILL FEATURE THE NSFW RAUNCHY COMIC STORYLINE "HEROGASM" IN SEASON 3
Emma is a18-year-old woman from Malibu and is described as sweet, devoted, compassionate, and lovably neurotic bordering on pathological. "Emma would give you the shoes off her feet is you ask and then apologize that they're a little scuffed". Emma craves acceptance and the deep human connection she's been missing all her life. Emma's mother is a renowned Supe and although Emma has tried not to let this legacy define her life it clearly has.
Emma is excited to begin college and make lifelong friends especially after being bounced from boarding school, set trailer, and summer camps all her life. Emma bonds rapidly and ferociously and although she appears to be an open book to everyone she is especially good at hiding things from those she loves. Emma is hiding a scandalous secret about who she really is and worries if she is discovered that people will be repulsed be her. Emma is described as a lead and series regular in The Boys Spin-off.
RELATED: SUPERNATURAL STAR JENSEN ACKLES JOINS THE BOYS SEASON 3 AS SOLDIER BOY, THE WORLD'S FIRST SUPERHERO
Jordan Lee is described as an 18-year-old Asian-American woman who comes to the Supes college with her twin brother Mark. Jordan is cheeky, stunning and effortlessly cool. "Jordan is a pan-sexual hedonist superhero always looking to get drunk, get laid, or get high" Underneath her partying persona Jordan is sensitive and an unquestionably talented Supe who buries her fear of failure in her partying and bingeing of alcohol, sex, and drugs.
Jordan is accustomed to skating by on impressive instincts and her super capabilities, but as a Freshman at a school full of young Supe hopefuls, she will learn that to become the elite Jordan must be willing to face and defeat her own personal demons no matter how agonizing they may be. Jordan is described as a lead and series regular in The Boys Spin-off.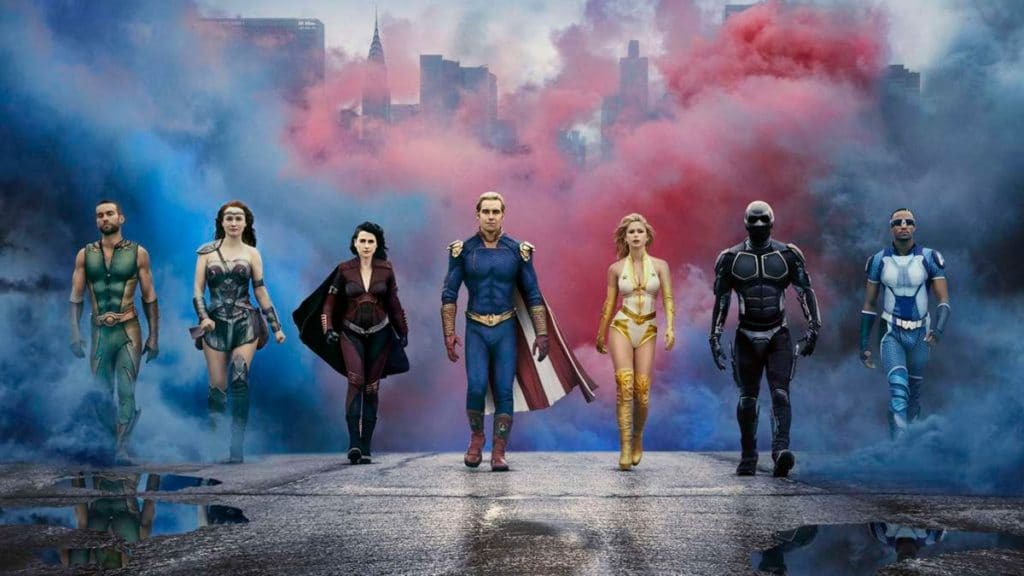 Mark Lee is described as an 18-year-old Asian-American man who comes to the Supes college with his twin sister Jordan. While Mark starts out sharing her sister's love for partying he quickly falls for a fellow Supe. She challenges Mark to be at his best, instead of wasting his talents, by working hard, concentrating, and being self-disciplined. In the cutthroat college environment, the fair and decent don't always win out especially when the one they love "starts to fall off a cliff". Mark must choose between his own newly discovered aspirations and his love for the woman who fostered them. Mark is described as a lead and series regular in The Boys Spin-off.
Britney is in her early 20s and is described as beguiling and clever. Britney is a former teen star on the hit Vought + musical television show "Britney Out Loud!". Seven years ago, Britney's shocking fall from grace after a drug scandal ruined her reputation and thus her career. Britney is barely scraping by on $4 cameos and her Only Fans page.
Still craving the spotlight and refusing to give up on her second act that she believes she is owed, Britney schemes up a sleazy plan to get admitted to the Supe college, which could be her ticket back into the Vought Supes industry and a potential city contract. However, Britney is haunted by a dark secret from her past and she'll have to determine the price she is willing to pay for the fame and fortune she so desperately craves. Britney is described as a lead and series regular in The Boys Spin-off.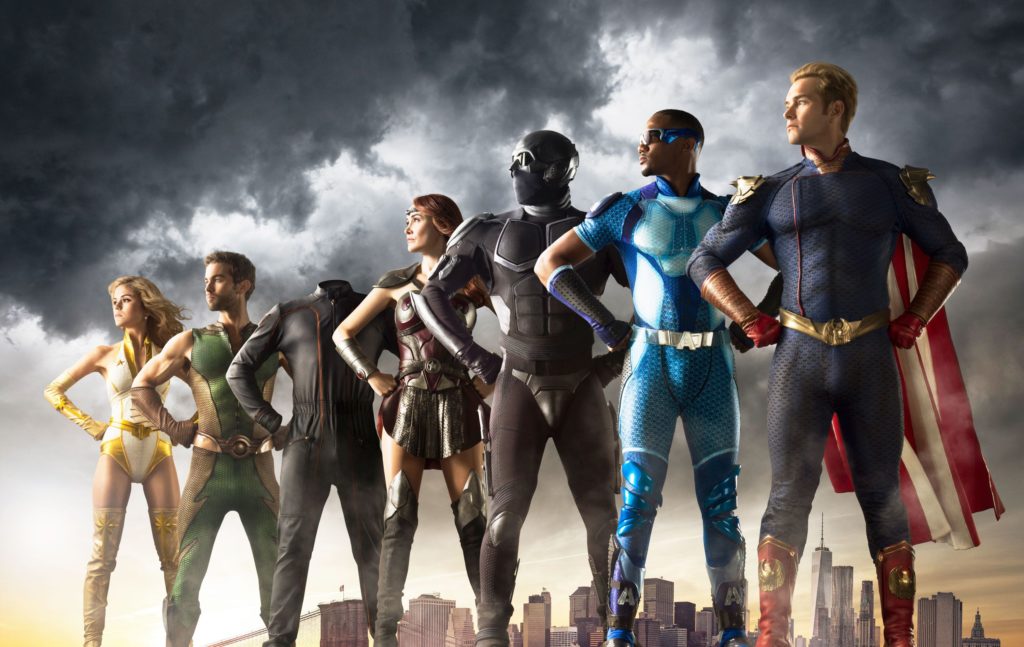 Andre aka Polarity is described as a 19-year-old black sophomore at the college and while young he is one of the most powerful and talented Supes at the school. Polarity has "Rockstar swagger, quick wit, and a swoon-worthy smile". While he can be described as a cocky "f**kboy" he is also at his core a principled guy with "the heart of a hero". Ferociously loyal, to a fault at times, Polarity has unyielding and fierce grit, born of personal hardship and bolstered by his father, a former B-grade Supe now Polarity's coach, mentor, and best friend.
At the heart of Polarity's character is his codependent relationship with his father, but as external forces expand his focus, he starts to question if his well-intentioned father is a blessing, a hardship or both…and precisely where his loyalties lie. Andre aka Polarity is described as a lead and series regular on The Boys Spin-off.
Golden Boy is a 22-year-old big name on campus who "possesses thermonuclear power and pure charisma". Golden Boy has long been seen as the next famous Supe of the Vought pantheon. Golden Boy works for greatness in everything and succeeds every time. Although such aspiration and hopes were placed upon him at a young age he did not become misanthropic or disaffected from normal society.
Golden Boy's most unexpected characteristic is that he has been able to keep a trustworthy down-to-earth sensibility despite the continuous clamors for selfies and autographs. If Golden Boy does struggle with this burden of predetermined stardom and prosperity he hides it well: presenting himself as serene, secure, self-assured. Although the question is can anyone truly handle the pressure without cracking?
The Illuminerdi also learned that at one point Nick Jonas was in negotiations for the role of Golden Boy although it didn't pan out. The Boys Spin-off is being developed as an eight-episode season and with this lineup of complex characters this series seems to be shaping up to be a fantastic addition to this world of The Boys. Craig Rosenberg, who has been a writer and executive producer on The Boys, will serve as show runner and executive producer on The Boys Untitled Spin-off as well as writer of the pilot as part of his overall deal with Sony Pictures Television.
Eric Kripke creator of Amazon's The Boys series will serve as an executive producer on the spin-off as will The Boys executive producers Seth Rogen, Evan Goldberg, and James Weaver of Point Grey Picture. The Boys executive producers Pavun Shetty and Neal H. Mortiz of Original Films are also executive producers on the spin-off along with Ken Levin, Jason Netter, and The Boys comic book creators Garth Ennis and Darick Roberston. Sony Pictures Television and Amazon Studios will produce The Boys Untitled Spin-off series.
Are you excited for The Boys Untitled Spin-off series? What do you think about these character breakdowns? Who do you want to see playing these characters? Leave your thoughts in the comments below or on our social media.
KEEP READING: THE BOYS SET TO FLESH OUT TWO NEW "HEROES" IN SEASON 3 – SOLDIER BOY & [SPOILER]