When Back To The Future was first released back in 1985, no one could imagine the phenomenon it would become in both pop culture and film history. The first film's success spawned a huge multimedia entertainment franchise.
The Back To The Future franchise was able to make three successful films, an animated television series, video games, comic books, board games, collectibles, apparel, a staged musical, and even theme park rides. The franchise's immense popularity led to multiple books, podcasts, and even documentaries about the film trilogy's production.
The Back To The Future trilogy focuses on the adventures of teenager Marty McFly (played by Michael J. Fox) and Doctor Emmett L. Brown (played by Christopher Lloyd). Each film focuses on the iconic duo time travelling through different time periods of their hometown of Hill Valley, California. The machine that they use for time travel is the iconic DeLorean.
RELATED: COSMIC SIN INTERVIEW: DIRECTOR EDWARD DRAKE ON HIS NEW FILM, BRUCE WILLIS' WORK ETHIC, AND HIS FAVORITE MARVEL PROPERTIES
The DeLorean time machine is one of the most famous automobiles in cinema, even rivaling the iconic Batmobile from Tim Burton's first two Batman films. With the huge popularity of the DeLorean time machine, it has made numerous appearances and cameos in skits and other entertainment projects. Now the iconic vehicle will be featured in another epic production.
Well-known archaeologist and T.V. personality Josh Gates hosts the new show, Expedition Unknown, on Discovery Plus. His new upcoming special will be called Expedition: Back To The Future. It's a four-part mini series focusing on Gates trying to find the original DeLorean time machine used in the films.
RELATED: WARNER BROS. HAS ZERO PLANS FOR PEPE LE PEW TO RETURN IN FUTURE PROJECTS
It's known that the original DeLorean is not in Universal Studios or in a museum. However, the main reason that its whereabouts are unknown is because there was an additional six of them made. The journey will take him across the United States and he will learn some new secrets about the six DeLorean cars. We also find out that Doc Brown himself, Christopher Lloyd, will be helping Gates in his journey to find these six DeLorean time machine cars and hopefully the original one.
It's also revealed that Gates and Lloyd intend to find one to donate to the Michael J. Fox Foundation. Recently Discovery Plus released a trailer of the much awaited upcoming four part series.
Expedition: Back to the Future Trailer Breakdown
In the beginning of the trailer we see Doc Brown's Enterprise van used in the films. We then see a tease of the DeLorean time machine coming out from the van. Then we see host Josh Gates meet up with Christopher Lloyd and convince him to join him in finding a DeLorean time machine. Gates also shows a spoof photo of him, Lloyd, and Michael J. Fox in a different time period with the DeLorean time machine.
Gates tells Lloyd that he wants to give the car to Fox once they find it. Lloyd then happily accepts his offer. We then see a clip of the first Back To The Future film and Lloyd and Gates trying to enter a studio, probably Universal Studios. We see them having a banter with a security guard who reluctantly lets them enter due to Lloyd's being a respected figure. We then find out that there are seven DeLorean time machines in existence.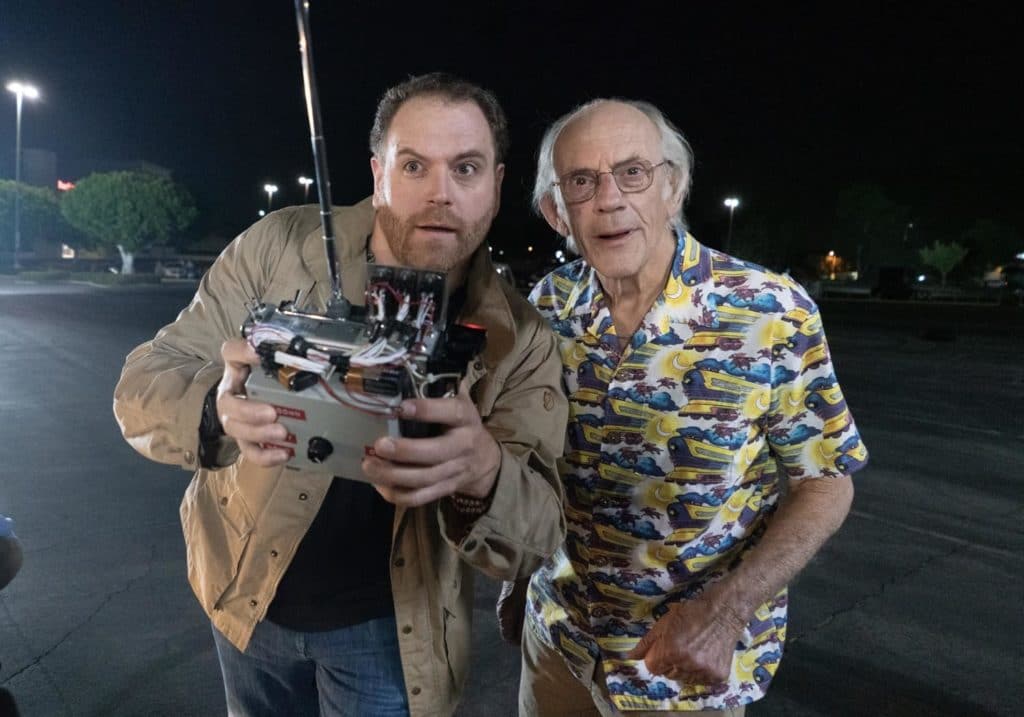 We then see Gates asking Lloyd to search on his phone for the missing DeLorean cars. Lloyd then hilariously pulls out a flip phone and doesn't know how to use it. Also we see are treated to props from the films, such as Marty's letter to Doc Brown and the plutonium used for the time machine. We then witness Gates and Lloyd somehow finding a DeLorean and debating if they should give it to Fox, Then the title card of the upcoming series appears. The trailer ends with Gates hilariously doing a Doc Brown impersonation, to the dismay of Lloyd.
Overall the trailer did its purpose in exciting viewers and audiences for the upcoming series. If you are a fan of Back To The Future and Expedition Unknown this should be an entertaining mini-series to watch. It's still hard to believe and fascinating to learn that there are seven DeLorean time machines made. Hopefully we can see all seven in this upcoming new show. We will all have to wait and see. Back to the Future film star Michael J. Fox, along with fellow cast members Lea Thompson, Harry Walters, James Tolkan, David Fullilove, and screenwriter Bob Scale are reported to make an appearance in the upcoming series.  
Expedition: Back To The Future is scheduled to premiere on Discovery Plus on March 15, 2021. What did you think of the new trailer? Will you be checking out the new show? What is your favorite Back to the Future memory? Let us know in the comment section below or over on our social media!
KEEP READING: THE RUGRATS BABIES ARE BACK! PARAMOUNT DROPS TEASER TRAILER FOR NEW REBOOT
Source: Discovery