The boys are back in town for a new adventure. Samuel L. Jackson and Ryan Reynolds are returning to the big screen together in the upcoming sequel, The Hitman's Wife's Bodyguard. The movie will also bring back Salma Hayek as wife to Darius Kincaid.
The Hitman's Wife's Bodyguard is set to be released on June 16th and will be a interesting continuation to the story established in the first movie. But don't take our word for it, check out what Lionsgate had to say about their new project.
The Hitman's Wife's Bodyguard Official Press Release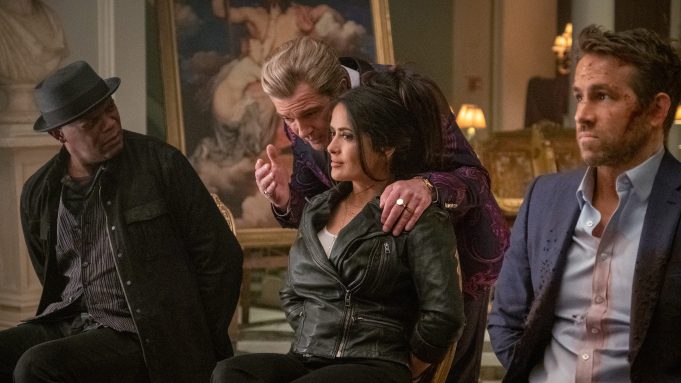 SANTA MONICA, Calif., March 29, 2021 – The world's most lethal odd couple – bodyguard Michael Bryce (Ryan Reynolds) and hitman Darius Kincaid (Samuel L. Jackson) – are back on another life-threatening mission, joined by Darius's volatile wife Sonia Kincaid (Salma Hayek), as Lionsgate has slated the highly anticipated action-comedy The Hitman's Wife's Bodyguard to hit theaters Wednesday, June 16. The announcement was made by Ron Schwartz, Lionsgate's president of Worldwide Distribution.

The sequel builds on the success of the first film, which was #1 at the box office for an impressive three weekends in a row and took in $176 million worldwide in 2017. In the movie, Bryce – still unlicensed and under scrutiny – is forced into action by Darius and his wife, the infamous international con artist Sonia. As Bryce is driven over the edge by his two most dangerous protectors, the trio get in over their heads in a global plot and soon find that they are all that stand between Europe and a vengeful and powerful madman (Antonio Banderas). Joining in the fun and deadly mayhem is Morgan Freeman as… well, you'll have to see.

Schwartz said, "This is the kind of summer action film that delivers even more comedy and more thrilling action than the first film – and it's perfect for fans new to the franchise as well. The Hitman's Wife's Bodyguard is what summer moviegoing is all about – great, crowd-pleasing entertainment."

A Millennium Media production directed by Patrick Hughes from a screenplay by Tom O'Connor and Phillip Murphy & Brandon Murphy with a story by Tom O'Connor, The Hitman's Wife's Bodyguard is produced by Matt O'Toole, Les Weldon, and Yariv Lerner. The executive producers are Avi Lerner, Trevor Short, Boaz Davidson, Jeffrey Greenstein, Jonathan Yunger, Matthew Milam, Christa Campbell, Lati Grobman, Heidi Jo Markel, Zygi Kamasa, Peter Possne, and Mark Gill.
The Hitman's Wife's Bodyguard is scheduled to be released on June 16th. What do you think of The Hitman's Wife's sequel? Will you be excited to see what latest shenanigans these characters will bring to the big screen? What aspects and plots from the first movie do you want to see in the sequel? Comment below and on our social media channels and make sure you keep up to date with The Illuminerdi for more news and content.
KEEP READING: SYLVESTER STALLONE WORKING ON A NEW ROCKY PREQUEL SERIES