On paper John Walker is the perfect candidate for Captain America. He's strong, strategic, brave, and based on the fact that he is the first person ever to be awarded three Medals of Honor, he is willing to risk his life to protect others. But from the start fans have hated this successor to the Steve Rogers' legacy. In the eyes of fans, as well as characters like Bucky Barnes and Sam Wilson, John Walker does not deserve to take on the mantel or the shield.
But why has John Walker rubbed so many fans the wrong way even before the ending of episode four? The first impression of Walker will forever be influenced by the fact that his announcement as the new Captain America felt like a gut punch for fans, even suspecting it was coming, and slap in the face for Sam Wilson.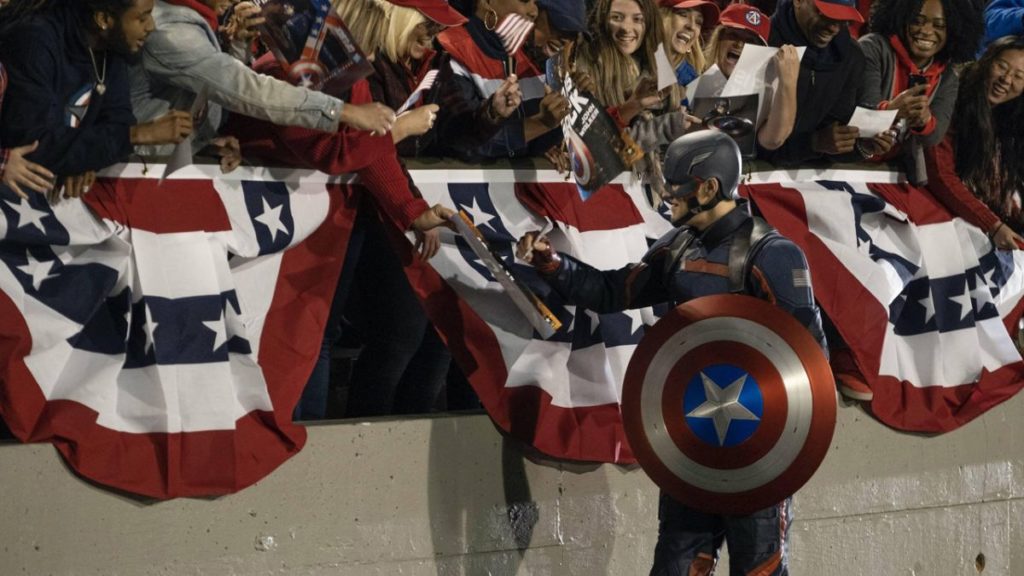 Even in the first scene where we are meant to connect with this "New Captain America" his anger issues are teased by his best friend. This scene feels especially salient after the ending of "The Whole World Is Watching". Throughout the second episode Walker attempts to recruit Bucky and Sam onto his team and the way he tries to convince and manipulate them makes it seem like this decision is less about working with Bucky and Sam specifically and more about having the public perception of Steve Rogers' two best friends as his allies.
He doesn't ask Sam to work with him because Sam was tracking the Flag Smashers already, but because it would be helpful to have "Cap's wingman" by his side. Walker later uses his clout to rid Bucky of his court mandated therapy sessions, likely assuming the WW II veteran would feel indebted to him. But when these tactics fail Walker menacingly tells the pair to stay the hell out of his way.
RELATED: HAS THE FLAG SMASHERS' LEADER KARLI MORGENTHAU CROSSED THE LINE FROM OUTLAW TO VILLAIN?
Even Bucky's question about jumping on a grenade reveals the kind of man John Walker is. When Steve jumped on a grenade before receiving the super soldier serum he expected to die, but did it anyways to protect his fellow soldiers. John Walker told Bucky he has jumped on a grenade four times and begins to explain that he has a reinforced helmet.
This misses the actual point of Bucky's question. Steve's decision to jump on the grenade is powerful because he thinks he is about to die, but if you know you'll survive, it takes away the willingness to sacrifice your life for others. Even with Bucky and Sam being the ones who broke Zemo out of prison and working with the known terrorist, John Walker still seems like more of a threat.
THE SUPER SOLDIER SERUM BRINGS OUT THE TRUE JOHN WALKER
In the fourth episode, John Walker proves that he is ultimately undeserving of the shield. John Walker is unwilling to truly work with Sam and Bucky when they reluctantly agree to let him and Lemar Hoskins tag along to the funeral of Karli's Donya Madani. Walker is twitchy and impatient even after agreeing to let Sam talk to Karli first and because of Walker's entitlement, believing he is right because he is "Captain America", they lose her.
His ego is once again bruised when the Dora Milaje easily defeat him and briefly take the shield. Walker says to Hoskins defeatedly that "they weren't even super soldiers." His envy of Bucky having the serum hints at the upcoming decision Walker is going to make.
What may be most tragic is it seems like Lemar Hoskin truly believes in his friend. After Walker pocketed the last of the super soldier serum he asked Lemar if he would take it given the chance. Lemar quickly reveals he would and when Walker expresses doubts Lemar is quick to reassures him saying Walker makes the right decision in the heat of battle. Which has yet to be seen in The Falcon And The Winter Soldier.
RELATED: HOW AQUAMAN 2'S WORKING TITLE OF NECRUS COULD BE A SPOILER-FILLED TEASE FOR THE SEQUEL'S EPIC PLOT
In the final battle of the episode it is shown that Walker took his friend's advice and had become a super soldier. However, it has always been said that the serum brings out what was already there "Good becomes great. Bad becomes worse". And when Lemar Hoskins is killed during the fight it is clear that bad has indeed become worse. Walker chases down one of the Flag Smashers, not the one who actually killed Lemar, and when the man is on the ground Walker beats him to death with the Captain America shield.
This is a true testament to the difference between Steve Rogers and John Walker. When Steve lost Bucky during battle he didn't seek revenge he mourned his friend, but continued to fight against the Nazi's as he always had.
All of this boils down to motivation. John Walker's motivation is fueled by ego and entitlement. He expects respect from the German café owner in the third episode based solely on the fact that he is now Captain America. He expects Bucky and Sam to fall in line because he is now Captain America and when they don't, he decides to go after them and try to order them around.
RELATED: WHO IS THE TRUE VILLAIN OF THE NEW GREEN LANTERN CORPS HBO MAX SERIES?
John Walker ignores Sam and Bucky's plans at every chance he gets in episode four to prove that his way is right, but each time he does, it blows up in his face. And after stealing and taking the super soldier serum it is clear this is not the man that should be trusted with the power of Captain America. This includes the shield, the symbol, and the backing of the US government and military.
John Walker seems like the ideal candidate to take on the mantel of Captain America because he is a good soldier, but the core of Captain America isn't a good soldier it's a good man. John Walker has never proven himself to be a good man and now with the super soldier serum he is not only an equal threat to Karli Morgenthau, but possibly a greater one.
Will there be repercussions to Walker's actions or will the US write it off as their hero killing a terrorist after they killed his partner another American soldier? And with two episodes left, the question for Sam and Bucky becomes will they continue to let someone like John Walker tarnish Steve's legacy or will Sam step up and reclaim what Captain America is meant to be?
What do you think will happen between Bucky, Sam, and John Walker in the final two episodes? Watch new episodes of The Falcon And The Winter Soldier Fridays on Disney Plus. Leave your thoughts in the comments below or on our social media.
KEEP READING: HOW THE FALCON AND THE WINTER SOLDIER'S ISAIAH BRADLEY'S CONNECTION TO THE SUPER SOLDIER SERUM IGNITES THE MCU