Aquaman 2 is one of the most highly anticipated DC films coming down the pipeline. Not too much is known about the sequel to the highest grossing DC film of all time, however the working title of Necrus seemingly indicates that director James Wan has great plans ahead.
Aquaman 2 will not only see the return of Jason Momoa as Arthur Curry aka Aquaman, but Amber Heard is also set to reprise her role as Mera, and two of the antagonists from the first Aquaman are also set to make their return with Yahya Abdul-Mateen II as David Kane, aka Black Manta, and Patrick Wilson as Arthur's half brother Orm Marius, aka Ocean Master.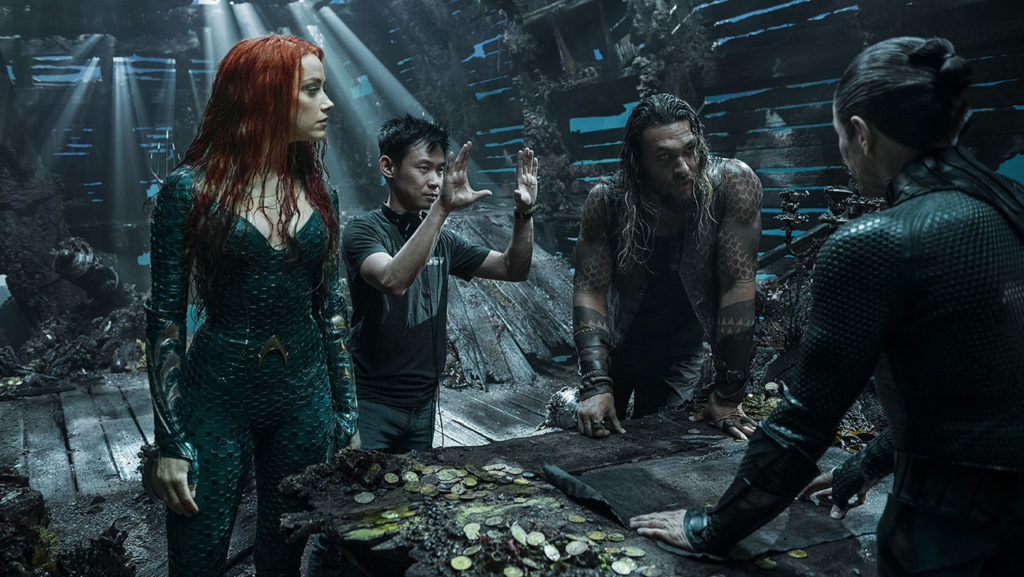 Plot details have yet to be revealed, but director James Wan did talk a bit about what fans can expect from Aquaman 2 at the 2020 DC Fandome Aquaman panel. "I can definitely guarantee you new worlds in this next one." said James Wan. The world building was an exciting part of the first Aquaman, so it's no surprise that Wan will be including this once again, especially with so much of the ocean left to explore. Wan also talked about the tone of Aquaman 2:
"And to continue to expand on the world…we're trying to find new things to do that I didn't get around to doing in the first film…And I think the second one is a little bit more, I'd say a little bit more serious, a little bit more relevant in the world that we're living in today."
Aquaman has a lot of comic based history and lore left to potentially explore in Aquaman 2, but the working title for this project may be just the hint fans have been hoping for to indicate what direction the sequel could be going. It was revealed by Discussing Film that Aquaman 2 would not only begin filming in June of this year, but that the working title for the film is Necrus.
WHAT IS NECRUS?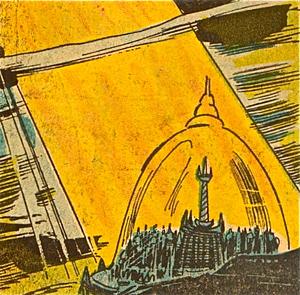 Necrus could be an interesting clue as to what we may see in Aquaman 2 with the city making its first and so far, only appearance in the comic Aquaman #30. Necrus emerges in the deepest part of an underwater canyon when an alien satellite, that is the last surviving piece of the world it originates from, crosses into Earth's orbit. Inside the satellite is a device that opens dimensional rifts when triggered by Earth's magnetic field, and through the rift comes Necrus, aka The Black City.
RELATED: AQUAMAN 2 WILL EXPLORE NEW WORLDS AND OCEAN MASTER RETURNS
Necrus appears periodically and is encased in a dome, never existing in the same location on the material plane twice. Only existing for as long as the alien satellite is in orbit then fading away.
Necrus is a militaristic society with their king, Mongo, who believes that any and all invasions from the surface dwellers should be met with an aggressive and fatal response. Mongo's raiders decimated a scientific colony when the city emerged in Aquaman #30 and later Mongo tried to forge an alliance with Aquaman and Atlantis, but when this didn't succeed he imprisoned the King. Mongo then declares war against Atlantis after Aquaman's refusal and although Mongo and his forces from Necrus were defeated by Aquaman, he was able to return to his city before it faded away.
COULD NECRUS CONTINUE THE CONFLICT BETWEEN THE UNDERWATER KINGDOMS AND THE SURFACE WORLD?
If Necrus were to make an appearance in Aquaman 2, it wouldn't be a stretch to think that they may look to ally themselves with Orm instead of Arthur. In Aquaman, Orm had a similar view towards the land dwellers and he was forcing the other kingdoms of the ocean to join him so that he could become Ocean Master and declare war against the surface world. Mongo would likely find an ally or even a partner in Orm if he wanted to not only lay siege to the surface dwellers, but also attack with the support of Atlantis and its forces.
Patrick Wilson's return as Orm was confirmed at DC Fandome by the actor himself and director James Wan. Although the final scene ended with Arthur sparing Orm's life and his reunion with their mother, it's doubtful that the former king won't be plotting some sort of vengeance after losing the throne to his brother, an outsider to Atlantis. Should Mongo and Necrus be one of the new worlds that gets explored, this could be a great way to connect them to the already existing Aquaman characters and relationships.
The more serious tone and relevant story could apply to Arthur attempting to find a way to build peace among the surface dwellers and ocean dwellers only to be challenged at every turn. Given Arthur's lack of knowledge and understanding of the kingdom he now rules, finding ways to undermine his authority and plans would be a sly way for Orm to attempt to regain control of his home.
RELATED: SNEAK PEEK INTO DC FANDOME AQUAMAN 2 PANEL: JAMES WAN WANTS TO ADD MORE HORROR IN THE SEQUEL
The introduction of Necrus in the comics is tied to alien technology, but that doesn't seem like it would necessarily be the right fit for the Aquaman world that James Wan has brought to life on screen. If instead, Necrus had a more mystical or mythical introduction, that might fit the tone better and cause potential issues for the new King of Atlantis. These issues could arise because Arthur's authority and power is at least partially tied to Atlantean myth.
A major part of why Arthur was able to take the throne as the true king of Atlantis is because he wields the trident of Atlan. But if Necrus is introduced with similar ties to Atlantean lore as a mythical city that appears and disappears never in the same place for a specific reason, Orm could use this to undermine Arthur's credibility and authority among his subjects. If the appearance of Necrus is seen as a mythical event and the king of Necrus' beliefs align with Orm instead of Arthur, then Ocean Master might be able to use this to gain back some measure of his power and influence.
Now, this is of course all speculation based on the assumption that the working title Necrus is actually tied to the plot of the film and not just a nod to the expansive lore of Aquaman. With so much of the film still unknown this has the potential to be an exciting clue into what fans could see in Aquaman's next adventure. Whatever direction director James Wan and writer David Leslie Johnson-McGoldrick decide to take Aquaman 2, it is sure to be thrilling.
Are you excited for Aquaman 2? Do you think Necrus will make an appearance? Leave your thoughts in the comments below or on our social media.
KEEP READING: WHO IS THE TRUE VILLAIN OF THE NEW GREEN LANTERN CORPS HBO MAX SERIES?