The Marijuana Conspiracy is based on the true story of a study conducted on women in Canada to test the effects of marijuana on young women. And although the women were volunteers they didn't truly understand what they were getting into.
The Illuminerdi had the chance to speak with one of the stars of the film, Kyla Young, who plays Janice. One of the requirements of the experiment in The Marijuana Conspiracy was that the women stay isolated in the testing location. Janice's struggle throughout the film is especially poignant given the lockdowns that have been a part of the pandemic.
"I really enjoyed my progression into hysteria, I think you could call it. I loved to be able to craft that breakdown through all of my scenes. So, I think I was really lucky in that aspect, my character really had something I could sink my teeth into and every day I turned up on set, I was able to kind of turn the heat up on my own anxiety a little bit more.

So that was a really wonderful experience for me as an actor. Luckily for us we filmed the project chronologically, so I was really able to come to set everyday knowing ok, we are going a little bit more into this…and playing with that was so rewarding as an actor."
Young revealed that The Marijuana Conspiracy was filmed two years ago and that it felt a bit like a glimpse into the future. Avril Young also explained what she hopes audiences take away from The Marijuana Conspiracy.
"There are so many layers, I think that it is a really good place for conversation to start. I think it is a really good place for research on the era to start. I think a lot of people don't realize how stringent the laws against marijuana were, that you could go to jail for life, just for giving someone a joint. And now you can walk into a government store in Canada and buy, legally.

I really hope it fosters more discussion, about the people that have been impacted negatively by drugs charges. There are so many people who are incarcerated today over minor drug charges, especially minorities and people of color. And if we can inspire people to look into those stories and to donate and help those families that have struggled and are still struggling, then it's done its job."
RELATED: FRANK OF IRELAND REVIEW: WELL-CAST BUT OBNOXIOUS DARK COMEDY RARELY BRINGS THE LAUGHS
Young also revealed that they were able to speak with some of the women who were involved in the actual study that The Marijuana Conspiracy is based on. And what is interesting is that the long-term effects of the study were tied more to the women's treatment and isolation, not smoking.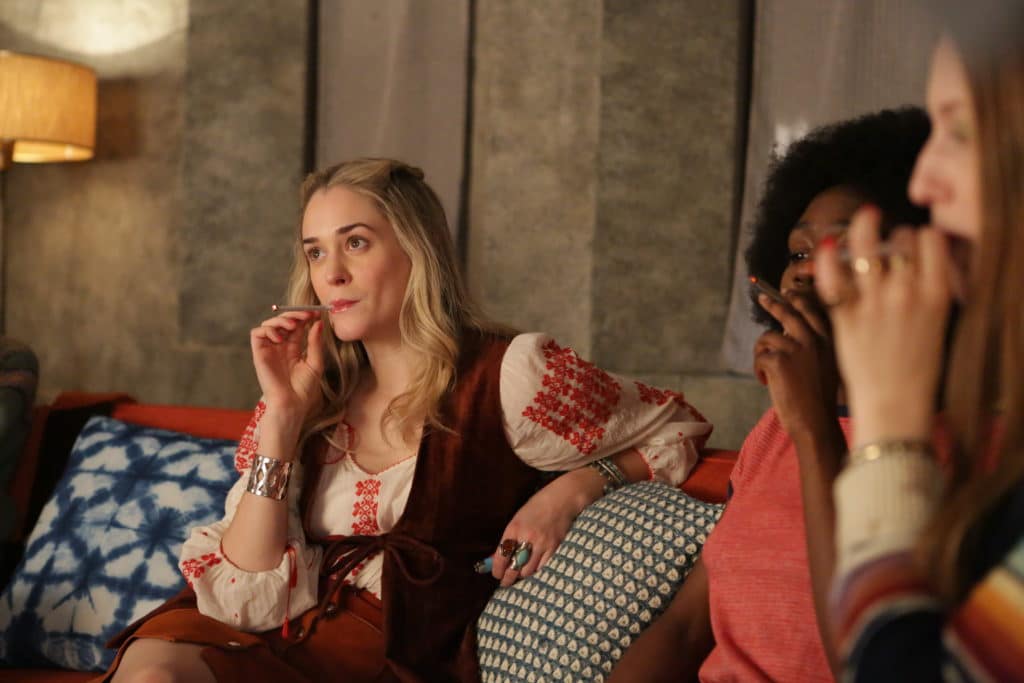 "I mean as we know now, weed is legal and it doesn't have any long-term negative effects on your body, so I think the thing that was the most scarring for the women was the way they were treated during the study, not the study itself. And a lot of them are still pot smokers. So, I don't think that effected their experience with weed negatively, but definitely that isolation and the way they were treated stayed with them for years."
The results from the actual study have never been released, but perhaps The Marijuana Conspiracy will start a conversation about getting answers for the women who were put through this.
THE MARIJUANA CONSPIRACY TRAILER AND OFFICIAL SYNOPSIS
In 1972, five young women looking for a fresh start in life become part of a radical experiment studying the effects of weed on women. Despite the agendas of the government, they use their unique strengths, and friendship to overcome adversity.
The Marijuana Conspiracy is written and directed by Craig Pryce. The film stars Brittany Bristow, Morgan Kohan, Julia Sarah Stone, Tymika Tafari, Kyla Young, Marie Ward, Luke Bilyk, Gregoory Calderone, Derek McGrath, and Paulino Nunes. The Marijuana Conspiracy is available on Video On Demand and Digital now. Are you going to watch The Marijuana Conspiracy? Leave your thoughts in the comments below or on our social media.
KEEP READING: THE MARIJUANA CONSPIRACY STAR TYMIKA TAFARI EXPLAINS THE TRUE STORY'S IMPORTANCE AND TALKS SMOKING "SMART"