The Michael B. Jordan led action film, Tom Clancy's Without Remorse will be premiering on Amazon Studios this Friday and the star wore a number of hats when making this action film.
In the Without Remorse virtual press conference, star and producer Michael B. Jordan talked about producing his first action film and what he learned about the process. Without Remorse is the first film in a first look film and overall television deal between Amazon Studios and Michael B. Jordan's production company Outlier Society.
"I think just being involved from the absolute beginning to the end, I think it was very hands on in a way of how to build out stunts. What the process would be and having experienced producers like Akiva [Goldsman] and Liz Raposo and other people who really have been through the process before who worked on high stakes action movies and really following their lead on how to package together, 'Ok we're going to do this intense airplane crash.'

And working with the visual effects supervisor to work out that sequence and how exactly we're going to practically shoot it. 'Alright we're going to use the crane on this shot and we need water tanks and this and that.' So, it was just going through the process of building that out, it was a learning curve for myself.

So, I walk away from this movie with more knowledge and experience in how to put those sequences and those movies together. So, yeah, I know when to shut up and listen, you know what I mean, and learn so I was a sponge on this one and I think we walked away with something that we could be really happy about."
MICHAEL B. JORDAN SHARES HIS EXCITEMENT ABOUT THE ACTION IN WITHOUT REMORSE
Michael B. Jordan clearly learned the technical side of producing an action film, but he also shared why starring in Without Remorse was exciting for him. Director, Stefano Sollima, is known for wanting his actors to perform as many of their own stunts as possible and Michael B. Jordan was not only up for the challenge, he was excited for it.
"It was fun! I'm a little play fiend, you know, a little action junkie so as a kid these are the movies that I watched that I always wanted to be in one day in my imagination. So the fact that I actually had the opportunity to train and do a majority of my stunts and have an incredible stunt team, and when Stefano says that he wants you to do all your stunts.

We still work with stunt doubles and people who actually vet the sequences and make sure things are safe and teaches us the proper way that we're able to handle ourselves in the situation so Clay and Doug and everybody that was there, they assembled this incredible stunt team that allowed us to train at high intensity. So when we were able to show up on the day we were able to do the things that we needed to do so it was fun. We got banged up throughout the process, but it was so worth it."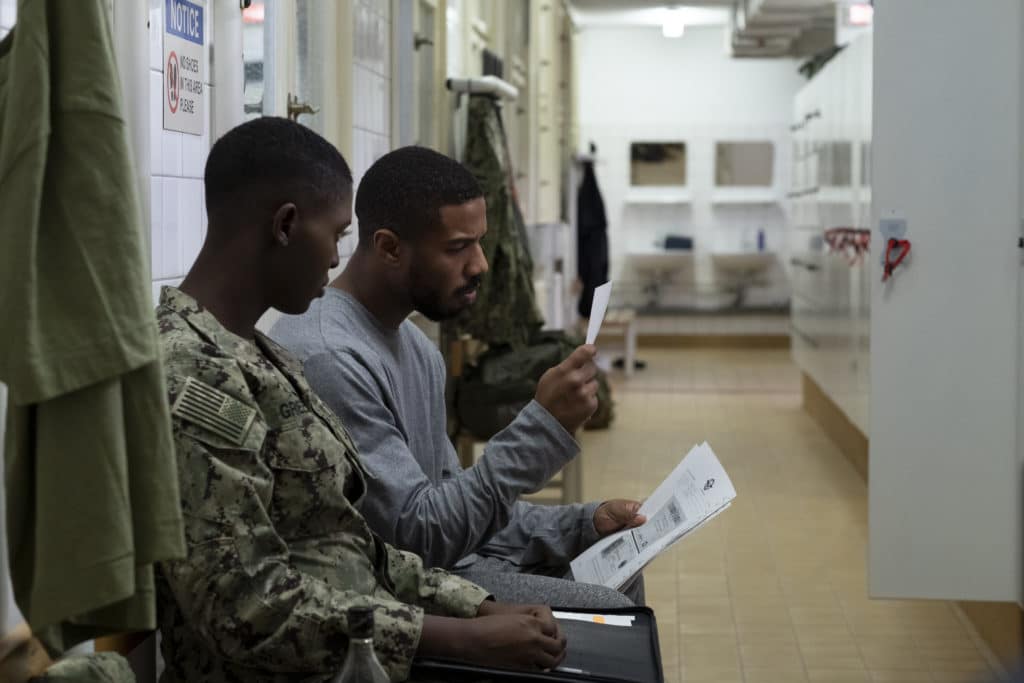 One of the most interesting relationships in Without Remorse is the friendship between Michael B. Jordan's character, John Kelly, and Jodie Turner-Smith's character, Karen Green. The bond between the two Navy SEALs was an important relationship to show on screen, but Michael B. Jordan talks about the balance and making sure the relationship didn't come off as romantic to audiences.
RELATED: WATCH MARVEL STUDIOS' BLACK WIDOW SURPRISE PROMO VIDEO FOR NATIONAL SUPERHERO DAY
"Yeah, I think it's a finding the balance. I guess putting my producer hat back on, and Stefano [Sollima] and Akiva [Goldsman], we really wanted to work through finding that balance between comradery and that brother, sister relationship that they had. To make sure that the audience understood…I didn't want anybody to be misunderstood by the relationship, by the dynamic.

I think we wanted to be really clear that they loved each other, but it was like we got your back no matter what, through thick and thin. I'm not going to leave you behind. This might get me in trouble, but I'm still going to give you this and I still have to look out for your best interest because you're not actually all the way thinking clearly at this moment. So to be able to really define those dynamics and relationships, but also be very respectful to John's relationship with Pam and we didn't want anybody to assume or try to forward think that their relationship would go down a road that it wasn't supposed to.

We wanted to make sure we honor John's motivation throughout this movie and that was something that we kept a close eye on as we developed those scenes and I think we found a pretty good balance between the two."
Michael B. Jordan's ability to wear many hats while working on Without Remorse is impressive and it's clear that he put a lot of thought, not only into his character and performance, but the overall story and the process of making the film. Jodie Turner-Smith also talked about the friendship between her character and Michael B. Jordan's and why she feels it is important to show these kinds of friendships.
 "I think it is so important, every time you speak to somebody your relationship is alive in that conversation. And whether you're actually talking to them about something that is concerning your relationship or not, it's the trust that you have, the respect that you have, the love that you have is always alive when you speak to someone that you have a relationship with.

And it always felt important to me, and to Michael, that we just tried to infuse that in our scenes even when we're coming and we're butting heads and even when it's… I'm really not understanding mentally what he's going through, but I'm trying to be there for him like all of that…And I think it's really wonderful and really brave to have a relationship where it is just talking about and really displaying platonic love which I think is the purist form of love that there is and these two are deeply bound by that."
Michael B. Jordan's reasons for wanting to be deliberate in how the friendship between John Kelly and Karen Green is portrayed makes sense. Michael B. Jordan's character is motivated by the murder of his wife and unborn child, so making sure that his character's friendship Karen Green does not come off as romantic is an understandable concern. That being said, the comradery and trust between soldiers, no matter the gender, is an important bond to showcase in Without Remorse.  
WITHOUT REMORSE TRAILER AND SYNOPSIS
An elite Navy SEAL uncovers an international conspiracy while seeking justice for the murder of his pregnant wife in Tom Clancy's Without Remorse, the explosive origin story of action hero John Clark – one of the most popular characters in author Tom Clancy's Jack Ryan universe.
Without Remorse is written by Taylor Sheridan and Will Staples and directed by Stefano Sollima. Without Remorse stars Michael B. Jordan, Jamie Bell, Jodie Turner-Smith, Lauren London, Brett Gelman, Jacob Scipio, Jack Kesy, Colman Domingo, and Guy Pearce. Michael B. Jordan not only stars in Without Remorse, but also produced the film through his production company, Outlier Society.
Without Remorse premieres on Amazon Prime April 30, 2021. What did you think of the movie? Let us know in the comment section below or over on our social media!
KEEP READING: MICHAEL B. JORDAN AND JODIE TURNER-SMITH REVEAL INTENSE UNDERWATER STUNT TRAINING FOR WITHOUT REMORSE