Less than a week after Soul took home the Academy Award for Best Animated Feature, a short film that serves as a mini-prequel to the movie is hitting Disney+.
Directed by Kevin Nolting, 22 vs Earth, the short shows a snippet of Tina Fey's character of 22 during her time in the "Great Before", the place where, as seen in Soul, personality traits are gained by souls as they prepare to go live their lives on Earth. As in the movie, 22 doesn't want to go to Earth…but she also doesn't want to be lonely in the Great Before. All her friends end up completing their "Earth passes" and promptly leaving her behind, so she sets out on a mission to change this by attempting to train some new ones to develop the same disdain for Earth that she has.
22 vs. Earth First Look
The short showcases the various ways souls find their "spark", the thing that has eluded 22 during her time in the Great Before. It's fun to see the different ways one can find it and how 22's methods backfire in trying to prevent her new friends from doing so, but the short isn't really telling us anything about this subject the movie it's based on didn't already.
RELATED: IN THE HEIGHTS: 2 NEW TEASER TRAILERS FOR THE UPCOMING LIN-MANUEL MIRANDA MUSICAL ADAPATATION
Aside from credits, 22 vs Earth only runs for about five minutes in total, so there isn't a lot of time for this idea to be explored. There's no real resolution to it at the end, and though it makes sense why this was clearly made with the assumption the audience has previously seen Soul, it's probably detrimental to the short overall. With no real satisfying resolution at the end, 22 vs Earth ends up feeling more like a cut scene from that film rather than its own thing.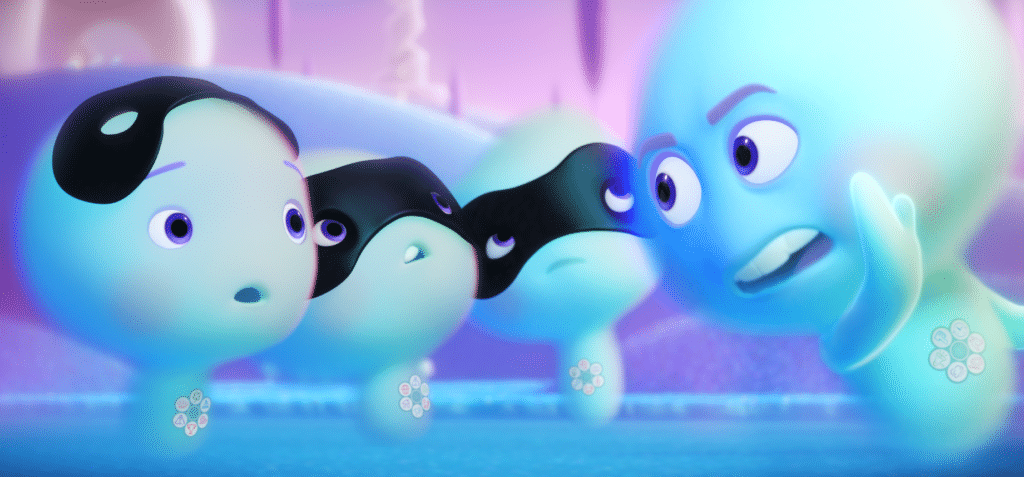 22 vs Earth is an enjoyable short, but feels incomplete, as it almost feels like a retread of concepts and lessons previously explored in Soul without much to say beyond what that film did. Still, fans of the movie will probably get a kick out of this one as it is funny and gives viewers a little more time in the Great Before.
22 vs Earth Official Synopsis
Set before the events of Disney and Pixar's "Soul," 22 defies the rules of The Great Before and refuses to go to Earth,
enlisting a gang of five other new souls in her attempt at rebellion. However, as her cohorts' activities lead to unexpected
results, 22's subversive plot may actually lead to a surprising revelation about the meaning of life.
22 vs. Earth is available to stream on Disney+. What did you think of the new Pixar short? Let us know in the comment section below or over on our social media!
KEEP READING: WATCH PIXAR'S NEW OFFICIAL LUCA TRAILER DELIVER A STUNNING COMING OF AGE STORY