Space Jam: A New Legacy is almost here and fans are super hyped for the upcoming film.
With the return of the Tune Squad and with NBA Superstar Lebron James leading the sequel, fans can expect a nostalgic and a memorable experience. The real life members of Goon Squad are comprised of Damian Lillard, Klay Thompson, Anthony Davis, Diana Turasi, and Nneka Ogwumike.
Space Jam: A New Legacy Official Trailer
Some fans had a mixed reaction to the designs because they felt this squad isn't that intimidating, unlike their predecessors the Monstars. However, James expressed in a previous interview that this upcoming film isn't a direct sequel to the original 1996 Space Jam, but rather a standalone that honors the original film.
RELATED: MS MARVEL'S PRODUCTION HAS COME TO AN END AND KAMALA KHAN'S FUTURE LOOKS BRIGHT
Now Warner Bros Studios has just released the first official promo posters for the Goon Squad. Let's just say they all look great and amazing. Now let's take a look of our first images.
The Goon Squad Posters From Space Jam: A New Legacy
This poster features NBA superstar and current Los Angeles Laker Anthony Davis. His character's name is The Brow. Now that's ironically hilarious due to Davis himself being nicknamed, Unibrow, due to his long eyebrows. We see in the poster he might have special abilities that come from some kind of bird. So we can expect Davis to have a skillset that involves high dunks and explosive alley-oops in the film.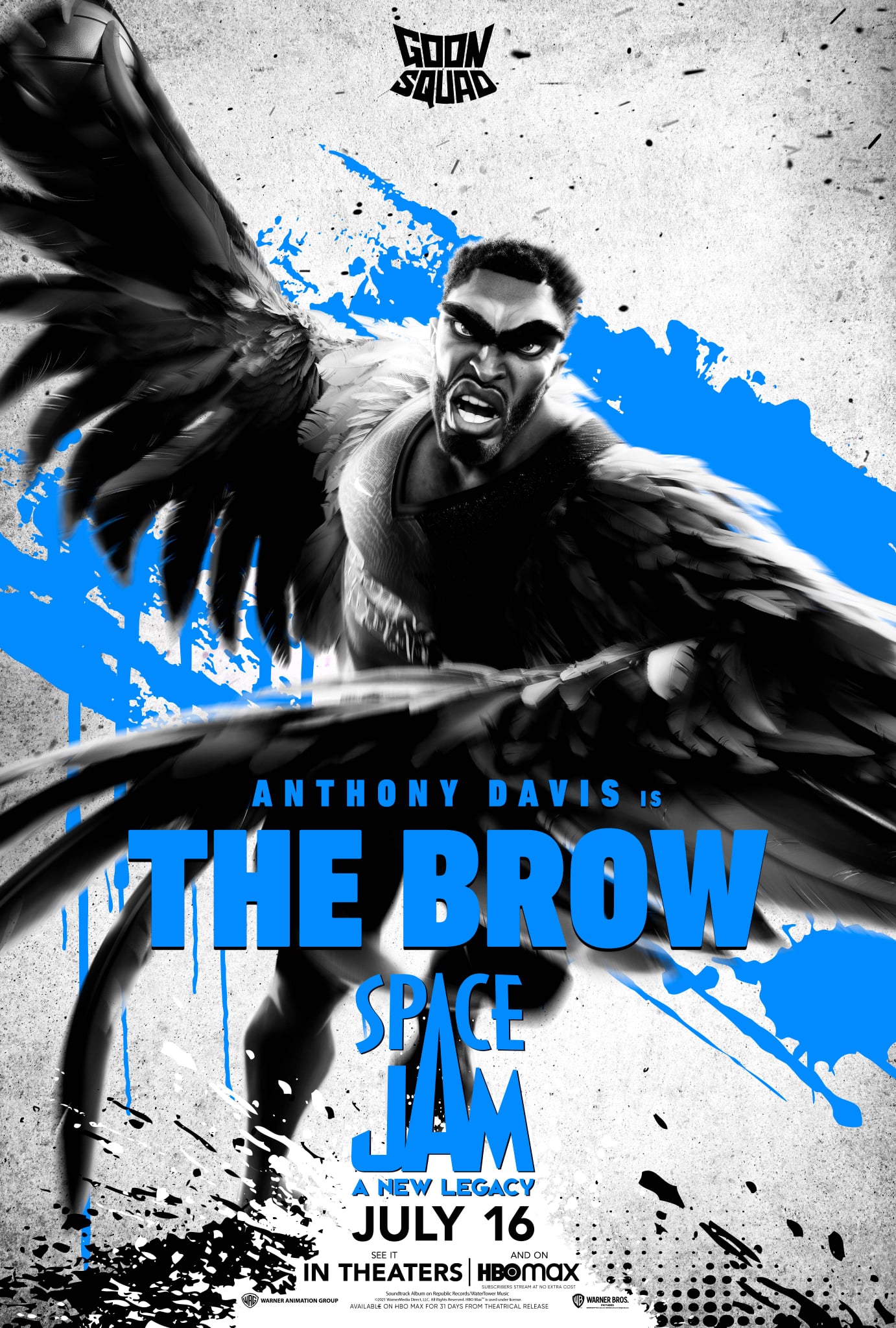 We see in this poster NBA superstar and current Portland Trail Blazer Damian Lillard. His character's name is Chronos. Now that's ironic because Damian Lillard is known to heat up and play incredible during close games and have a heart made of steel. Basically he's very tough minded and is slick and hardened and he seems to be a robot or cyborg hybrid. Lillard's ability in the film might feature him making tough shots or baskets for the Goon Squad.
We see in this Goon Squad poster NBA superstar and current Golden State Warrior Klay Thompson. His character name is Wet Fire. Now that's ironic because his nickname in Golden State with Stephen Curry is the Splash Bros, mainly because he's one of the best three point shooters in the NBA. Also he tends to have hot streaks where he does not miss a basket. So the name Wet-Fire suits him well. We can expect that he has the ability to shoot long range threes and be a huge scorer. Also it looks like he can turn into a hybrid of a water and fire.
We see in this poster WNBA superstar and current Los Angeles Spark Nneka Ogwumike. Her character's name is Arachnneka. This is fitting mainly because Ogwumike is known to be a beast and a force in the paint, due to her spider-like and smooth footwork on the court. So the name Arachnneka suits her character and might even be a big foil to the Tune Squad. So we can expect her to be a fearsome player in the film.
Last but not least we see in this poster is WNBA superstar and current Phoenix Mercury player Diana Turasi. Her character's name is the White Mamba. Her nickname is not a surprise as Turasi is considered one of the, if not greatest WNBA Players of all time. Her nickname was also given to her from the late great NBA Hall Of Famer himself Kobe Bryant, who was called the Black Mamba. Turasi is known for having a tough demeanor and is a ferocious competitor who makes tough shots and has amazing footwork similar to Kobe. Also it's not a surprise as Kobe was her mentor. Her character design is a white snake.
Overall the Goon Squad character designs are both amazing and creative. Their designs fit the personality and talents of their NBA and WNBA counterparts perfectly.
Space Jam: A New Legacy is scheduled to premiere simultaneously in theaters and HBO Max on July 16, 2021. What do you think of the new look of basketball heroes as members of the Goon Squad? Who do you think will be the best baller on the Goon Squad? Let us know in the comment section below or over on our social media!
KEEP READING: EMILY BLUNT REVEALS MARVEL HASN'T APPROACHED HER OR JOHN KRASINSKI FOR AN FANTASTIC 4 REBOOT
Source: Comic Book Movie