The Marvel Cinematic Universe is officially back in action with the long-awaited premiere of Loki, Marvel Studios' third Disney+ series of 2021. After a wild sitcom-centric ride in WandaVision and the dramatic tension that came in The Falcon and the Winter Soldier, Phase 4 is set to go to its weirdest point by bringing back the ever-popular God of Mischief.
Tom Hiddleston will be taking part in his seventh MCU outing after playing the role in all three Thor movies and three of the four Avengers outing, with this being his first time as the headliner. The show takes place directly after his 2012 alternate reality that was created when he stole the Tesseract during the time heist in 2019's Avengers: Endgame, and it only gets crazier from there.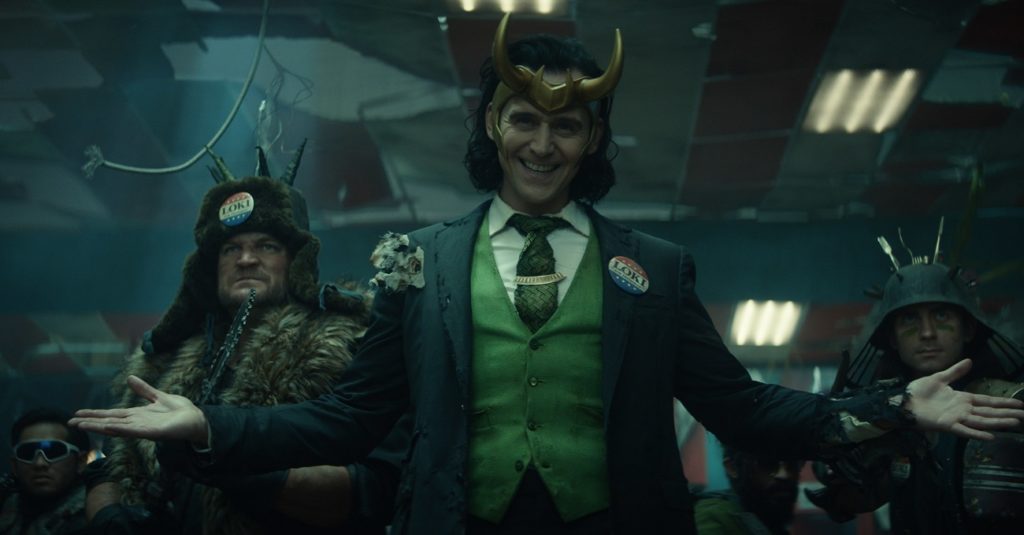 We at The Illuminerdi had the opportunity to view the first two episodes of Loki as part of the press tour for the movie, and we're thrilled to share with you what we've learned. While we can't give away spoilers before the show debuts, fans are in for quite a special ride with the ever-evolving Loki through his own hero's journey.
Possibly more so than both series that came before it, Loki finds a way to weave itself directly into the fabric of what came in the Infinity Saga while setting the stage for absolute madness coming in Phase 4. Anyone who's seen the Infinity Saga will get to throw themselves right into the madness, finding themselves on the exact same page as the God of Mischief as he takes on his next adventure.
RELATED: AVATAR: THE LAST AIRBENDER FANS HAVE BEEN HEARD! NEW KATARA AND SOKKA CASTING DETAILS
As for Tom Hiddleston himself, he finds a way to bring nearly three movies' worth of character development in this one episode even though this version was taken directly after the events of only his second movie. There are moments of pure joy and moments that will induce tears, all while allowing Loki to take the first steps in finding the best version of himself.
Hiddleston also serves as the rock of this episode, being quite literally the only core character with any kind of a past in the MCU. His performance gives everybody around him a chance to shine, and with his in-depth knowledge of Loki going back a decade, he leads the way flawlessly in his first Phase 4 outing.
RELATED: PARTY THOR: EXCITING NEW STORY DETAILS ON THOR'S WHAT IF…? EPISODE: EXCLUSIVE
Another star who can't be ignored early on is Owen Wilson's Mobius M. Mobius, a longtime agent of the Time Variance Authority who fits seamlessly into the fabric of the MCU. While Wilson's been known as mostly a comedy star for years, he shows so much more than just his funny side.
More than anything else, Mobius is the first person in a long time to get "what makes Loki tick," as he's said in trailers. His partnership with Loki is quickly becoming one of the best duos in the MCU, and fans can only hope to see more of its evolution as they potentially appear in more projects together.
Both Gugu Mbatha-Raw's Judge Renslayer and Wunmi Mosaku's Hunter B-15 also make an impact by bringing the TVA to full fruition. That being said, this bureaucratic organization still has plenty of secrets and mysteries left to unveil over the rest of its time in the MCU.
RELATED: US AGAIN REVIEW: DISNEY DELIVERS AN EXHILARATING NEW MUSICAL SHORT
As for the story and the action, this is very much the most unpredictable Disney+ story Marvel has come out with yet, which may not be much of a surprise considering who it features as the lead character. Both episodes end on pretty big cliffhangers, and there's really no way to predict what's coming in the next few weeks.
On the production side, Marvel has undoubtedly brought yet another blockbuster movie-quality program to the world of streaming TV shows. The action and CGI are top-notch, the music is appropriately weird, and Tom Hiddleston's input as an executive producer is clearly making an impact on his first solo project.
Marvel has set the bar incredibly high for Phase 4 of the MCU, especially in terms of their efforts on Disney+, as these new journeys expand on the story and help it evolve. Even through only two episodes, Loki continues down that same path, raising the bar to new heights as an entirely new dimension of the universe gets its due shine.
RELATED: WHERE IS THE MISCHIEVOUS LOKI IN THE WHAT IF…? PARTY THOR EPISODE?
Not only does Loki stand well on its own, it wastes no time setting up potential ramifications for other projects in Phase 4, possibly more so than both of its Disney+ predecessors. The show may only run for six weeks right now (not taking into account the widely rumored Season 2), but it's likely that it will have an impact that lasts for the next few years of real time.
Loki Trailer and Synopsis
Marvel Studios' "Loki" features the God of Mischief as he steps out of his brother's shadow in a new Disney+ series that takes place after the events of "Avengers: Endgame." Tom Hiddleston returns as the title character, joined by Owen Wilson, Gugu Mbatha-Raw, Sophia Di Martino, Wunmi Mosaku and Richard E. Grant. Kate Herron directs "Loki," and Michael Waldron is head writer.
Episode 1 of Loki premieres on Disney+ on Wednesday, June 9. What did you think of the premiere episode? Let us know in the comment section below or over on our social media!
KEEP READING: SCARLETT JOHANSSON OFFERS A SPECIAL LOOK AT BLACK WIDOW AHEAD OF ITS JULY RELEASE