Samoa Joe has returned to WWE and will work exclusively in and with NXT.
In April to everyone's shock and dismay Joe was released by WWE due to a round of budget cuts. However, according to PWInsider Joe is back with WWE.
RELATED: ALEISTER BLACK SPEAKS ABOUT HIS RELEASE AND EASTER EGGS FOR FANS
Previously Samoa Joe was only doing commentary on RAW upon his release and had been doing that since February of 2020 due to concussion related issues. However, Joe's new role will be working with NXT in what was described as a "Regal-like role". This is referring to William Regal who is in a general manager-like role for NXT. He essentially kayfabe books matches and is the "boss" on NXT.  As NXT TakeOver: In Your House ended Regal said "it's time for a change" and people are taking this as Regal stepping down and Joe taking his spot.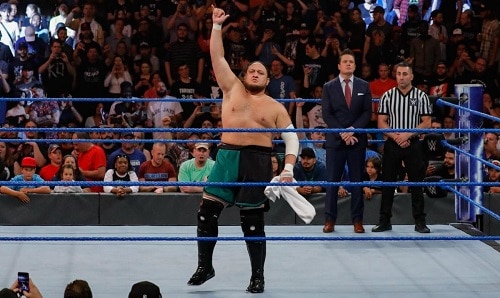 Back But Still Not Wrestling
Samoa Joe's new duties will be "non-wrestling" duties so he won't be wrestling in NXT at least not yet or often. When Joe was put on commentary it was widely understood by the fans that role was temporary and he would eventually return to the ring. I would imagine that would still be the case for him in NXT. Fightful Select even added that the in-ring return was talked about if "all parties agree" to it.
RELATED: MARK CARRANO FIRED AND FUTHER WWE SHAKE-UPS TO FOLLOW
We don't know what exactly this new role will be for Samoa Joe. It doesn't seem likely WWE will be getting rid of Regal. Perhaps he just wants to take a little break or Joe and Regal will start some kind of storyline together. Triple H even explained what an asset Regal is to NXT and can't see NXT without him during a post NXT TakeOver: In Your House media call.
"William Regal is just imperative, he's been such an integral part of this since day one. There are certain people that have and there's people that have come in along the way and it's hard to envision it in any sort of way without them. Regal's definitely one of those people and I don't think that we will ever do it without him. He will be part of this until the day that he tells me he doesn't want to be part of it anymore," Triple H said. H/T to WrestleZone For Transcription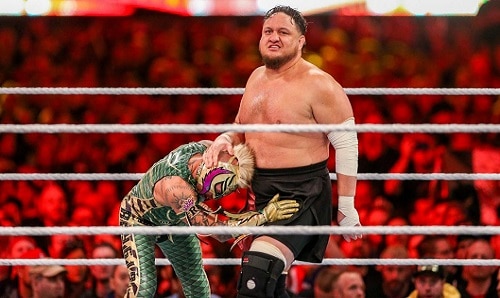 Triple H To The Rescue
Speaking of Triple H, according to Fightful Select he is the reason Joe is back with WWE. As soon as Triple H learned about Joe being released he wanted him back almost immediately and Triple H "snatched him back" as soon as he could so he wouldn't end up in another promotion. Apparently Triple H was unaware Joe was going to be released and was upset when he heard he was released. He almost immediately made plans to bring him back to work on NXT.
Samoa Joe had also recently been spotted at the Performance Center. Therefore it is also possible Joe will be working as a trainer as well. Joe has wrestled all over the world and wrestled in every indie promotion you could think of and is immensely knowledgeable. Having him work with young talent is a huge opportunity for him to share his knowledge.
Are you glad Samoa Joe is back in WWE? Would you rather he finished his career in another promotion? Which promotion if so? Do you think Samoa Joe will fit the Regal role well? Do you think Regal is actually leaving for good? Leave your comments below or over on our social media.
KEEP READING: DESPITE LIO RUSH'S RETIREMENT HE VOWS TO FULFILL HIS NJPW DATES
Sources: WrestleZone, PWInsider, Fightful Select, Wrestling Observer