The WWE backstage and office staff isn't safe from being released or removed from roles as Mark Carrano was fired from WWE amidst controversy.
Mickie James tweeted a picture showing her belongings which were left behind after her release were sent back to her in a garbage bag.  To James this one picture summed her past three years with WWE. This made wrestling fans extremely angry with WWE's disrespect towards James and how her belongings were returned.
RELATED: SAMOA JOE AND OTHER BIG WRESTLING NAMES RECENTLY RELEASED FROM WWE
Stephanie McMahon responded to the tweet apologizing for the disrespect and letting her know the person responsible no longer works for the company. It is now widely believed the person McMahon was referring to is Mark Carrano who was the former head of talent relations.
I'm Afraid I Have Some Bad News Mr. Mark Carrano
Mark Carrano is indeed no longer with WWE with John Laurinaitis taking over as head of talent relations. Laurinaitis has also been vocal about pointing the finger at Carrano for the disrespectful treatment of James according to Fightful Select.
However, what isn't clear is if he was fired because of this incident, because it was the final straw or if Carrano's firing was unrelated to the incident.  In a tweet by Laurinaitis it flat-out said the person responsible was fired for this.  However, it is just hard to believe that in one day: James tweeted,Mark Carrano was fired and Laurinaitis was immediately given Carrano's old position.  It is just so fast for all that to happen.  Especially when a few others who work backstage were let go or had responsibilities removed in the same week.
WWE's Manager of Publicity and Corporate Communications Joe Villa who had the job for almost 10 years was let go according to PWInsider. Dan Engler who you may recognize as a referee on RAW has been removed from his role as a senior manager in the Talent Relations Department. However, he will stay with the company solely as a referee.  
RELATED: RVD TALKS ABOUT WHAT IT WOULD TAKE TO RETURN TO WWE
John Cone has a similar fate as Engler with him also no longer a senior manager in the Talent Relations Department, but will also remain as a referee. WWE's now former Director of Talent Relations Nicole Zeoli who had the position for three years and had been with the company for 12 years was also let go from WWE.
Is The Talent Relations Department A Problem?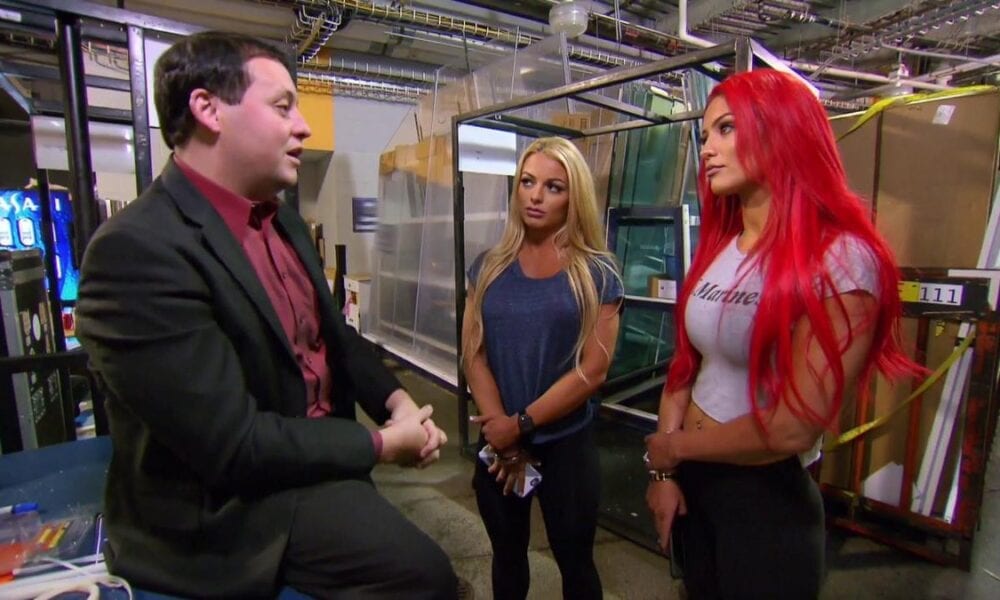 It is really odd that so many who were in the Talent Relations Department were all let go from the company or from the department. It almost makes it appear that the department had some serious issues and needed to be broken apart and have some fresh blood put in. I think having Laurinaitis, who is a former wrestler, is a better person for talent relations when the talent is wrestlers. I don't believe Mark Carrano had any connection to anything in-ring.
We will see if stories of Mark Carrano's behavior come out in the next few weeks or stories of the department in general. Kudos to WWE for addressing the problem and apologizing to James. How do you think that WWE handled the situation and the public relations wildfire? Do you think that the problem is larger than Carrano's involvement? How do you think things will change behind the scenes of the WWE after this event? Let us know all of your gut-punching thoughts in the comment section below or drop us a line over in our social media!
KEEP READING: WWE'S RELEASE OF BILLIE KAY SPARKS BACKSTAGE NEWS
Sources: Fightful Select, PWInsider, WrestleZone